Perhaps if there's a story that deserves to make it to the famous Ripley's believe it or not, then this is it! You don't need to go that far, simply hop on into your car and come visit a magnificent old man of Jaipur, a soul that's one of a kind.
In a part of the century where most are only concerned with their own progress and where one doesn't really have any time to spend for the others', how often do you get to hear about a stranger helping dozens and dozens of others and every single day?
Perhaps, such stories hardly happen to exist for the real and the only place where they belong is either a novella or some book-to-movie adaption, right?
Wrong!
One of the finest living examples of the virtue-exuding adage- a life lived for others is a life truly lived- is a venerable 94-year-old Jaipur chaiwala, the famous Gulab Ji Chaiwala.
And it's not just because his mere deeds have happened to combine the ever-lovely Pink city Jaipur, beggars depending on charity, and the 'age factor'. It's because the well-known 94-year-old Jaipur chaiwala has given us common people a lot to think about. Whether the life we lead is truly meant for something good, a larger purpose or is it merely meant to be lived for the self?
Jaipur's revered Gulab Ji chaiwala happens to begin his day, earlier than most people his age do. Every morning, he gets up way earlier than 6.30 am, a time where he's all dressed up and ready to be at his workplace, i.e., his venerable chai stall (tea stall).
There, each morning, a huge gathering of beggars, around 250 of them are treated to free chai and samosa or four slices of bread and butter and with much respect.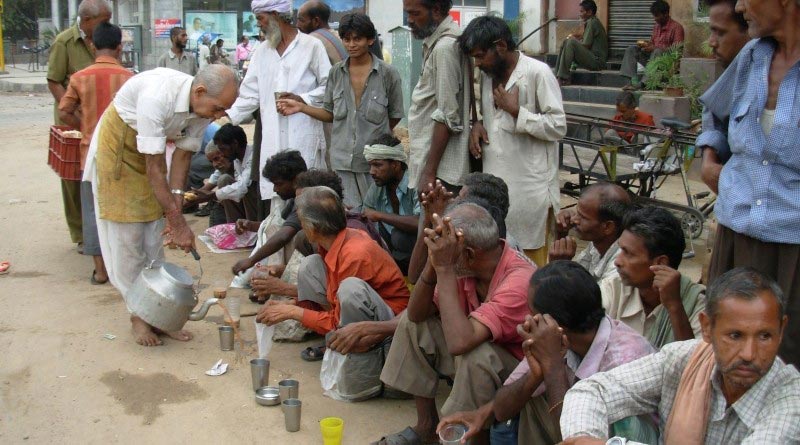 When most people of his age are either waiting for time to pass them by or simply restricting themselves to their domestic four-walled existence and in many cases, then the hospital bed, the iconic 94-year-old Jaipur chaiwala anticipates beginning his day with a slice of charity.
Apparently, the news suggests that the old man gets up at 3 a.m., planning to begin his normal day at work. He then prepares to welcome the first rays of the rising sun in the company of his Kadak-chai (tea with a strong flavor).
And truth be told, Gulab Ji's act isn't some random act of kindness that just happened a few days or months go. He's been at it for the past several years together, without caring to brag about his charitable deed.
Moreover, he has been active in the business of selling tea and snacks for the past 73 years. He feels that people's eternal love of tea is a warm necessity that binds them to their habit just as it binds him to his everyday work, something he goes about gently without any complaints.
But an empire of kindness was built with utterly humble beginnings. Back in 1974, that's over four and a half decades in time, Gulab Ji began his earnest business with nothing more than an ordinary tea stall, and Rs. 130 at his disposal.
But over the course of the past several years, he's grown into becoming one of Jaipur's most acclaimed tea servers, and above all, a household name. Today, he earns around 20,000 a day and happens to serve as many as 4000 customers on a daily basis, many of whom regard beginning their day at the famous Gulab Ji chai stall an everyday ritual.
But above and beyond that, what's rather inspiring is that at his age, Gulab Ji still feels responsible to serve those who have nothing for themselves. Now, if that's not inspiring, then what'll ever be?