Math often seems tough and is a clever subject. English is often interesting but comes with its own set of grammar-related challenges. Geography and History are laborious and, Science a clever puzzle of sorts. Regional languages require a lot of rigour.
The Indian school student is a rare species. He's to contend with tons of challenges. The surprise tests and unit tests being a constant pain, the board examinations determine the future path and what lays ahead. Interestingly, among the challenges that stifle the young students, the parents also happen to contribute their part of the worry.
Their job- when not sweating about whether the child has prepared well for the forthcoming exams- is often about comparing their ward with those of the others. "Why can't you be good in Math like Mr Sharma's son?" "Why on earth can't you score well in Geography like Mrs Kapoor's daughter?"
That's the life of an Indian student. Amidst all these 'mind-boiling' troubles- it's a heartening change to note that a new subject has been incorporated in the school's curriculum and do you know what that is- Happiness!
Yes, you read that right. The Indian students will now be taught several techniques and practices to learn the key to life- happiness, what else?
In some of the government-run and administered schools in India's capital city- New Delhi- happiness has found its way among the laborious academic curriculums that are otherwise, only straddled with Math, Geography, Science, Computer, English and other subjects.
It's nice to know that the schools- the basic foundation for a young bright one, a child's temple of learning is imparting what could be correctly called the most important tenet of one's life.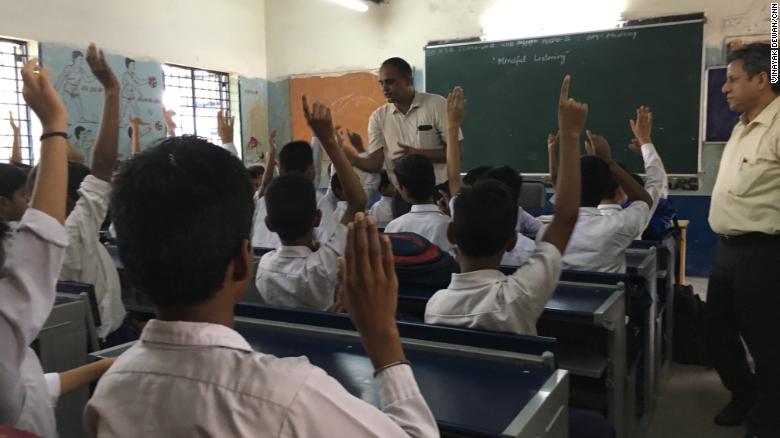 In an interesting feature story, widely read on popular American media platform CNN, the subject was covered widely.
"Suraj Sharma, 12, is in seventh grade of the boys' school in Ghittorni, one of the over 1,000 schools in Delhi that began teaching this daily 30- to a 45-minute lesson on Monday.
Suraj's first impression is promising. "If I do everything with mindfulness, my knowledge will increase," he learned on day one, he said. Mindfulness includes meditation and breathing exercises that help relax the mind."
Perhaps, there's a lot of sense in appreciating the finer aspects of life and therefore, it seems wise to step onto a different pillar of life whilst breaking away from traditional learning fundamentals that are entrusted with Math, English, Science and the likes.
Schools have newly begun the practice of teaching their students about techniques that deal with memorising concepts and basic fundamentals. A lot of emphases has begun toward focusing on a student's emotional and mental needs. Mindfulness, breathing exercises and creating a fine balance between activities that stress on intellectual pursuits and exemplifying one's personality is the crux of this brand-new initiative.
And truth be told- this is, indeed a laudable step taken by the schools in Delhi. So far, the length of the project's adoption by other government schools in the national capital region is not known exactly at this point in time but it is being felt that the same methodology will be adopted by other institutes as well.
Some other interesting details regarding this one of a kind- happiness- subject have emerged and are as follows:
The program groups children into three age categories: kindergarten to grade two, grades three to five, and six to eight, according to Rajesh Kumar, head of the state committee formed to design the curriculum.
In order to avoid further burdening students, the class has a simple rule. There are to be no grades and there will have no textbooks, tests or homework. Doesn't that make learning more along the lines of new-age methodology? When are the others following suit?