Must love dogs! Not a standard expression or a bummer. Not only a fine John Cusack film either.
Something that reads like an instruction, this is a pure feeling- an honest strand of our heart.
Isn't it? With the same passion we shop, eat, and even scuba-dive, there are some who reserve the passion for others in distress. Take, for instance, this amazing woman in the United Kingdom who actually put her health on the line in order to save a dog that didn't even belong to her.
What's more interesting is that the UK-based woman- without a doubt, an animal lover- didn't even know the dog she ended up saving and therefore, perhaps proves us all that compassion does exist and more importantly, unconditional love.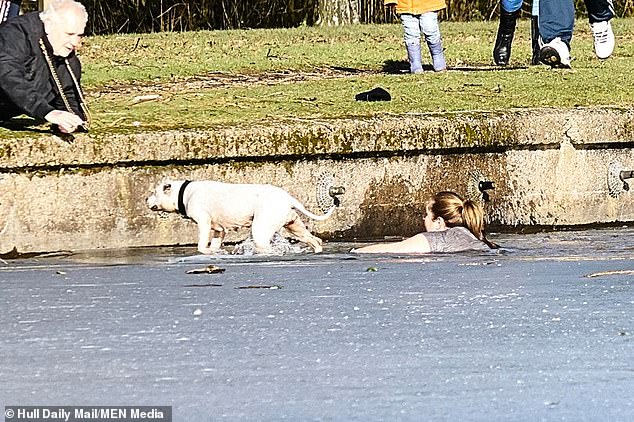 So here's what happened and this story may quite simply give you a new lease of life when it comes to caring about those who one can often overlook or avoid.
In Hull, East Yorkshire, England, the onlookers hanging around at a frozen lake were pleasantly surprised to see the above-mentioned woman jump onto the water body, one splintered with ice and marginal quantity of water. And thus, in putting her own health on the line (imagine the repercussions), this brave UK lady saved a dog that not only had nothing to do with her but one that had been panting frantically about 20 yards away from the lake's embankment.
In so doing, the woman who's yet to be identified managed to save a white bulldog and put it to safer 'shores', much to the delight of its owner: an old man, as stated in Hull live.
To quote directly from the Daily Mail, an eyewitness shared: 'I think the old gentlemen lost his dog and it had jumped in the lake and couldn't get back out."
The dog became really distressed, the water must have been very cold and freezing. A woman then came along, broke the ice in front of her and jumped in.
She swam 20 yards out into the middle of the lake and then brought the dog back with her."
Now all that said here's what stands out:
Some may even think, and we are no one to judge the Insta-loving, pub-hopping, tech obsessing world around us whether putting one's life on the line for anyone today really matter all that much?
And that said if it does, and heck, we know the power of unconditional love, isn't the Hull incident's UK lady a real hero?
In a world that often lambasts itself; forever sulking about the general apathy that there seems to exist, aren't individuals like this UK lady a true 'hero?'