A few months back in time, Bollywood in India's mega-city of dreams- Mumbai- released a movie called Banjo. Despite the limited commercial success albeit a few heart-warming reviews, the movie spurred to the attention of an entire movie-going audience and fraternity- the sheer weight of musical talent that lies in the streets of Mumbai. And that too, in the heart of poverty- residing in the slums.
Now, something on the life of Banjo has happened for real. And the focus has shifted to another enterprising city, among the most popular in tier-one centres of urban India- Bangalore. And it seems, it's all set to introduce the heart-warming talent lying in the slums of Bangalore to the streets and bylanes of Germany. In an age where we are all so coping with a dearth of time and jostling with multiple deadlines and responsibilities, music seems to be the only obvious rescuer.
But while it's a rescuer of sorts for most of us, to the others, who do not hail from the most privileged corners of life, it's a life-maker, to speak truthfully. How else could one describe the life-altering transformation of one Anand Dhanakoti, who is actually a ragpicker? In a world where stories about startups that began on a shoestring budget continue to take people by sheer surprise, the journey of Anand Dhanakoti- who could soon be performing to Waltz in Germany- melts hearts and yet, inspires endlessly.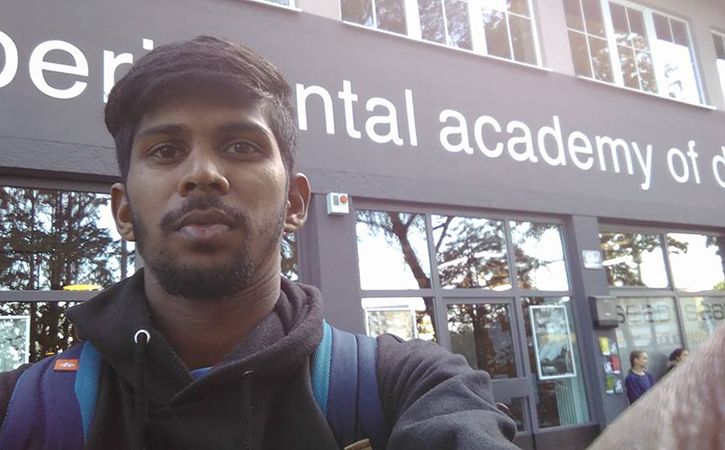 Living for the longest time in Bangalore's slums in the IT city's Ragigudda, Anand Dhanakoti has an interesting facet about his journey. He's spent years together studying and practising classical ballet and jazz dance- two silken entertainment forms. And now, having studied the two for 14 long years, it seems, Bangalorean Anand Dhanakoti's life is about to break free akin to a groovy Waltz dance-step.
It's always heartening with years of hard work pay off and lead an individual to the flight of one's dreams. From the rough terrains of life in the dull bylanes of Bangalore's slums to the glitzy heights of Germany's spunky colonies, Anand Dhankoti has won the big ticket to scale his dreams. But for now, let's not beat around the bush and beat instead to Anand Dhankoti's awe-inspiring journey.
Having recently won a scholarship to the Contemporary School of Dance, at Hamburg, in Germany- Anand Dhankoti- will be present in Germany in the near future where he will be adding some flair and exuberance to his onerous craft in a bid to solidify his career in the world of dance. There's a saying that while many of us can have wings, only a few know how to add a flight beneath one's wings and on present thoughts, Anand Dhanakoti is clearly doing that.
At the age of 35, Anand wishes to be a recognized name in the spectacular world of dance and music and even wishes to start his own musical academy. With age and talent on his number and importantly a natural penchant for the creative arts and performing arts, there is little doubt about whether Anand would be able to realise his potential. But at the same time, it cannot be ruled out that Anand's journey has been an onerous challenge of sorts- particularly from the standpoint of finance.
On the throes of a financial woe constantly, Anand Dhanakoti is seeking support from the most illustrious and dominant vehicles of our time- the crowdfunding platform. So far, using the crowdfunding platform of fueladream.com, Anand has made use of some great support that his truly one-of-a-kind cause has generated. It's garnered the earnest boy, a sum of INR 4.8 lakhs of the 9.5 he needs to realise his dreams in Germany.
And that is not all, truth be told. In case you were wondering what all that Anand knew in life was just dance and music, then that's not all. The boy is a self-trained expert in martial art form kalaripayattu, the ancient Indian-style martial arts form. In addition, he is a national-level gymnastics champion as well. In 2009, he won the Karnataka state-level gold medal and the national-level silver medal for gymnastics in 2010. Can you believe that? If that's not an indication of some fine all-round talent, then just what is?