The respected and adored Prime Minister is not the only success story in the country in the form of an individual who rose much above the ranks, having once been an ordinary tea-seller.
A tea seller's daughter, 24-year-old Aanchal Gangwal of Madhya Pradesh is gearing up to join the Indian Armed Forces. But this is more than any lame story surrounding an ordinary person's rise to prominence. There's so much more; there's a lot much emotion in here.
Implicit in the success story of this curious spirit, a girl full of life and zest is the heartbreaking episode that struck India back in 2013. Among the worst ever natural calamities to have struck the country, the 2013 floods that ravaged Uttara Khand were- for the sheer enormity of destruction- an unforgettable sight.
These heart-crushing incidences were to shake up the girl, who was only 19 then. Today, as the girl motivated by the fantastic rescue operations orchestrated by the IAF is about to be inducted into the Air Force, a thought goes out to her resilience as also the courage of India's exemplary flying heroes.
In her great urge to contribute to the country, by way of serving in the Indian Armed Forces, Aanchal Gangwal decided to be a part of the contagiously charming albeit valiant force- the Indian Air Force. In so doing, the girl with strong convictions has become the first student from all of Madhya Pradesh to join the prestigious IAF. This is, in itself, an incredible high, particularly from the perspective of a girl joining the air force of the world's largest democracy on earth.
That said, at this moment, there are 22 other candidates that have been selected to be drafted into the winged force of India's Armed forces establishment. Among them, is the avid youngster, Aanchal Gangwal.
And must it be shared, that at an impressionable age, where much alike other contemporaries her age, she could have easily chosen to target other career-related streams and endeavours- for instance, Law, Medicine, Engineering, Media, Entrepreneurship- Madhya Pradesh's Aanchal Gangwal chose to serve her country. This is, indeed, a brave step in itself.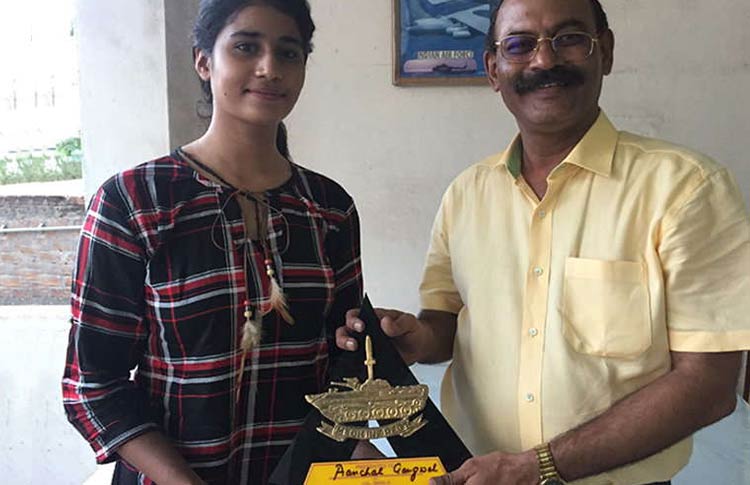 Speaking in an impassioned manner regarding her elation at being selected for the legendary heroes of the sky- the IAF- Aanchal Gangwal had the following to share, "When I was in Class 12, there were floods in Uttarakhand, and I was impressed with the way the armed forces carried out the rescue operations. I decided to join the forces then, but the family condition was not conducive at that time."
Where her academic record is concerned, there's hardly been a doubt regarding the young girl's potential. A student of the Metro Higher Secondary School, located in Neemuch, M.P., Aanchal's been a scholastic mind and an active participant in varied endeavours related to extracurricular and socio-cultural activities at her school. A popular student, marked to go a long way by her peers and professors, there's hardly a surprise that Aanchal has made it quite far in life.
Even amidst the growing clatter of myriad triumphant professional endeavours, most noticeably, the dazzling corporate world, joining the Indian Air Force is still considered a coveted and meaningful career choice. And that said, only a select few are able to rise past the stifling challenge associated with joining the premier defence establishment of India's armed forces. Only recently were the results of the IAF test declared. Interestingly, as many as 6 lakh students appeared for the examination from around the country.
Among the tiny lot that was selected was Aanchal Gangwal, her father's doting daughter. It's particularly impressive that despite coming from humble beginnings, Aanchal didn't stop at anything to make her dream come true. Her father, a common tea-seller, without having the financial bandwidth to invest in her daughter's career, tried his level best to provide for Aanchal's education, leaving no stone unturned in aiding the girl.
In immense appreciation of her effort and importantly, courage to pursue her dreams regardless of her existential reality, wishes are pouring from all around the country. In fact, among the first to congratulate Aanchal Gangwal for her stupendous achievement was the chief minister of Madhya Pradesh, Shri Shivraj Singh Chauhan, who took to micro-blogging platform, Twitter in extending his wishes.
For now, Aanchal is going to prepare for further training, on her road to be a part of the Indian Air Force. She will be shortly commending her training, planned at the Air Force Academy at Dundigul, in Hyderabad. This will continue for an year and shall commence from June 30 onward.