Here's a simple, harmless, uncomplicated question. At the age of 80, just what do you expect to do? What are the possibilities of exploring one's talents, running after a lifelong passion, realizing a dream or furthermore, embarking on something truly momentous?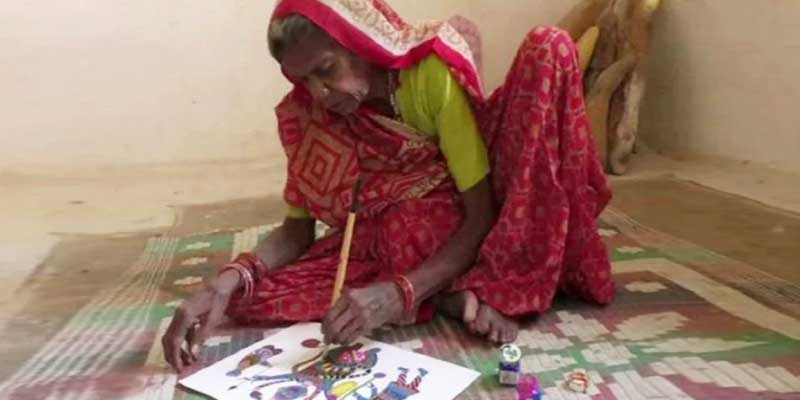 At the ripe old age of 80, one cannot, regardless of caste, color or country of residence, expect much beyond hanging out with a set of prescribed medicines and watching one's diet. The idea then at that age is to seek as much rest as possible minus any kind of exertion.
But well, here's another fact of life. Life is not the same for everybody- right? Well, not in the least for an 80-year-old Madhya Pradesh woman who has dedicated her life toward the services of and passion for art.
Wondering what's going on here? Well, discover this really telling positive story and gear up to read something inspiring.
Apparently, an 80-year-old Madhya Pradesh woman, who doesn't even hail from a stable economic background has managed to produce some stunning artworks that are being currently exhibited in a starry presentation in Italy! How's that for a magnificent true story?
Recently, the news agency ANI reported that an 80-year-old Madhya Pradesh woman, in fact, a tribal, truth be told found her work being unveiled at an art gallery in Milan, hundreds of thousands of miles away from India.
The moment the news broke out, all were instantaneously interested in knowing more about the 80-year-old Madhya Pradesh woman. And so it turns out that Jodhaiya Bai Baiga hails from the Umaria district of Madhya Pradesh (the central-most state in all of India) and has been painting unfailingly since the past 40 years.
So, in a way, it won't be incorrect to state that the elderly lady has dedicated half of her life to the passionate services of art.
But true to the story of most artists and pursuers of a passion, there's often some deep reason or motive that pushes one to the direction of following one's dreams. Right?
That's exactly true for Jodhaiya Bai Baiga of M.P. It is known that she took to painting after she lost her partner. In her brief interaction with the ANI news network, the 80-year-old Madhya Pradesh woman shared that she paints pretty much everything she observes.
And furthermore, where her life stands currently, the old lady pretty much devotes all her time to painting.
"I paint all kind of animals and whatever I see around. I have visited several parts of India to paint. Nowadays, I don't do anything else than painting. I started this when I lost my partner 40 years ago. I had to do something for survival and to take care of my family," Jodhaiya Bai Baiga told ANI.
ANI also furnished some interesting insights from the life of the 80-year-old painter from the state of MP and shared the following:
odhaiya Bai Baiga, meanwhile, is elated that her paintings have been featured at the exhibition in Milan and said, "I'm feeling glad that my painting is being recognized at the International platform."
Her teacher Ashish Swami is proud as he said that Jodhaiya Bai Baiga's achievement will motivate others from her community to indulge in such activities.
"Leaving her pain and sorrow behind she has always been focused. Her painting is being shown in Italy and I'm really happy for her, but it seems that she has more to achieve. It is a proud moment for the Adivasi community as they have not had the proper education. This will motivate other community people to come forward and get indulge in these kinds of activities," Ashish Swami told ANI.