The relations between Saudi Arabia and Canada stand fractured at this moment in time. But who must one blame this down to? Is it the oil-rich nation in the Middle East being the volatile land that it tends to usually be or could this be down to Canada's large-heartedness?
As it is, due to the growing feeling of oppression being caused in the Middle East allegedly by Iran, the western powers are vying to rally against it. Those who love the phrase mobilize would much rather stick to that term. But in that regard, Saudi Arabia, not exactly Iran's best friend or working ally didn't need to have been troubled, especially by an American ally. Now that Canada has offered immediate asylum to Saudi woman Rahaf-al-Qunun, who barricaded herself in a Thai hotel, having left her homeland only to state that if she changed or disavowed her religion she would be killed (by Saudi Arabia) has Trudeau's country earned permanent wrath from Saudi Arabia, and thus, from its own allies?
No matter what view one takes on this issue,
At a recent townhall meet in Canada, one of the attendees asked of Prime Minister Justin Trudeau about his country's policy on accepting immigrants, rather so many of them. The question seemed utterly racist at its core but was nonetheless pointing to the many Muslims that form a part of Canada, despite them being out to 'kill others!'
To this, the thinking speaker Trudeau responded calmly.
He spoke of Canada's history; the country having been home to hundreds and thousands of immigrants, who, in turn, shaped the modern identity of the nation and came to form the initial conception of a friendly nation that seems to often being in a 'neutral zone'.
But while purists might say Justin Trudeau perhaps earned the loudest cheer from the gathering, one made of individuals representing heterogeneous backgrounds.
But was his no-holds-barred peaceful stance indicative of sound foreign policy, one might ask?
Confuscious is known to have said, "Under the sky, under the heavens, we are but one family."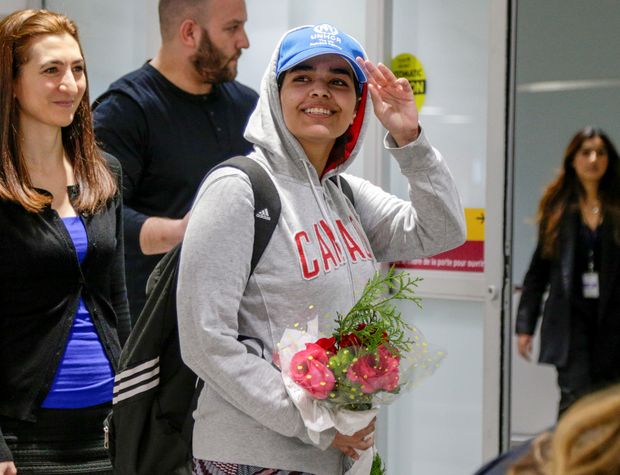 Fundamentally, aren't we actually? This is regardless of the fact that it is a man and his failure to peacefully co-exist with his own that has led him to draw lines on the face of the earth.
But philosophizing be darned, the Canadian Foreign Minister's recent good samaritan act- that of offering immediate asylum to al-Qunun- may have earned a cold shoulder to Canada from Saudi Arabia.
This is a country with whom the Federal government was all set to advance talks of pushing talks for billions of dollars' worth of business opportunity only during the last spring.
So what happens now?
Perhaps it could be said that when Foreign Minister Chrystia Freeland greeted al-Qunun- welcoming her to 'safer' shores in her land, a lot of water was splashed on possible export opportunities that ranged on a line of things right from agriculture to education, as explored by the then international minister (in the Trudeau govt.) with the Saudi ambassador to Canada.
And Canada's trouble, and it would be surprising that it doesn't court any, doesn't stop at that.
Now, that it has also provoked a possible reaction from the likes of China and the United States, two strong allies of Saudi Arabia, the latter, in fact being one of the closest friends of Canada itself, may have turned the tricky situation into a possibly damaging one.
So while none of what Canada did appears wrong from a humanitarian perspective- and why should it, they only offered asylum to someone who desperately wanted to flee a kingdom, the better part of the world identifies as being constrictive, regimental in many forms- what is the true measure of the 'good' gesture?