Wearable technology has come a long way since the first calculator watches in the 1970s. Today, wearable devices are more advanced and sophisticated than ever, incorporating everything from fitness tracking to augmented reality capabilities. In this article, we'll explore what wearable technology is, how it has evolved over time, and some of the top brands in the industry.
What is Wearable Technology?
Wearable technology, also known as wearables, refers to electronic devices that can be worn on the body, either as accessories or as clothing. These devices are designed to collect data, monitor health and fitness, and provide users with information and feedback about their activities.
Some of the most popular types of wearable technology include fitness trackers, smartwatches, smart glasses, and smart clothing. These devices often include sensors, such as accelerometers and heart rate monitors, that collect data and transmit it to an app or another device for analysis.
How Has Wearable Technology Evolved?
The history of wearable technology can be traced back to the 1960s, when the first wearable computer was developed at MIT. This device was a backpack-sized computer that could be worn on the back and used for data analysis and navigation.
In the 1970s, the first calculator watches were introduced, which allowed users to perform simple mathematical calculations on their wrist. This was followed by the first digital watches, which included features like alarms and stopwatches.
The 1980s saw the introduction of the first wearable hearing aids, as well as the first electronic pedometers. In the 1990s, wearable technology started to become more popular with the introduction of the first wearable heart rate monitors.
The 2000s saw a boom in wearable technology, with the introduction of devices like the iPod and the Fitbit. These devices allowed users to listen to music and track their fitness activities, respectively. In the 2010s, wearable technology became even more advanced with the introduction of smartwatches and augmented reality glasses.
Today, wearable technology is more advanced than ever, with devices that can monitor everything from heart rate and sleep patterns to blood pressure and oxygen saturation. Many devices also include GPS and cellular capabilities, allowing users to stay connected and track their activities on the go.
Also Read: The Top 5 Wearable Fitness Trackers on the Market Compared and Reviewed
Examples of Wearable Technology
Let's explore some examples of wearable technology and how they are changing the way we live and work: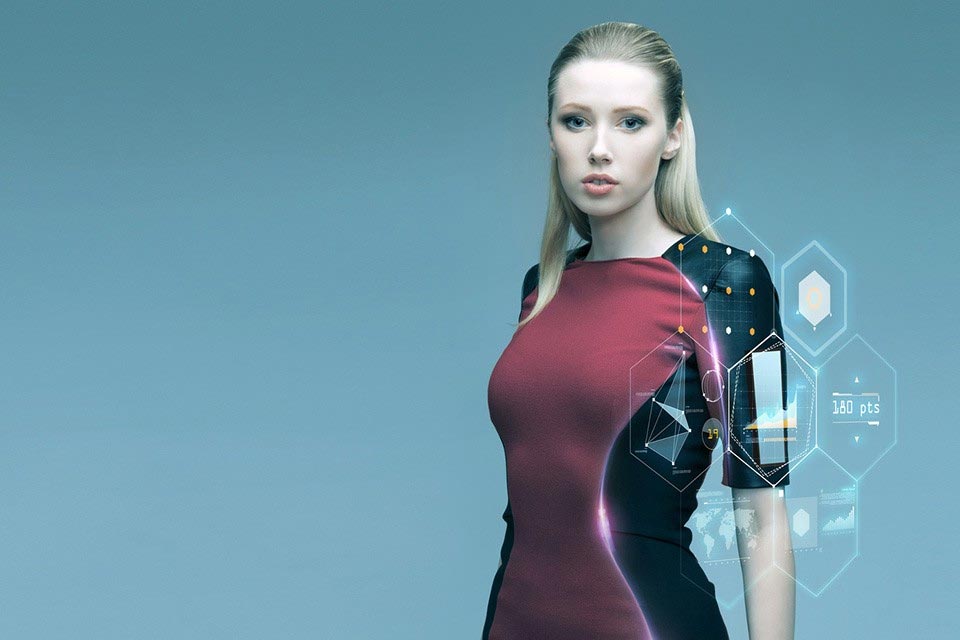 Smartwatches – These are wrist-worn devices that can connect to a smartphone and offer features such as notifications, GPS tracking, fitness tracking, and mobile payments. Some popular smartwatch brands are Apple Watch, Samsung Galaxy Watch, and Garmin.
Fitness trackers – These are wearable devices that can track physical activity, heart rate, and sleep. They often come in the form of wristbands or clips and can provide insights into fitness goals and daily routines. Some popular fitness tracker brands are Fitbit, Garmin, and Xiaomi.
Augmented reality glasses – These wearable glasses provide a digital overlay on the real world, allowing users to see virtual objects and information. Examples of augmented reality glasses include Google Glass and Microsoft HoloLens.
Smart clothing – This is clothing that incorporates technology such as sensors or conductive fibers to provide functions such as monitoring heart rate, tracking movement, or heating and cooling the body. Some examples of smart clothing brands are Athos and Hexoskin.
Smart jewelry – These are wearable accessories that can track activity, monitor health, and offer notifications. They often come in the form of necklaces or bracelets and can be used as fashion accessories as well. Examples of smart jewelry brands are Ringly and Bellabeat.
Also Read: Which Smartwatch To Buy: Apple watch 6 Or SE?
Conclusion
Wearable technology has come a long way since the early days of hearing aids and pedometers. Today, there are countless wearable devices available on the market that cater to a variety of needs and preferences. From fitness trackers to smartwatches, these devices have revolutionized the way we live our lives and interact with technology. As the technology continues to evolve and improve, it's exciting to think about what the future of wearables holds. Whether you're a fitness enthusiast, a tech lover, or just looking for a convenient way to stay connected, wearable technology has something to offer everyone.