In an age of increasing digitisation, there is hardly a surprise to note the growing dependence on the Internet for every minuscule need of life. The Internet is that place where both the rabble of the world and those who create both the rabble as well as useful, purposeful knowledge reside.
It's a geography-less, globetrotting, limitless ocean of information where everyone swims with boundless fun and pleasure. The Internet does not distinguish between the male and the female audiences.
While men find useful wisdom through the intricate networks of blogs and content-driven websites that come in handy where male-centric information flows abound, for instance, content on cars, bikes, gadgets, personal hygiene and other products, the Internet is buzzing with content for women.
Rather, let it be spelt clearly, there's exclusive content for feminine audiences.
Speaking on those lines, there is hardly any dearth of information and knowledge that women have access to courtesy some lifestyle platforms. So that said, which are the five of the best lifestyle platforms for women wherein they consume whirlwind information on fashion, design, parenting, beauty, health and similar tips?
Let's find out from the following list:
The Beauty Bean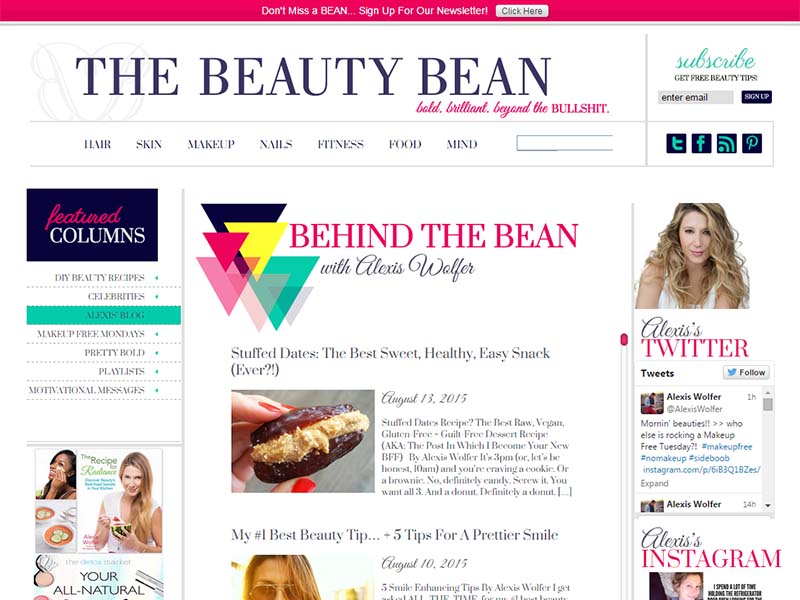 Can there be a website that offers women an all-encompassing pool of information for on lifestyle, including health and dating tips, fashion and dating advice and other valuable pivots as seen from the perspective of modern-lifestyle?
Well, if any woman was looking for the above or any of the above, then probably landing on that part of the Internet that reads Beauty Bean would suffice.
With an unparalleled focus on intrinsic beauty, including the internal as well as physical beauty- Beauty Bean has emerged among the leading online information portals for the 21st-century women- bold, confident, looking for advice, not unwilling to learn from expert guidance.
Corporette

Often, the phrase "Corporate" is sort of misunderstood. There's more to the phrase than the painfully-correct tedium of making stylish PowerPoint slides and expansive business plans, ideated with some rich dark coffee in a fully air-conditioned conference room.
Maybe, it could be said that not many understand the true underlying meaning of this phrase. This, however, is a platform that helps to align the working women- girls and ladies- with useful information that helps them to analyse and introspect on their fashion and leadership choices, strategies, ideas and that kind of paraphernalia.
Among the other things that today's leaders need, being dressed emphatically and leading from the front matters. So if you are seeking just that kind of information or handy advice, then probably it's a fine idea to check out the above-mentioned site.
A Cup of Jo
It can be said that many a time our understanding of the feminine gender is rather parochial and we tend to limit the expanse of this powerful gender, especially when viewing them from a patriarchal mindset. It imposes a limitation on our vision.
To state further, could it be that today's women are not merely restricted to being the home-bound wives or career-driven chicks. Well, of course! Hell, yeah!
What about those women who are neither content being someone's plain-jane housewives and those who aren't in any mainstream career? What about the bloggers and the novelists, the budding photographers and the daredevil or adventurous women who love biking?
A Cup of Jo is a platform dedicated especially for these rather rare but charismatic species. Check it out.
Everywhere Ist
The most important thing about this particular website is that for starters, it isn't a website. Well where popularity stands, it has grown into being one. But effectively, Everywhere ist is a blog platform, run by an individual who happens to be a highly talented and multi-dimensional versatile woman.
For experiences on culinary life, travel and adventures, Everywhere Ist is the kind of platform that is such a vital reprieve from the condescending 'do this, do that' kind of websites for women over the Internet.
Jezebel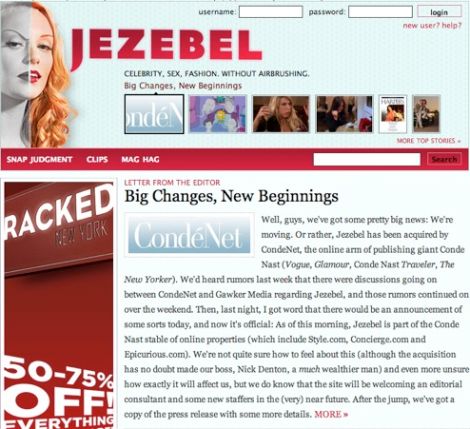 When it comes to websites such as Jezebel, one can hardly seem surprised with the name of Jezebel on the list. This curious platform, that is owned by Gawker Media, publishes regular information on dating, lifestyle and above all- celebrities- including their relationships, controversies and other viral content- that has the bandwidth to generate a wide-reaching response in the women's readership over the Internet.