Navratri is here and you can already feel the festivity in the air. Devotees have their plan for coming 9 days sorted and the atmosphere is brewing the uplifting zeal already. From puja pandals to the decorated temples, fruit shops to the outlets that stock various items dedicated to the occasion, everything is ready. Suddenly the world around us appears more magical and colorful.
Now in between all these preparations, how can we forget about one most crucial thing? Outfits. Yes, they play a major role in every festival so why not in Navratri? Especially for the ladies to whom this Navratri is dedicated to. After all, it's the festival of Goddess Durga.
Ladies, whether you are planning to go on a puja party or a Jagran. Most importantly if you are planning to play with those Dandiya sticks at a gala, we have just the right choices of Lehenga that you can wear and shine.
1. Circular Lehenga
It is one of the oldest kinds and still in fashion. In fact, the traditional style lehenga is the first choice of most of the ladies. The broad flares in the form of a circle at the hem give the perfect Indian look. From heavy embroidery to simple prints you will get various texture in this one. Just try to avoid a heavy lehenga as it can cause obstacles while dancing.
2. Fishtail Lehenga
Oh! This one gives you a mermaid look as it is tight till the knees. The flares start after knees and end at the feet forming a mystical fishtail. Ladies who want to opt something sexier and attractive than circular lehenga can go for this option.
3. Lehenga With A Jacket.
Trying to stand out in a Navratri evening. This will be the perfect pick. The trend has already been a rage in weddings this year. The bottom of this style is usually kept simple and flare but the jacket is all studded with gems and embroidery. The jacket covers the calves making only the hem visible. Hence, you can opt for a broad or embroidered hem. It gives you an elegant look and makes you look distinctive among others.
4. Half Saree Lehenga
These lehengas are inspired from traditional South Indian half saree. It gives you a saree look but saves you from the hassle of wrapping it ( we all know how complicated it is). It is usually low flare but makes you look absolutely gorgeous.
5. Denim Lehenga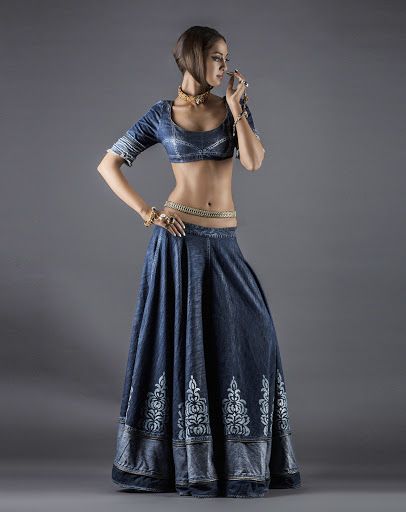 Denim is the look of 2020. It is making the world go gaga and is basically being used in every outfit. From shirts to kurtis to skirts and now lehengas. Denim Lehengas are low flare but you will find these extremely comfortable as they are very lightweight. You can use numerous heavy accessories to give yourself an exclusive look.
We hope all these options will help you with your Navratri fashion game. Share it with your friends and team up for that dancing event.
20 September 2017
Avni S. Singh