Up until now, Hyderabad has been known as the city of Nawabs and the place that serves the best-possible Biryani. And none of that is untrue and none of that can ever be taken out of context.
But from August 10, 2018- there'll always be more to Hyderabad than what we've known and celebrated it for. It'll always be regarded the city where leading Swedish furniture retailer Ikea opened its first-ever India store.
Impassioned shoppers and curious gazers were served a bucket-full of delight as they gathered around Ikea's maiden India store, a mega outlet opened right in the heart of the Andhra Pradesh capital.
But that told, there was hardly a surprise regarding Ikea's grand entry into India resulting into a bit of a desperate situation at Hyderabad, a city that pigeonholed itself into a seemingly endless traffic snarl following the much-talked-about store opening.
There's hardly a doubt about the mighty presence and the phenomenal economic prowess of Ikea, a firm that registered a revenue of close to approximately 4,090.6 crore (INR) back in 2016. It's an affirmation of Sweden's inherent talent and skill at manufacturing and developing things that ultimately go on to play a vital, irreplaceable part in our lives.
Wondering how? Do we not need everything whether it's a sofa, bed, lamp, table, chair, cars, et cetera? Few other countries have given the world a multifarious reason to celebrate its craftsmanship the way Sweden has, also the land of Dolph Lundgren.
That leads us to an interesting parallel between Ikea and Hyderabad- if you come to think of it.
While at the same time where it can be regarded that Hyderabad will no longer only be about Kebabs, Biryani or the den of Nawabs, Ikea too will always be considered for giving Sweden a grand identity, having hitherto often being lauded as being the great home to Volvo, an automotive giant, a one of a kind brand in the realm of automobile industry.
Sweden, the legendary Nordic country, had been planning to foray into this part of the sub-continent, in its long-standing aim to further strengthen its market prominence. Well and it can be said, it's made a rather incredible, gung-ho entry into that part of Asia that's about as robust and resilient as the power of a Volvo wagon, among the mainstays of the Swedish economy.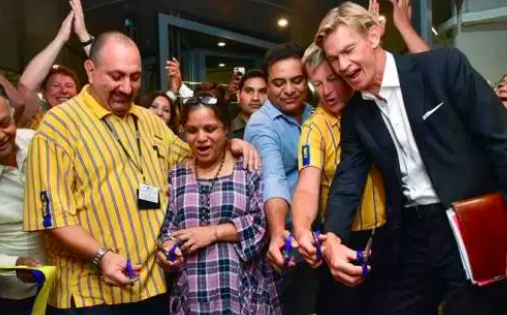 More on Ikea's landmark Hyderabad store. Over a decade since floating the idea of Indian expansion, the Swedish home furnishing chain IKEA finally marked its entry with a 400,000 square foot store in Hyderabad on 9th August, where 1,000 of the items, including some cutlery and stuffed toys, will be priced at less than 200 rupees.
Present at this landmark occasion were not only the group CEO, the main-man for Ikea- Mr Jesper Brodin but also the India CEO, Mr Peter Bretzel who cut open the famous store in a red-ribbon ceremony.
But amid the cheer and charm, some caution has also been thrown to the winds. This comes in the form of the magnanimous brand reiterating the perspective about making profits.
While it may seem that catapulting a big profit figure may not be all that tough for a brand that's ruled with an iron-fist everywhere, things could take their own pace of time here in India. This isn't condescending conjecture; it comes directly from the mouth of the top leaders at Ikea who stated earnestly that it could take years to reach major profits in India. Raising the proportion of locally sourced goods will help in mitigating high import costs.
But that said, the most wonderful part about Ikea's India entry is that a renowned firm shall be generating more jobs in an enterprising part of the world with whom it never engaged in a major way.
A report published in the Indian Express shared a vibrant figure in this regard:
IKEA Hyderabad store employs 950 co-workers (nearly 50 per cent women) directly and 1,500 indirectly in services and expects to host close to 7 million visitors each year.