Your home is your personal space. It's where you come back to relax, unwind, and just be yourself. Beautiful décor, personal touches, and light pleasant furnishing change the way a room is looked at. However, despite these extra touch-ups, the room may still feel claustrophobic, it may feel small. That's where the color combination comes in handy. A usual way to make a room look bigger is with the help of different paint options.
Colors transform any room and with the right combination, you set the perfect tone for your space. Given here some colors that may make a small room feel much more open and spacious.
Here are 10 colors that makes room look bigger :
10. EARTHLY OCHRE TO MAKE IT FEEL CALM
Earthly Ochre is a deep, warm color that sets in a calm surrounding. The light colors with proper sunlight streaming through windows increase the dimensions of the room. It makes the space look more open simply by indulging in warmer tones that are pleasant to the eyes.
9. DARK BLUE TO MAKE ROOM LOOK BIGGER
Dark blue has the transformative power to make it appealing. Small rooms offer the best place to make an impact. Heavy tones on one wall with lighter, bright tones open the space in the room. It creates a moody and bold ambiance that distracts from the lack of space.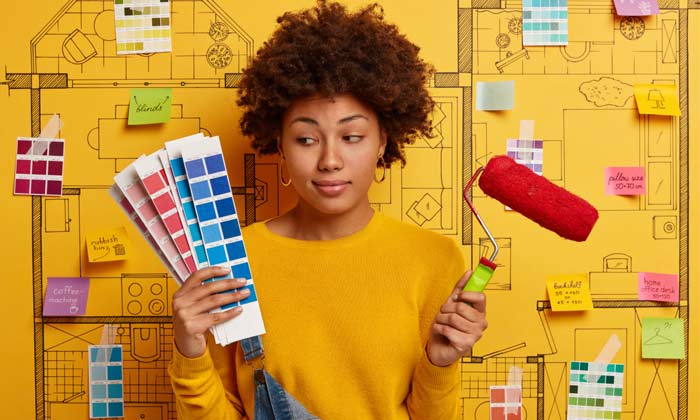 8. CLEAN WHITE FOR A CLEAN LOOK
A crispy white has a nice clean feel to it. It emanates a sense of calm throughout the room. White also has the right level of softness that is cozy and pleasant. It becomes even more compelling if you pair it with beautiful wooden flooring and a bright décor. You may mix in some other colors in the furnishing and plants to make the whole room feel more alive and vibrant.
7. OFF-WHITE FOR EASE ON COMBINATIONS
Off-white paint is such a simple and clean color. It makes it easier to work it with the different color combinations. The soft color makes the space look more open and inviting. The room feels larger if you contrast it with natural greenery and strong colors. There are spaces in a house where you generally want to relax and have fun and Off-White works well in these places such as a living room.
6. PALE BLUES FOR A SOBER APPEAL
This is one color that can surely make a room feel larger. Pale blue has the gentle and sober appeal of making a space feel open and light. It looks beautiful when the light pierces in through curtains and produces a calming feel in the room. When paired with other light colors, it sets a soothing tone to any room. It works best for internal rooms like baby rooms or bedrooms.
5. DARK GREY FOR A BIGGER MODERN FEEL
Dark Grey tone is minimalistic and modern. Irrespective of whether you have fancy or casual furnishings, dark grey makes the room look crisp and clean. This is because dark grey is a great contrast against the more traditional white or simple beige colors. This is the color that makes your room look sophisticated and elegant.
4. SEA GREEN MINIMALISTIC VIBE
Owing to its minimalistic vibe, Sea Green is a color very much in demand. It gels really well with the furniture and décor and makes the whole room look earthy. It is a soothing color overall and sets a nice mood in the room. When paired with other earthy tones and textures, you will notice how the color can freshen up the room in no time at all.
Suggested read: Five-Point Plan For an Organized Tidy Home
3. LIGHT GREEN FOR THE VIBRANCE
Light green is an amazing vibrant color that gels well with white to create a more open space. It can add a really nice sophisticated touch to a room. It can make the whole room look more inviting and calmer. Since the living room is the main space for your guests to relax, this color works great in creating a super vibe there.
2. TAUPE FOR A SOOTHING RELAXING MOOD
Taupe is a relaxing and light color that sets in the mood of a space. It adds a splash of color. A taupe wall is a brilliant proposition for small rooms. It falls in the lighter end of the color scheme and offers a more colorful solution to tans and whites. It is a color option that is used most when trying to make a small space appear larger.
1. CHARCOAL BLACK FOR THE PROFESSIONAL LOOK
A dark charcoal black can make the room feel more personal if used as a complementary color to a lighter main color scheme. It works even better if don't have a source of natural light in a room. It gels well with sophisticated and modern light colors such as light blue, purple, and white.