Did you know that there are around 8 types of vitamin B? And that our body needs each type of this vitamin B in a requisite proportion. Yes, and so, we need to obligatorily include foods rich in vitamin B2 in our daily diet. Vitamin B2 which also goes by the name 'Riboflavin' is an essential vitamin needed by our body. The deficiency of vitamin B2 is detrimental. 
Vitamins, by their very nature, are either fat-soluble or water-soluble. Riboflavin is a water-soluble vitamin that is carried to different parts of our body via our blood. Our body fluxes out the excess of this vitamin through our urine because of which only a small portion of vitamin b2 can be stored by our body. Therefore we need to include foods rich in vitamin B2 in our daily diet.
Why Do We Need Vitamin B2?
Are you aware of the role of adenosine triphosphate (ATP)? Our body is designed to produce ATP from the food we intake. This ATP then produces energy which is stored in our muscles and used when we carry out our daily chores. Riboflavin is vital in converting carbohydrates from our food to ATP.
Vitamin B2 also plays a crucial role in breaking down the protein and fats we gain from our food.
Benefits of having vitamin B2 are manifold. There are a few studies that suggest that food rich in vitamin B2 can help one avoid severe migraine headache and cataracts. Some researchers have also claimed that magnesium, vitamin B2 and B6 can bring down the levels of abnormal organic acids found in the urine of children suffering from autism.
Other than the above, we need to eat food rich in vitamin B2 because:
It keeps our liver in good health; 
Maintains the mucous membranes; 
Keeps our skin glowing; 
Aids in keeping our nerves and muscles in better shape and form 
Foods Rich In Vitamin B2
Here is a list of 5 foods rich in vitamin B2.
1. Bowls of cereal
These days most of the cereals that we eat are fortified with various vitamins. And most of these are fortified with vitamin B2. So, depending on your cereal, your breakfast alone can help you meet 100% of your daily consumption of vitamin B2.
2. Beef
Many people in India avoid beef because of the religious sentiments attached to it.
However, this red meat is a food rich in vitamin B, especially riboflavin. Your dinner containing 3 ounces of lean beef can cater up to 31% of your daily vitamin B2 intake.
3. Mushrooms – Foods Rich In Vitamin B2
Vegetarians usually face troubles in meeting their vitamin B2 levels. Mushrooms come in as a saviour for them. It is a food very rich in vitamin B2. Only half a cup of portabella mushrooms can help one meet out 23% of his / her daily vitamin B2 intake.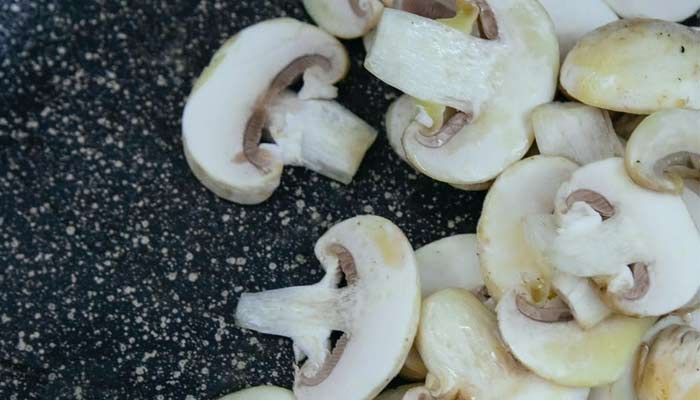 4. Eggs
Eggs, in particular, is considered to be a healthy food item. With that, the yolk of the egg is a food rich in vitamin B2. An egg contains 0.2 milligrams of vitamin B2 which is close to 15% of the daily dose of vitamin B2 that we need to intake.
Suggested Read: Easy Vegan Sources of Vitamin D
5. Dairy Products
Milk and yoghurt are items of every household. Aside from being an extremely rich source of calcium and protein, these two are also foods rich in vitamin B2. One cup of yoghurt or a glass of milk can meet up to one-third of the daily total consumption need of vitamin B2.
You can consume these foods either directly or add them to any other food item – both work well. 
Suggested Read: Going Through A Vitamin A Deficiency? Check Out These Vitamin A Rich Foods
The Takeaway
We are living a fast modern life. Today, we would neglect to go to a doctor for a check-up but we won't miss out on our office because there is constant competition and we want to win it all. How is that fair to our body? But that is what is a reality.
All said and done do not neglect your health. Because it is the one treasure which if you lose, you will not be able to regain easily. Take a close look at your diet today and add the food rich in vitamin B2, if not already there.