Colas and aerated drinks are out. Healthy drinks and non-fizzy beverages are in.
Not an advertisement copy. Not a brand-promotional strategy. Rather, this is the truth of our times. And this has been the precedent for the longest time now, in an age where health is, once again, rising to become the real wealth of our lives. Perhaps, it was forgotten back then. Perhaps, it's returned into being a real asset once again. Isn't it? In that regard, you may have seen there is tons of information out there that cater to the various benefits of coconut water.
Now, that said, how often have you found out about the rich benefits of drinking coconut water? Whether it is your grandmother who coaxes you to drink some or your mom who encourages you to include some healthy sums of coconut water in your diet, the truth certainly is, one may never be able to understand the many benefits of coconut water without trying some.
Isn't it?
So, probably a good time to begin it is now. Let's quickly understand how one can unlock a world of real goodness, all thanks to consuming some coconut water.
While Nimbu-Paani (lime water) is a bit mundane albeit healthy and jeera water sounds rather medicinal, perhaps there's a great sense to switch to coconut water, at least, for some period of time.
Here's why you've got to try some coconut water now:
Amazing Benefits of Coconut Water
1. A Treasure-trove of Several Nutrients
Coconut water is a natural concoction of several essential nutrients, such as Carbs, Fiber, Protein, Vitamin C, Magnesium as well as Manganese.
Here's a fact that cannot be undermined. An average green coconut provides about 0.5–1 cups of coconut water. So, when are you beginning some? A good time is now.
2. Believed to Have Antioxidant Properties
Antioxidants have a rather simple equation for the human body. The more the intake of antioxidants; the better the body's ability to build immunity. Apart from that, it also helps in strengthening the ability of the human body to keep needless infections at bay.
Aren't these often a needless contributor to ailments?
And where it comes to unlocking a myriad stack (of) benefits of drinking coconut water, popular medical and lifestyle journal says the following:
Free radicals are unstable molecules produced in your cells during metabolism. Their production increases in response to stress or injury. The nutrients contained in the coconut water contain the freely-moving radical elements in the body that are known to cause harmful diseases.
What can possibly be a better stimulant toward having some coco-water, isn't it?
3. Known to Aid The Fight Against Diabetes
Well, it hardly brings a surprise especially in today's life that so many younger people are afflicted with the disease that concerns itself with sugar.
Isn't it?
After all, despite popular outlets of media and information publishing information about obesity for the longest time, it doesn't seem that a great deal of a change has happened. In that regard, when recent medical studies and researches pointed to the direction of coconut water possessing a natural blend of nutrients that are known to fight diabetes, there was a great furore.
One of the widely regarded benefits of drinking coconut water is that it is known to lower blood sugar levels. What can be anything better than that, one asks?
Also Read: These Benefits Of Papaya Make It A Best-Friend Of Everyone Who Aims For A Healthy Mind & Body
4. Prevents Kidney Stones – Benefits of Coconut Water
One of the common health concerns that one's come to face in today's lifestyles, one marked by careless indulgences in junk food and supplemented by irrational bouts of over-eating is that one tends to put on a lot of weight. In the same regard, one often eschews drinking the right (or apt) quantum of water.
5. Excellent Source of Hydration Post Workout Session
If you're looking for an intense source of hydration post your intense workout then coconut water should be your go-to. The science behind one of these benefits of coconut water is that when you're sweating during your workout, you're not only losing water but also the electrolyte salts in your body, like potassium, sodium, and magnesium.
Coconut water is said to replenish these electrolytes and helps in maintaining the salt and water balance in your body.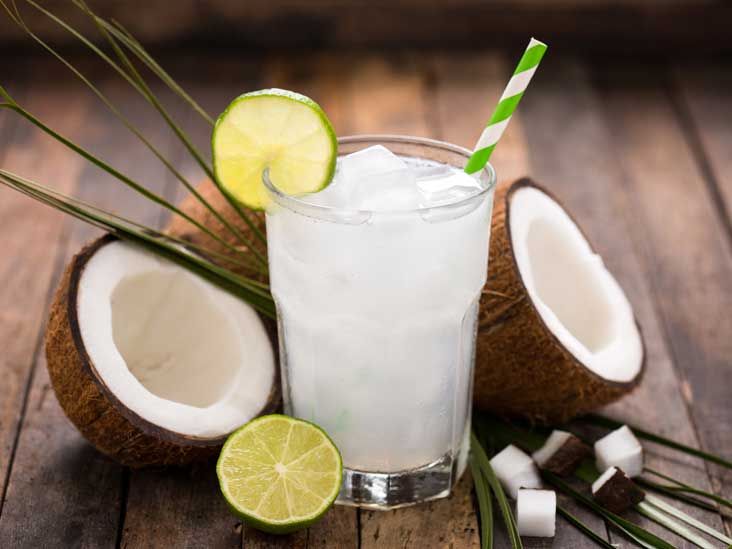 6. A Great Hangover Cure – Benefits of Coconut Water
Not many know this, but another one of the worldly benefits of coconut water is its great ability to cure hangovers. This happens since your body dehydrates to max after a night of drinking out and the loss of water and electrolyte post-drinking leads to the ditzy and tired feeling on the next morning.
On your next hangover mornings, try supplementing your usual coffee for a cold glass of coconut water and see the magic.
7. Works as an Elixir to a Healthy Heart
Even though very little research is done on this particular benefit of coconut water, however, many do believe that coconut water helps in keeping your blood pressure in check which is a key indicator of a good heart condition. What leads to this particular benefit is the presence of vital nutrients in coconut water, such as potassium, that keeps your heart healthy.
A melange of two antitheses often results in one developing kidney stones. Also, it doesn't help if one's access to drinking water isn't all that reliable.
Also Read: Healthy Types Of Flour You Need To Add To Your Diet
But guess what? According to popular research, drinking coconut water in the right quantity can act as a brilliant shield against this malady of our times.
So, if in case, you are stifled with the concern of kidney stones, then probably switching to coconut water- immediately- is the right way to go.
So, when is that jar next to your study table and the mug on the dinner table getting filled with some coconut water, buddy?