Platelet-rich plasma or PRP treatment is a non-surgical procedure to stimulate scalp hair growth. Scientific data demonstrates its efficacy in increasing the hair count, hair thickness and promoting the growth phase of the hair cycle. Here's all about PRP Treatment for hair loss.
How It Works?
PRP Treatment For Hair Loss: As the name suggests, PRP has higher concentrations of platelets in it. These platelets are a natural source of growth factors required to stimulate and create new hair strands.
So, when injected near the roots of the hair, PRP stimulates its growth.
PRP Treatment: How Is PRP Done?
PRP therapy is a 3-step process. In the first step, the patient's blood is withdrawn, the amount depends upon the treatment area. In the second step, platelets are extracted from this blood through centrifugation.
In the final step, the freshly prepared PRP is injected into the scalp skin with the help of a small needle, at the level of hair roots, after local anesthesia.The whole procedure takes around 1-1.5 hrs.
What Are The Advantages Of PRP?
Safe procedure
Non-surgical
No downtime
Office procedure
No need to go bald
No side effects
Cost-effective
Who Can Benefit From PRP Treatment?
Anyone suffering from hair loss. (PRP increases the hair density).
Anyone suffering from thinning of hair. (PRP increases the hair thickness).
Those suffering from Androgenetic alopecia. (PRP slows down the process of baldness).
Those who are planning to undergo hair transplant. (PRP stimulates the hair growth).
Those who underwent hair transplantation. (PRP enhances the results of the surgery and help in hair regeneration).
Who Should Avoid PRP Treatment?
Those who are on blood thinners.
Those who have acute scalp infection.
Those who have lower baseline platelet count.
Those suffering from autoimmune hair diseases.
What Are The Side Effects Of PRP Treatment?
PRP is an absolutely safe procedure, without any side-effects. Rarely, there is minimal pain or discomfort during the procedure.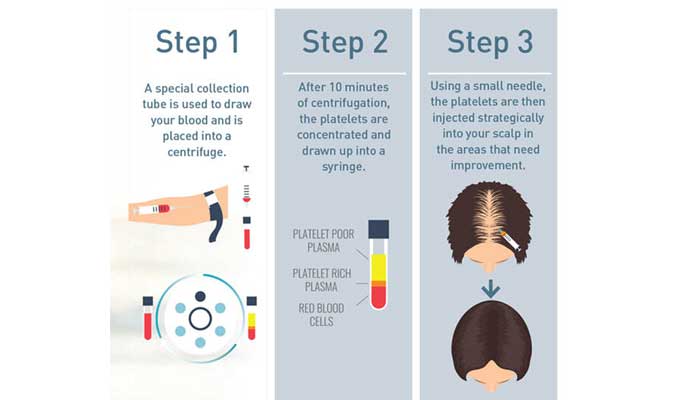 How Frequent Are The Sessions?
3-4 sessions at a gap of 4-6 weeks are required for visible results. After that, maintenance sessions are recommended every 3-6 months.
How Much It Costs?
The cost is variable between Rs 5000-15000 per session. Pricing depends on your geographical location, quality of equipments used, additives used, and the expertise of the doctor doing it.
Can PRP Be Combined With Other Hair Treatments?
Yes definitely. The PRP sessions can be combined with mesotherapy or micro-needling during the same sessions.
In between the sessions, patient can continue the medications advised by the dermatologist as per the diagnosis. PRP is advisable before hair transplant surgery, during the surgery, and even post-operatively.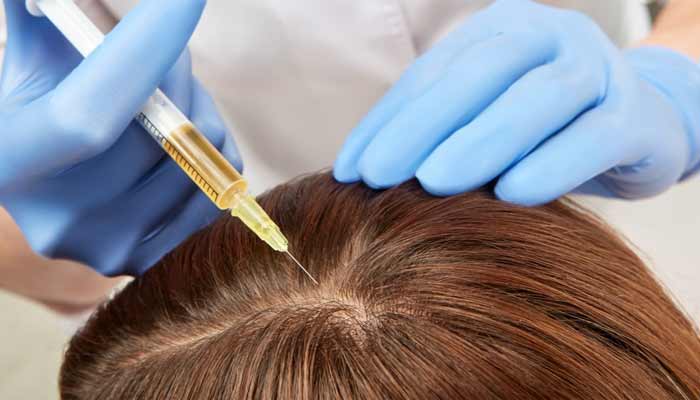 Who Are Qualified To Perform PRP Therapy? Whom To Consult?
Only a national board qualified dermatologist with a MD/DNB/DDVL degree in Dermatology has the required medical training and knowledge of hair and its treatments.
You should consult only a dermatologist if you are planning a hair loss treatment. Firstly, a dermatologist can guide you if you are the right candidate for PRP, and secondly, he is the expert on hair anatomy and is trained to perform such a meticulous procedure.
Suggested Read: Is Sleeping over Belly Unhealthy and Dangerous?
Does Insurance Cover PRP Therapy?
Not all insurance providers cover the PRP therapy. Many of them consider PRP for hair loss as a cosmetic treatment, hence do not cover the cost. So, you should check beforehand, if your medical cover includes PRP or not.
To conclude, PRP is a safe and effective way of reversing hair loss and stimulating hair growth. Hope you got your queries related to PRP cleared. Wish you all healthy hair to boost your confidence.
After all your hair is the CROWN you never take off!!!
For further queries contact our expert Dermatologist at Dr. Richa Chaudhary's SKIN CASTLE.