Whether you are a kid, a grown-up, a first-time couple or a happily married individual wishing to surprise his better half with a scrumptious dessert, the need to bite into a kulfi is sacrosanct. To state that it's unanimously loved by all across the country would be to submit an obvious claim.
One of the most alluring desserts of all times, the Kulfi is among the best-possible slurps of life. To be fair to other desserts and Delhi hardly has a dearth of any, whether it's the likes of- Rosogulla, Gulab Jamun, Barfi, Gaajar Ka Halwa, Moong Ki Daal Ka Halwa, Kheer- Kulfi is among the few delicacies that can be had repeatedly.
One truly wishes if there was a Kulfi in every single day of our lives. A famous sweetened delicacy that, regardless of the season, time, weather, causes a genuine craving, any time for its connoisseur is a good kulfi-time, truth be told.
But whether you are a local or a visitor from other Indian cities or a frequent business traveller, you would have noticed a fair change of sorts in the capital. With the propulsion of the eating culture leading to more and more eateries, joints and restaurants mushrooming around Delhi, there's been an increasing competition among outlets toward offering the finest Kulfi that there is.
So which are some of the finest places in Delhi to relish a dessert that could, in a lighter vein, be called the Indian cousin of Ice-cream?
Kulfi at Pandara Road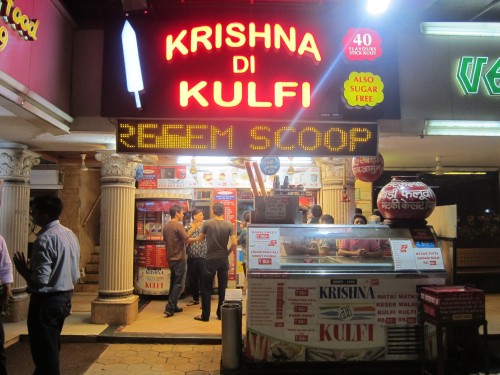 Amongst the most delectable places to enjoy food, in general, one of the finest tasting Kulfis to have points one to the direction of Pandara Road. This is, for all intents and purposes, among the most dependable destinations to consume food all day. The famous Krishna Di Kulfi, boasts of a romanticism among the city's foodies that display their penchant for food, all throughout the year.
Forget the peak summers we're facing at the moment, one visit to Pandara Road in winters would reveal the unbridled love one has for Kulfi, an all-season favourite.
Ram Bharose Gupta's kulfi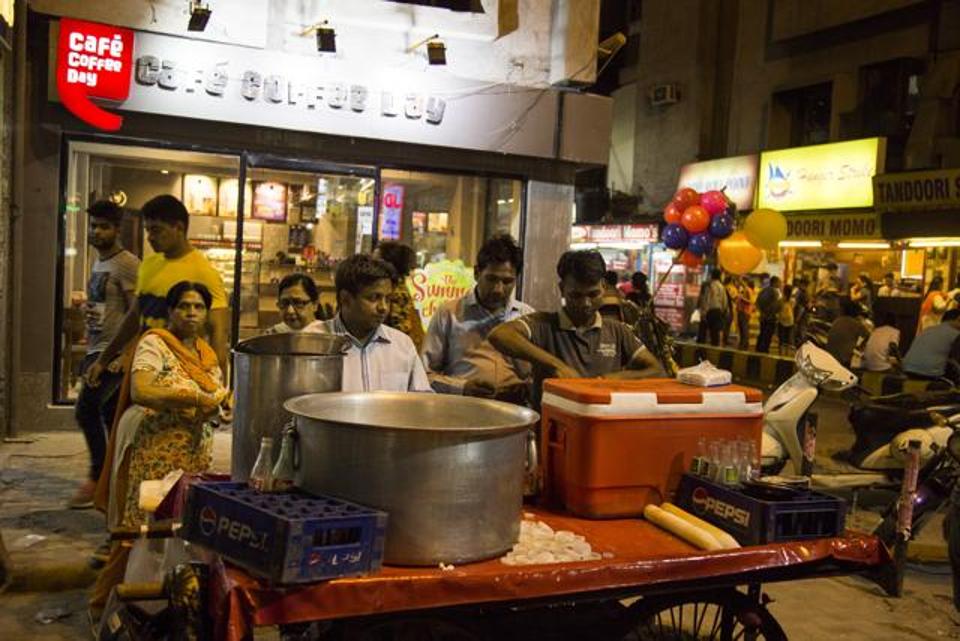 The usual glib surrounding delicious food is that only expensive places serve it. Nothing could be further from this truth that finding yourself a crown amongst Indian desserts at the famous Lajpat Nagar's Amar Colony, very close to the Metro station's violet line. Remarkably managed by a mid-aged man in his early 50s, Ram Bharose's sweetened delicacy is an ever favourite.
Ravi Raj Di Kulfi
With an interesting name like that, that nearly sounds like a relationship, it's hard to not imagine a lifelong bond that exists between the outlet owner and his muse. After all, Kulfi is among such an avoidable joy of life.
If you fancy tugging into one of the best ever in Delhi, then you'd have to head straight to the Arya Samaj road, at Karol Bagh. In a lighter vein, it does make for an interesting view to find foreign nationals-besotted with the taste of Indian desserts- crying out for directions, asking for "Carole Bagh."
But on a serious note of unputdownable taste, if you hit up Ravi Raj Di Kulfi in one of Delhi's principal shopping districts- you'll find some awesome varieties of Kulfi. Available in mango, Kesar Pista, Banana, even Paan and other delightful tastes, this is the answer to your craving for a delightful joy.
Roshan Di Kulfi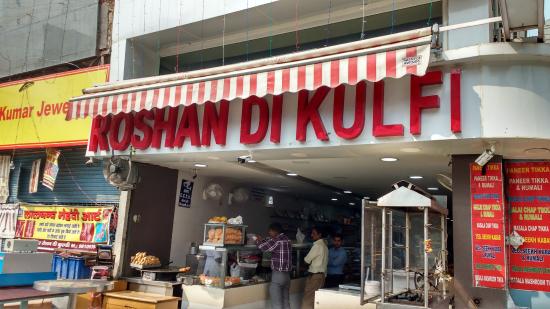 Yet another famous outlet that starts with the 'R', yet another Indian dessert up in the league of a Rasagulla or Gulab Jamun that can be relished for hours (together).
But, worry not, the magnificent melting taste of your favourite sinful potion at Roshan Di Kulfi is way better than this rhyme.
With thick faluda serving as an able company to the slurpy goodness of the archetypal Indian ice-cream, there's also a version for patients battling sugar. Inclusiveness of all is such a beautiful context to all things Indian, after all.
If you happen to hit the revered Ajmal Khan road (Karol Bagh)- based eatery on any of these days, don't forget to chug into some mango-flavoured Kulfi. It'll ensure you keep coming back for more.
Evergreen Sweet House
Among the backbone of all markets and shopping avenues in Southern Delhi, the Green Park market is a pleasant destination to nibble into so many interesting food items, that it may just spoil you for chances. Truth be told, the ideal way to enjoy this post-meal delicacy would be to either bite into some piping hot South Indian course in any of the revered eating joints in the Green Park main market (for instance, the Madras Cafe) or to devour a good old plate of Chola Bhatoora, completing which, it's mandatory to seek a moment of reprieve in the Kulfi.
And when things come head to that direction, it would make a lot of sense to hop onto a seat, be lucky if you get one during peak hours (blame it on the fame of the outlet) at Evergreen Sweet House.
Tossed with a delightful serving of faluda, the Kulfi at Green Park's market is amongst the best one can find in the whole of the city.
King's Kulfi
Consider the importance of King's XI Punjab to the IPL team and then take it to the context of food, replace cricket with Kulfi, with incidentally the name being the same and what do you have?
Perhaps, undoubtedly, among the best-possible and important names when it comes to the famous kulfi-eating public, spread all over Delhi.
Another versatile kulfi outlet that offers a giant variety of everyone's favourite dessert- with Black Forest, Kesar, Pista Badam, Jamun, Lychee, Malai, the best way to ensure you have all and repeatedly would be to opt for one on a visit. So that you can keep coming for more.
How about that? Some hot-selling flavours here at King's Kulfi are paan, anjeer, black current and, even butterscotch- can you dig that?
For a city that loves to eat and loves to even experiment, just imagine, for a second, about the sheer variety of food lying in different parts of the capital? Perhaps, time's right to acknowledge Delhi for also being the "food capital" of India, what do you think?