Food and beverage! To put it simply, our world revolves around this standard theme. It's no longer a luxury anymore. The idea of stepping out and having a good meal at a choicest restaurant is perhaps a mandate we seek to achieve every single day of the week. And if not every day a week, then, well, at least on a few times a month and on as many occasions as possible a month. Isn't it?
So today, it's nothing incredibly surprising to find that consumers no longer just want to pick up a meal or two and one that is backed by some amazing taste. Their envelopes have expanded. They are no longer content in having a lip-smacking delicacy. In the yearn to desire and have more, consumers- eaters, fine dining visitors, those who revel at the mere mention of being at an exquisite eatery- are looking to pick on unique experiences.
That is exactly where concepts like experimental dining have picked up. But then, up first what is experimental dining and why is it gaining such traction? In this great surge of theirs where consumers or revelers want more than just food, an experience is what all seek. So whether you are actually partaking in a unique experience such as a live food blogging event or relishing some tantalising gourmet at a unique or one of a kind location hitherto out of the league of commoners or regular eaters, it calls for celebrating the phenomenon as being part of an experimental dining event.
For example, there could be a big budget Hollywood commercial blockbuster, themed on food and in a bid to promote the essence of the narrative (spun around food and food-related culture) the movie makers run a contest where a select few, i.e., winners get a chance to participate in a sit down dinner where they can interview the star cast. How about that? That is a part of experimental dining by way of promoting the food culture, no longer a sedate theme.
Today, there's a lot more than just the divinity of the food and the taste it has that pulls in people from the four directions. What people more are something exciting, maybe even theatrics, who knows? In lines with this discussion, a recent survey came out with some interesting findings in lines with experimental dining.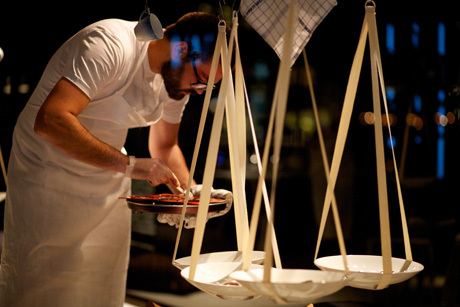 It was found out that as many as 75 percent of contemporary eaters look forward to or anticipate a unique dining experience. They seek something fun and spun around an interesting quirk that's usually missing out on an everyday outing designed to enjoy a meal with friends or family. So if these can be served by virtue of having celebrated concepts like a battle between the chefs, where one's pitted against the another to either present food in a tremendously attractive way or prepare it against the clock, then so be it.
Such facets truly lift or elevate the design and overall purpose of a meal. This is precisely why the chefs and restaurateurs world over seems engaged in interesting ideas to spice up the excitement surrounding conventional food and meals by presenting a paraphernalia of concepts that enrich the overall experience.
The said survey also presented an interesting prospect, perhaps pointing to a dominant undercurrent of our times. Around 50 percent of the people interviewed by "Eventbrite" stated that they are willing to shell out more money when presented with a chance to interact with the chefs, which is anyways a novel concept. What also excites revellers is the potential to interact and engage with culturally relevant food and dining experiences, which are not only authentic but rare.
Here's another interesting facet.
According to a finding by the National Restaurant Association, around 68% of consumers are more likely to visit a restaurant which serves locally sourced items than one that doesn't. What is the story behind a culturally poignant food item? What goes behind the preparation of the same? Is there a deeply embedded story in the construct and preparation of a tasty food item that most are unaware of? These are the concepts that one chases in experimental dining.
In the light of the above developments and possibilities, it's not hard to understand why all around the world today, one sees a surge in unique concepts like mixology events, breakfast and brunch events.