It seems the world is slowly becoming a better place to live in, courtesy some kind and benevolent people.
Some days back we heard about the Kochi restaurant which installed a public fridge to feed homeless, now we have one more example of such kind coming from Canada.
The Indian Fusion Restaurant in Canada is serving free food to the people who are not fortunate enough to afford the meal. Prakash Chibber, the owner of the restaurant, is trying to help the poor and needy with this gesture.
The following words are written on the restaurant's door:
"Dear friends, If you are hungry and have no money to pay, just ring the bell below or come in for a free meal box/coffee anytime."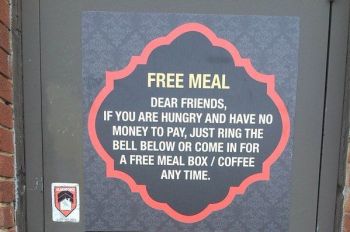 Besides, serving free food, the restaurant is also taking care of dietary choices of the people coming in and even asked if they suffer any allergy.
Moreover, the people, who are unable to pay, are welcomed to dine with regular customers inside the restaurant and need not move away after collecting the food box.
The reason behind the generosity of the owner is that that he believes that they have been fortunate enough to have more food than they need. Thus, he says that it should be invested in something worthwhile instead of just wasting it.
Chibber, who is a resident of Delhi, has suffered hunger in the past. He and his wife ran out of money when he lost his job after a fatal accident which left him with 9 fractures and bed ridden for 2 years. Then, he discovered generosity in the form of friends who invited them for dinner.
Now, its his time to give back to the society when he is financially sound and has all the resources.
Since the post is going viral people from around the world are appreciating the restaurant owner and his benevolence towards needy.
We wish all the luck to him.
Follow us on Facebook, Twitter and Instagram for more updates. Don't forget to like and share. Do tell us your views in the comment box below.
23 April, 2016
Rumani