It may not really be considered an alcoholic beverage, perhaps given to the constituent varying alcohol content but still, there is never repressing and ousting a beer from the party scene or from the friendly liquor cabinet. Whether you party or not, whether you are a wine drinker or a champagne aficionado, the one drink that constantly does rounds of a table whether in a get-together, soiree, or a big bash- then it's the beer.
There's never really a bad time to have a beer.
And given the vast innovations and branch-extensions that one has experienced in the lineage of beer, it's not too hard to understand why newer flavours, lagers, innovations and introductions happen in the beer segment of liquor.
And recently, among the most vibrant yet eye-popping addition to the worldwide beer culture is actually a beer that's prepared from treated sewage water. Can you believe that? The new 'sparkling' new addition to the beer-drinking culture, a thriving phenomenon world-over includes a beer that's neither hitherto heard ever nor been a subject of anyone's guesswork. It's, in all simplicity, that uncanny an idea and flavour.
The news suggests that the beer prepared from sewage treated water is actually a production and creation of a Swedish brewery. A rare addition to the This is particularly interesting for the simple reason that in Sweden, there's both- a champagne-drinking as well as a wine-drinking culture. And while there's something incredibly creative behind having such a novel concept- a beer made of water that's been treated- there's also a noble idea behind the product, truth be told.
The idea of this project is to highlight one of the dominant issues of our times: raising awareness about global water issues. We know quite well being in this information age that rests on a relentless exchange of knowledge that there's a burgeoning concern about the global scarcity of water. Amid limited resources and that too of something as pertinent as water, the idea is always to discover ingenious ways of lessening our huge dependence on water.
The brand PU:REST is currently being marketed as a vital product of our times, that made of treated sewage water. So passionate and driven have been the response of various media vehicles toward this rare product that Money Control.com recently shared the following with regards to PU:REST, "The product is a result of a collaboration between IVL Swedish Environmental Research Institute, New Carnegie Brewery and Carlsberg Sweden."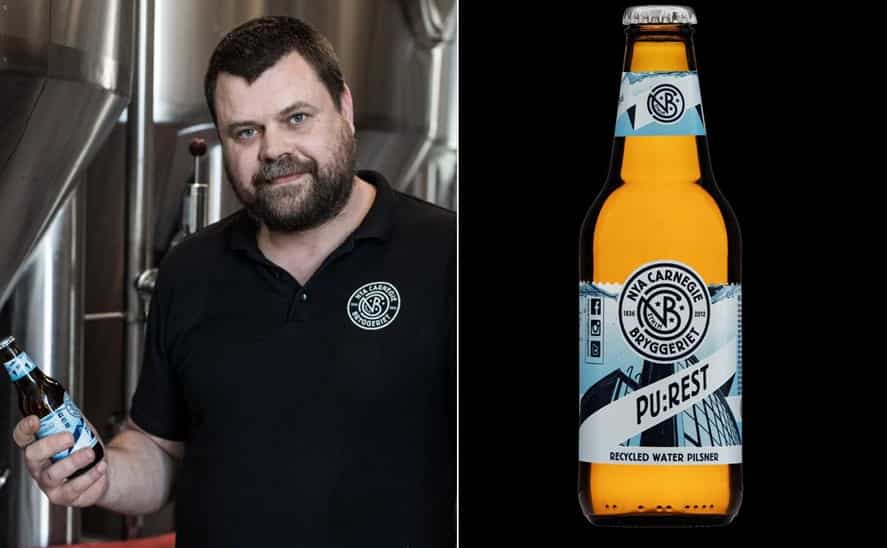 As a country, Sweden also agrees and is ever-conscious of the fact that we are in a world that is constantly plied by severe water shortages. Therefore, amid these testing times, the Swedish innovators and government, the latter elated with this special creation wanted to share that there are relevant available technologies that can lead to the creation of a beer that is prepared from treated sewage water. And that is how this rare form of beer came about.
But so far, there haven't been any marketing campaigns that have been executed so far, in the wake of the development of this special beer. For now, even as the beer has been premiered to the Swedish public as recently as on May 25, it hasn't yet hit the stores and a price point and mode of reaching the consumer's fist is yet to be decided. More details on the beer suggest that it's a special kind of pilsner, rather, a crystal clear pilsner, brewed on recycled water, with organic malt and hops.
It's also an indication of the result of innovation in the changing dynamic of our society. Twenty or more years before, there were no such special innovations. Things were far simpler and less dependent on the stage of the environment. However, a different side to these endearing creations is to fathom that perhaps environmental conflict and rising problems are responsible for pushing such creations ahead.