There's never really a particular time to have a pizza. It's one of those eatables or meals that you can pretty much have anywhere, at any time and regardless of an occasion. In fact, truth be told, one doesn't really need a particular occasion to have pizza- isn't it? It's a friendly, easy to have, plentiful meal. You like, you live and at times, despite having it again and again, often for no particular reason at all, there's this feeling that you just haven't had it enough. Imagine- is one life enough to munch all the lovely pizzas that are out there? How much, say if someone were to ask you, would you spend on your favorite snack, something you often order as a full meal? 10 dollars, 20 dollars, okay- 50 dollars, at the most. Right? But ever thought pizza could be outlandishly expensive too? So do you know the most expensive pizzas in the world?
Here are the top five most expensive pizzas in the world, something that may extinguish that hunger, once and for all, the moment you gaze your naked eye upon that exorbitant price tag!
Maze at London, Gordon Ramsey's Restaurant- $250
Wow! Ever thought about it that a pizza could be as high as $250? Well, out there in her Majesty's Kingdom, in the lovely heart of the city that's the British capital, you can have a slice of pizza, one too many but only at the cost of seeing the price tag slicing away your comfort, tearing it apart in loose slices and shreds!
At the famous Gordon Ramsey Restaurant, you can actually have one of the most expensive pizzas in the world- one topped with Italian Onion Puree, with white truffle pasta, buffalo mozzarella, fontina cheese, cep mushrooms. So you end up wondering are these amazing toppings what jacks up the price of the pizza? You bet!
Nino Bellisima, NYC- $1,000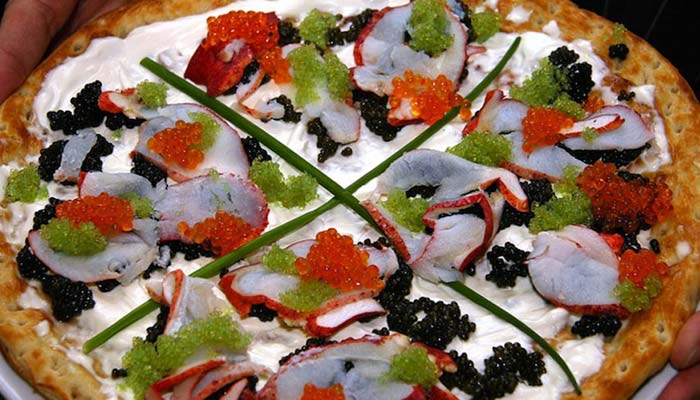 Yeah, you read the price right and probably if you haven't fainted yet, then you might as well have the slice of the pizza? Or, hell no! How about delaying the scrumptious bite, after having gone through the famous New York City restaurant's price tag?
Well, select people come to hang out and have some pizza time at the Upper East side of Manhattan! Apparently, this pizza costs around $720 to make.
Haggis, Glasgow, a Domenico Crolla Restaurant- $4,200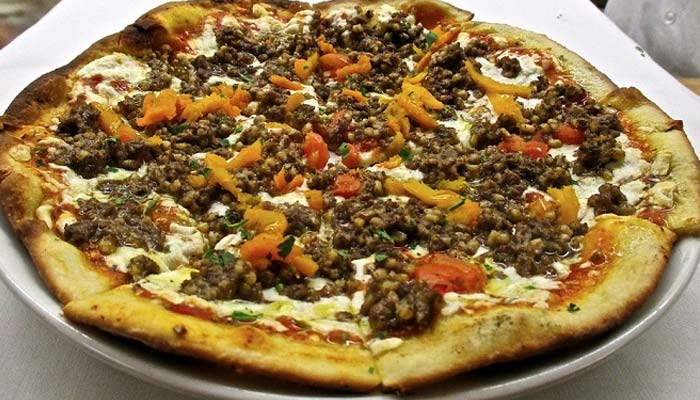 Phew!! What on earth did we just tell you? What on god's mighty earth did you read? One of the world's most expensive pizzas is actually a luxurious pie that has something to do with Bond.. James Bond.
Well, actually, legend has it that this exorbitant pie is nicknamed Pizza Royale 007, after the famous British secret agent James Bond.
It's sprinkled with 24-carat gold dust, topped with champagne-soaked caviar and lobster that is actually marinated in a 100-year-old cognac! So if the taste buds are sprouting out there to taste the delicious super spy of a pizza, then well, what are you waiting for?
Favitta's Family Pizzeria, Henrietta New York- $8,200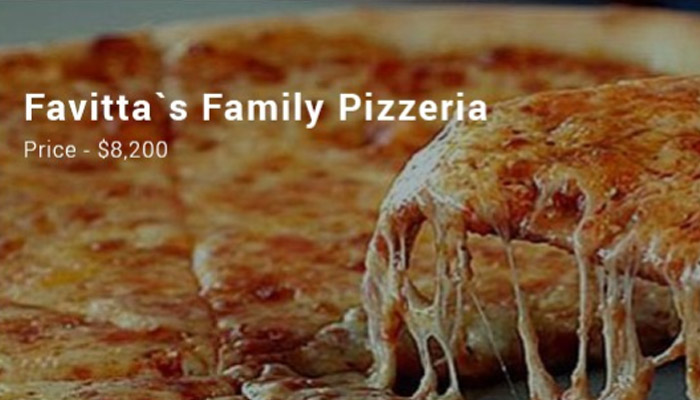 Well, believe it or not but some people's yearly salary is around the price of this pizza that you can find in the New York City. Some might consider this to be the price that any expensive vital organ surgery could cost a middle-income earning group.
But for Christ's sake, this is just some Pizza! Popular website hauteliving.com quoted the following about this pizza: this pizza doesn't cost so much because of the ingredients, it cost so much because it comes with a diamond ring and a bottle of Dom Perignon. The price fluctuates depending on the size of the diamond. So gentleman, if you have a pizza loving girl out there, maybe this is the perfect way to pop the question.
Luis XIII, Salerno, Italy, a Renato Viola Creation- $12,000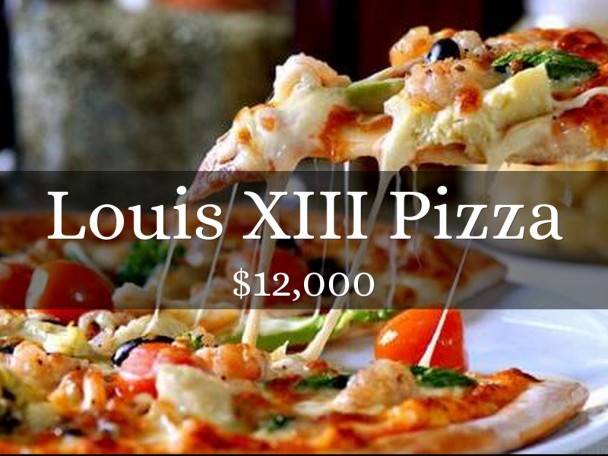 There are expensive price tags. There are very expensive price tags. Then there are outrightly ludicrious ones and then there are ones that push you to shoot yourself in the foot. It appears, the creation takes 72 hours to make because the dough is given ample time to rest before being made into the most expensive pie the world has ever known. It is topped with bufala mozzarella, three types of caviar, lobster from Norway and Cilento, and it is lightly dusted with hand picked grains of pink Australian sea-salt from the Murray River. This better be among the most expensive pizzas in the world- or what do you reckon?