Delhi is so many things to so many people, however, if there's one thing that stands out for outsiders then it has to be the food. You can have some of the most delicious and mouth watering food in Delhi, available both in high-end restaurants and on streets.
That's the power that Delhi possesses, it can make anyone fall in love with itself all because of the food that is served here. Food is not treated as a necessity, it is treated like an experience that one indulges in groups and shares with their special ones. People in Delhi are known to be one of those special breeds who travel anywhere from 20 to 50 km, all to plunge into the whirlpool of good food and good company.
Anyone born in Delhi is a foodie right from their birth and they are not ashamed to show and admit to it, both from their physic and their smiles, whenever they talk about food.
Acknowledging this beautiful and absolutely delicious tradition, we decided to accumulate 6 of the craziest and delicious food challenges in Delhi NCR. While some of them are legit challenges by the end of which you'll get prizes and something, others are just some of the most absurd and massive food experiments that one will surely have a lot of fun in competing against someone.
1. Delhi's Biggest Paratha
Place: Prisha Paratha Junction
Where: 274-A Opposite Metro Pillar 715, Near Uttam Nagar West Metro Station, Uttam Nagar, New Delhi
If you are a paratha lover and can easily gauge on it every single day without getting bored then Prisha Paratha Junction in Uttam Nagar is calling you. They serve some of the most delicious and filled to the brim parathas and then they have something special for foodies with an extra adventurous bone in their bodies. They serve some gigantic parathas and we can almost bet that would have never seen anything like this before. These parathas weigh around 1.2kg and are 2ft long. The best part, they come in a variety of variants and you can have any one of your favourite. You can probably challenge your friend for this, or if you're a professional eater then you need to know about the crazy in-house challenge. If you are able to finish three of these massive parathas in one sitting then you will a reward of Rs 11,000 and unlimited food for life.
2. Khade Chammach Ki Chai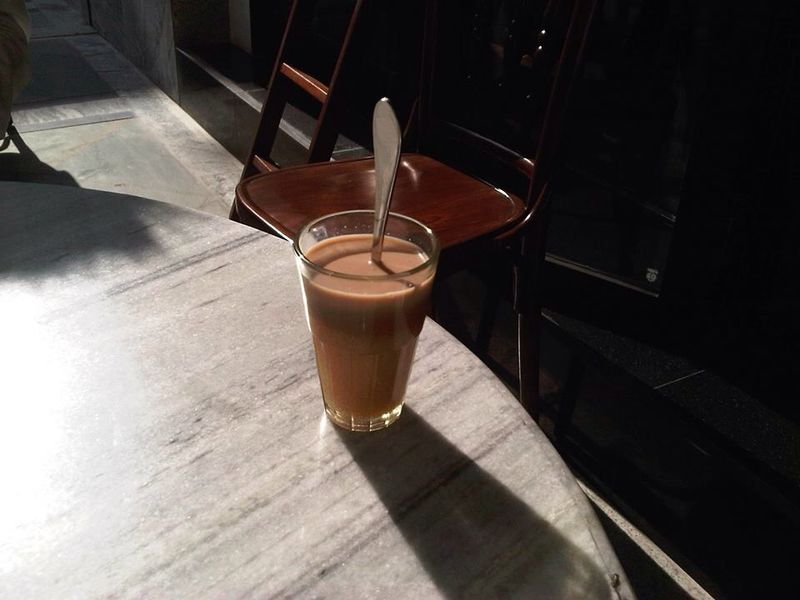 Place: SodaBottleOpenerWala
Where: Khan Market, DLF Cyber Hub
Now this challenge will take you to some other kind of food coma. Perfect for someone who's both a chai and sweet fan, because otherwise, you won't even be able to stand at the sight of it. Called Khade Chammach Ki Chai, it's exactly what the name suggests, due to a mountain heap of sugar in this Chai the spoon ends up standing at 90 degree angle. Moreover, there's a challenge attached to it. Finish it and you don't have to pay for it, interesting no?
3. Spiciest Chicken Wings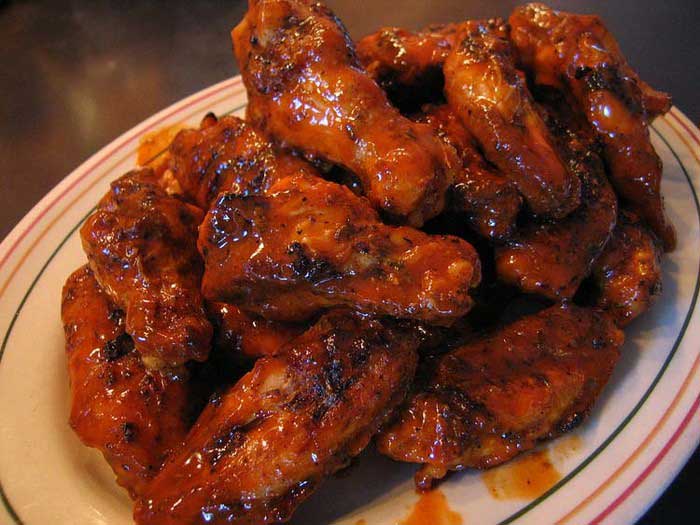 Place: Social
Where: Nehru Place, Hauz Khas, CP, DLF Cyber Hub
This one is definitely not for someone who likes their food mild and healthy, it's for those brave hearts who don't mind eating a chili or seven for the heck of it and for the love of wings. Served at Social which is known for its amazing parties at night and crazy drink menu, this Death Wing Challenge can certainly bring the darkness for someone with not-so-great spice tolerance. Made in the concoction of seven super spicy chillies, including Naga red chilli, chilly flakes, garlic, and Tabasco sauce, this dish can make anyone break a sweat. The catch in the entire challenge is that you have to finish all the ten pieces of wings without even a drop of water and if you're successful in it then by the end you'll have a free lemonade to quench your thirst and need.
4. Bukhara Naan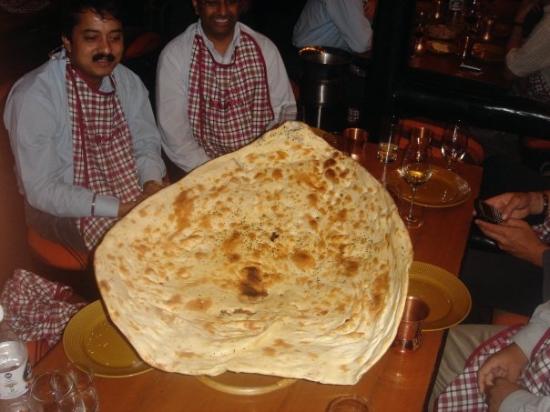 Place: Bukhara
Where: ITC Maurya
ITC Maurya's Bukhara is one of the best restaurants in the country that serves some of the most authentic Indian cuisines to VVIPs from all over the world. But more than anything, Bukhara is popular for its signature dish, that is, Dal Bukhara. A bucket list item of every foodie's life, Dal Bukhara has gathered fans from all over the world that come again and again for it. However, it's not just the dal that is catching the eye, it's also the Bukhara naan that has got people talking. Considered as one of the biggest naans served in the entire world, this naan is not kidding in its size. This one naan can alone feed a family of four so maybe you can try to gauge on it entirely by yourself and that too in a limited time. Plus, don't forget to get Dal Bukhara on the side.
5. 2 KG Chicken Burger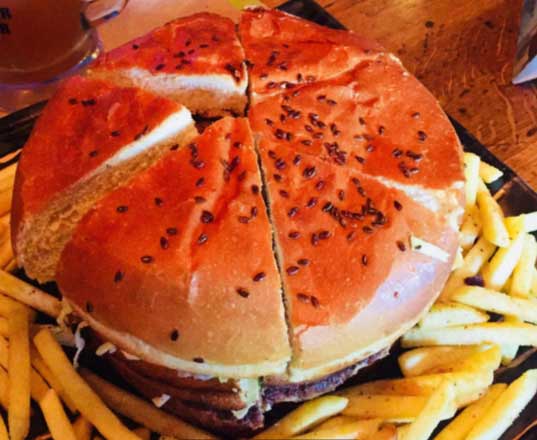 Place: Pranksters
Where: Sector 29, Gurgaon
If you're a chicken burger lover then this thing will be nothing short of a dream coming true. Served at Pranksters in Gurgaon and called Happy Chicken Burger, this burger weighs 2 kg and only a true blue eater can even think of finishing it alone. Apart from having so much to look forward to, in this burger, it's also delicious and extremely juicy. This happy chicken burger comes with a side of fries and something that goes very well with this meal is Pranksters very own Craft beer. Challenge your friend and see who has got the biggest appetite along with guts.
6. Giant Platter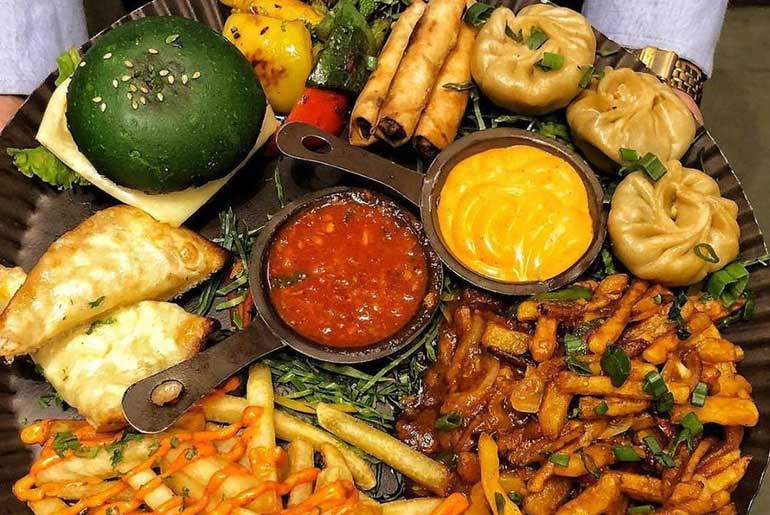 Place: Woodbox Cafe
Where: Hudson Lane and Rajouri Garden
This giant platter that comes in two variants, veg and non-veg are perfect for anyone who wants to have a little bit of everything in their meal. However, it's extremely difficult to finish one by yourself. Nonetheless, this platter is absolutely delicious and comprises of dishes like momos, spring rolls, fries, burger, chilli potato and two dips. You can have it with a drink and you'll be set for the entire day. You can challenge a friend of yours to see who can finish the entire platter first. The best part about the entire thing, it's affordable and won't burn a huge hole in your pocket. Apart from this platter, you can also check out a variety of pizzas, pasta, waffles and drinks.
Now that you are well aware of some of the best food challenges in Delhi, which one are you embarking on first and with whom? Tell us in the comment section below.
Jyotsna Amla