Did you know that India's famous Masala Dosa is truly world famous? And, it's not just the word of mouth fame. Our one of the famous Indian Dishes 'Masala Dosa' made it to the list of '10 foods to try before you die' by a US media house. And it made it to be the #4 on the list. The other foods that made it there included foods like BBQ ribs, Peking duck and Thai dish Som Tam.
Yet, with the immense diversity in the ways food is cooked, Indian cuisine is known for its large assortment of dishes. Ask any Indian, and they will say that there are many more dishes to be featured on any such international lists than only South Indian 'Masala Dosa'. Here's our featured list of the top 10 Indian Dishes to taste before you die.
1. Masala Dosa
Masala Dosa made it to the list of "10 Foods Around The World To Try Before You Die" in Huffington post.  The Dosa is a thin pan cake prepared with the batter which is fermented overnight. Potatoes are used to make the 'masala' filling. It is served with steaming hot 'sambar' and 3 varieties of chutney.
2. Hyderabadi Biryani
It is an exorbitant mouth-watering Nizami dish which brings together Mughlai and Telugu cuisines. Rice and meat are the main ingredients cooked together in steam. Variety of spices and unique ingredients are added to get that divine aroma and delight for the taste buds. It is usually served with some gravy and chutney made of curd.
3. Stuffed Parathas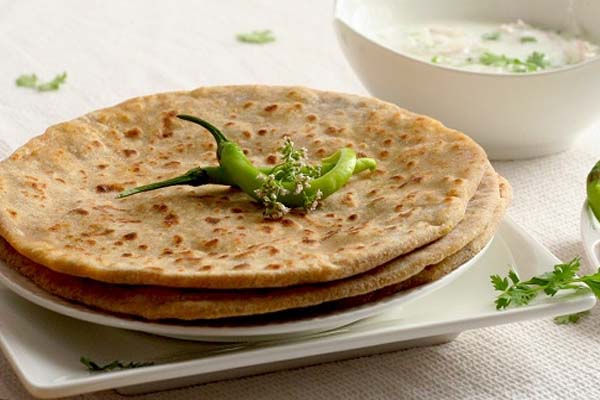 Vegetables are stuffed inside layers of cooked dough and then they are shallow fried on a tawa. Serve them steaming hot with butter topping for the perfect taste. Old Delhi has one lane 'Paratha wali gali' dedicated only to this dish. Most popular stuffing is of potato (Aloo). You can have cabbage, cauliflower, carrot, raddish, paneer, or even chilli as filling. You can explore multi-grained Jaipuri  parathas or extra large parathas of Murthal.
4. Punjabi Butter Chicken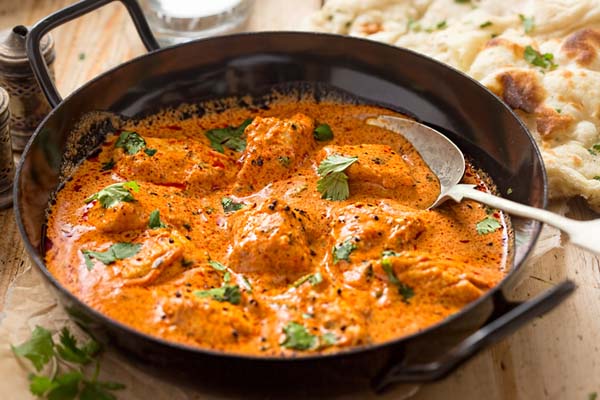 The dish originated in Peshawar as a solution to utilize unsold tandoori chicken. The marinated chicken is cooked with tomato gravy. Few spices are added to soften the chicken. Add butter while serving hot. It is best served with hot naans and green chutney.
5. Spicy Yummy Phuchka of Kolkata
Gol Gappa in Delhi and Panipuri in Mumbai,it is the "phuch" sound that comes while taking a bite. Phuchka is a crisp fried hollow ball made of flour. It is stuffed with spicy potatoes and dipped in tangy, spicy tamarind water while serving.
6. Appam and Stew from God's own country
This is the staple diet of Orthodox Christians. Appam is a soft and puffy pancake with lacy edges. It is prepared from rice batter fermented in coconut milk. Stew is a mild dish where chunks of chicken or vegetables are cooked in coconut gravy.
7. Chhole Bhature of Delhi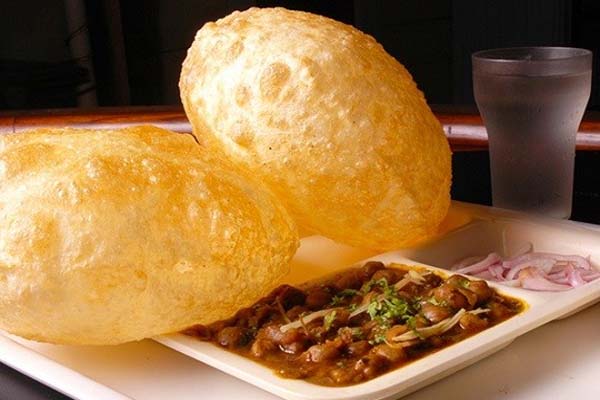 The soft fluffy bhatura is made from white flour and deep fried. Chhole are made from white gram in thick gravy. This North Indian dish is easily available as street food too.
8. Machher Jhol of Bengal
It is a must have traditional Bengali Indian dish for fish lovers. The fish is tempered in mustard and cumin and then served in tangy tomato gravy. It is accompanied with steamed rice.
9. Litti Chokha of Bihar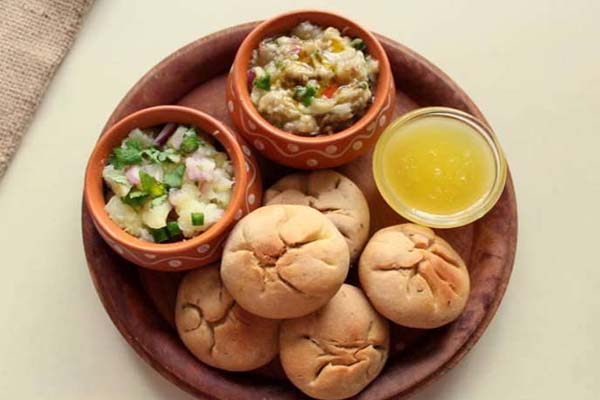 This dish is native from Bihar and Nepalese state 'Madhesh'. Litti has whole wheat balls stuffed with spiced 'sattu'. Chokha is a dish made up of eggplant, tomato and potato.
10. Bhelpuri, Mumbai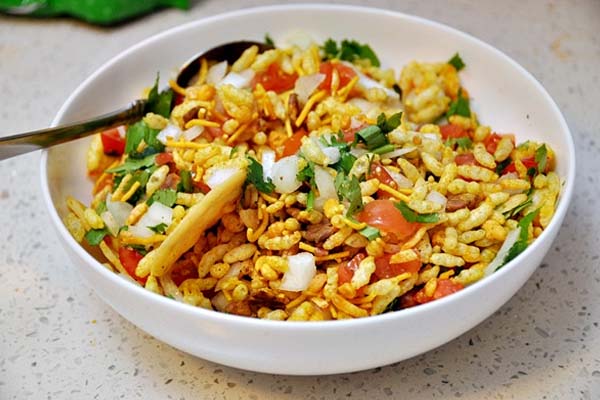 With the cool breeze soothing your soul and moist sand massaging your feet, there's something your belly would not be able to resist. Mumbai's famous Bhel Puri is immensely popular at Chowpatty Beach. This is one of the quintessential things to do in your Mumbai visit. Bhel Puri is a made by mixing puffed rice, chopped onions, sev and some tangy, spicy flavors of chutney. Garnished with lemon juice and green coriander, it is the perfect light snack you can enjoy any time during the day.
Whenever you are visiting India or traveling to that particular part of India, review the list of best Indian dishes and make sure to tick mark one more dish on your wish list for that 'eternal bliss'.