Aloo chaat recipe or Potato chaat recipe is easy and takes less time. As soon as you devour the spicy taste of aloo chaat, your taste buds burst into appreciation of its overwhelming flavour. Aloo chaat is one of the most loved street foods in India. Prepared with fried potato and other popular chaat ingredients, this street food manages to be the favourite of crowds.
Hugely popular in North India, people just love to eat aloo chaat as an evening appetizer without any guilt. However, not everyone can make a mouthwatering plate of it. So, here is a step by step guide to make delicious aloo chaat at home and that too under 20 minutes.
Ingredients.
Before you start, make sure that you have all the right ingredients for the aloo chaat recipe.
2 Potato
2 tablespoon Oil
1 onion finely chopped
1/2 Kashmiri Chilli Powder
1/4 tablespoon cumin powder roasted
1/4 tablespoon jeera powder roasted
1/2 chaat masala
Green chutney
Imli chutney
1/2 cup sev
1 tablespoon coriander leaves
2 tablespoon curd
Pomegranate seeds
Aloo Chaat Recipe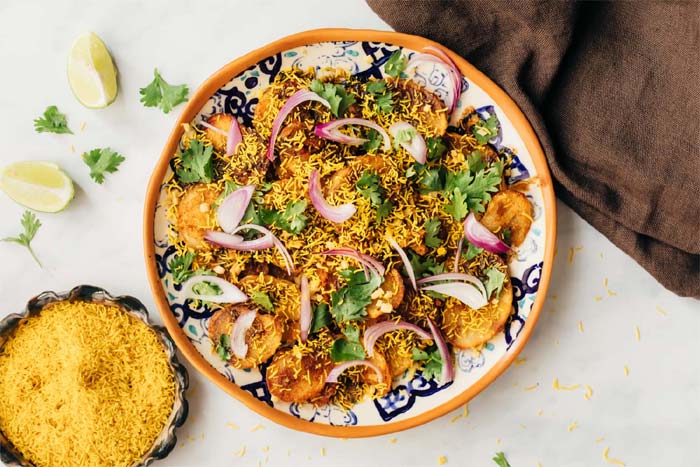 Pressure cook the potatoes for 2 whistles and then peel them off.
Cut the potato into cubes or the shape of wedges.
Use the oil to pan fry the potatoes. You can use extra oil if you are not using a non-stick pan.
Make sure you saute the potatoes until they turn golden brown.
Take out the fried potatoes into a bowl.
Add finely chopped onions. You can ditch the onion according to your preference.
Now, add chilli powder, cumin powder, and chaat masala.
Add salt according to taste.
Now pour green chutney and imli chutney and mix it gently without breaking the potatoes.
Serve the mixture into a plate.
Top it with an apt amount of sev.
Spread 2 tablespoon of curd on it.
Now garnish it with coriander leaves and pomegranate seeds.
Enjoy the tasty aloo chaat.
Also Read – This Mango Ice Cream Recipe Only Requires 3 Ingredients & It's Your Summer Saviour
You can change the quantity of spices used in the recipe according to your taste. To make it more crunchy, you can fry the potatoes (if you are not on diet alert). Remember, Aloo Chaat tastes better when served hot, so go on and let us know how amazing it was.