Noida is just warming up to the gastronomic cuisine fad. Having tried all available options in various cuisines, one is left with few options which are worth customer loyalty. Then there is the fact that very few malls in this part of the NCT are actual crowd pullers. The Noida City Center Mall in sector 32 is a fresh new alternative which has successfully combined shopping with enjoyable dining outlets.
A Grill Company caught my eye the moment I came out of the PVR after my movie. The restaurant has been so nicely done up that the inviting view compelled me to step inside and have a dekko. Their seating was the first thing I paid detailed attention to. The relaxed seats with comfy cushions give you that instant effect of getting at ease and relax. Each table has a conveniently placed grilling station. As I walked farther inside (the space is really huge) the bar caught my eye which had some quirky equipment placed at the counter. At the far end was laid an elaborate buffet one look at which convinced my salivating mind to grab the most cozy corner (closest to the buffet) and start the binge fest.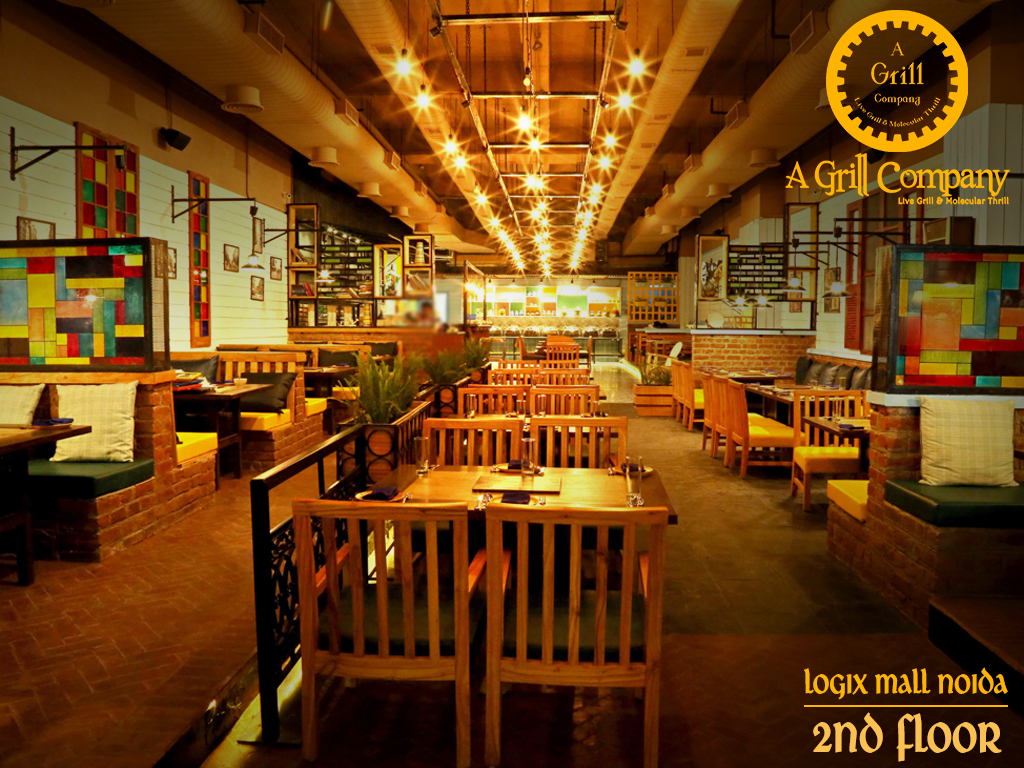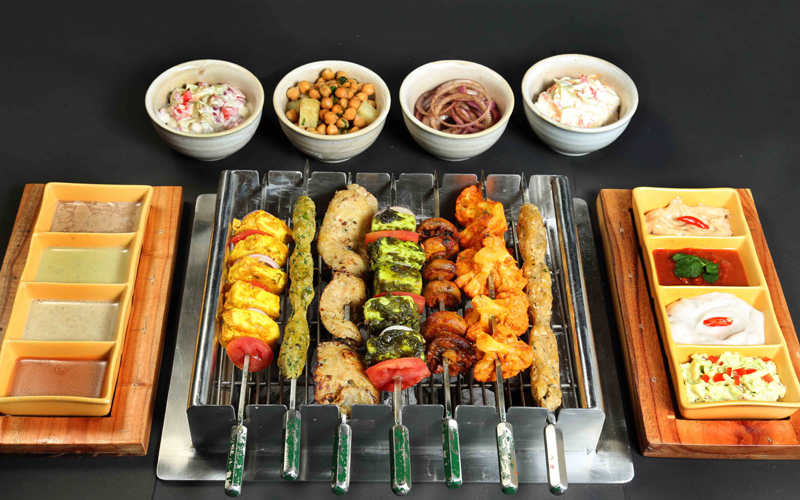 The real surprise came after I had been cordially greeted and seated by the staff. My all-inclusive cover charge (which will make you smile from ear to ear) offered me access to unlimited live grilled food, some amazing gastronomic masterpieces and the whole layout of the regional buffet of the day (which varies daily and is based on cuisines from 11 different states of the country, as I later got to know). The buffet of the day for me consisted of Golan delicacies.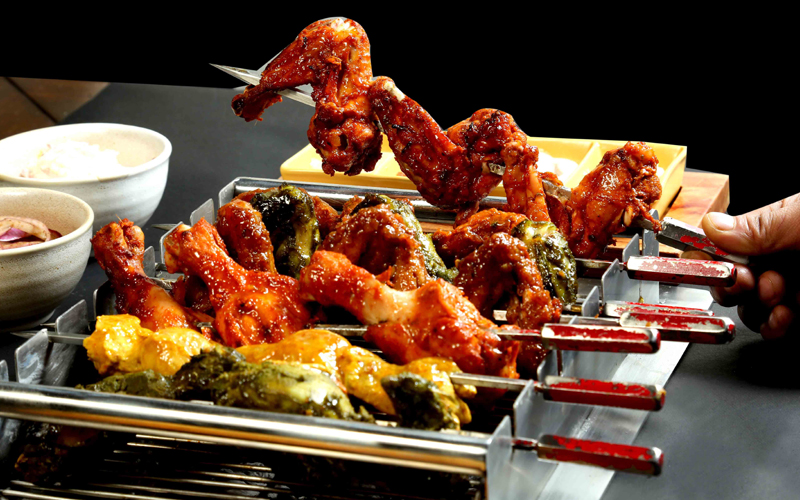 I was enjoying my grilled chicken when my companion who could not have enough of the items on the menu ordered a 'Chai – Samosa'. What was then served was a complete delight for the senses as it was neither made nor presented as we would have expected. The Samosa looked like a mini soufflé sandwich but tasted exactly like a delicious samosa would. The chai which came in a cutting glass was frothy but cold to my amusement.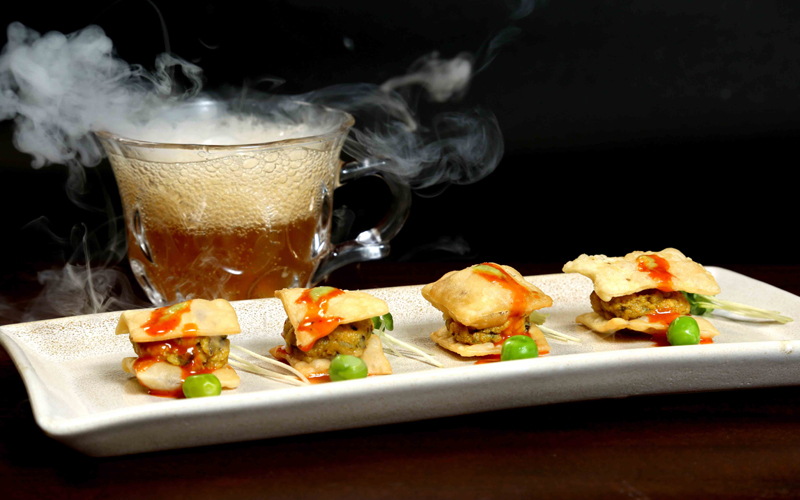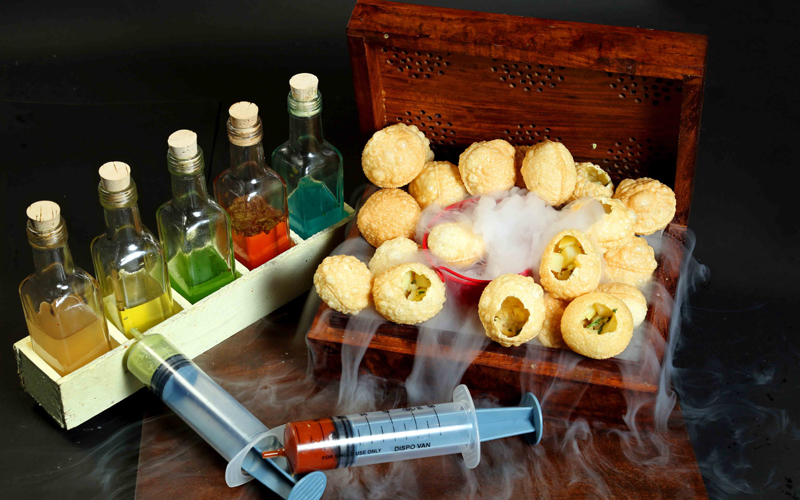 This piqued our interest and we ordered the nitro – chat and the Dahi – Vada and some banta drinks which are prepared in house and I must say that each item was a pleasant surprise to say the least.
After gorging ourselves there was little scope for us to try the buffet but gluttony is not labeled a sin without reason and we polished off some Malabar fish curry with Indian breads and laid our hands next on the desert spread. The deserts were served in quaint little jars which made them appear sweeter.
Having fought our way through the scrumptious spread the only thing we wished for was a bed to lay our overstuffed selves. Alas, it was some time before we could head home.
Like any other lover of delicacies I would highly recommend that you visit A Grill Company On your next available date and partake in a ritual of blissful overindulgence.
Follow us on Facebook, Twitter and Instagram for more updates. Don't forget to like and share. Do tell us your views in the comment box below.
Feb 10th, 2017
Team Rapid