Apart from awards, sketches, and performances, award sh0ws are about one really-really important thing and that is to look the best among the whirlpool of people at the red carpet. The Grammy Awards are considered to be one of the most important nights for the entertainment industry where the music industry is offered a brightest chance to celebrate their achievements throughout the year, by showing off their unique sense of style on the carpet.
Like every year, there were celebrities that looked phenomenal, while some went too much out of their way in order to make a mark, something that totally backfired on them.
However, we have gathered some of the bests from the night that indeed brought out some really amazing and worth-remembering performances, as well as, wins.
Along with interesting and beautiful fashion choices, many decided to wear a white rose supporting the Time's Up movement at the Grammys. From Lady Gaga to Ke$ha to Janelle Monae, various celebrities turned up with White Rose tucked and pinned to their dresses.
Check out the best-dressed here:
1. Lady Gaga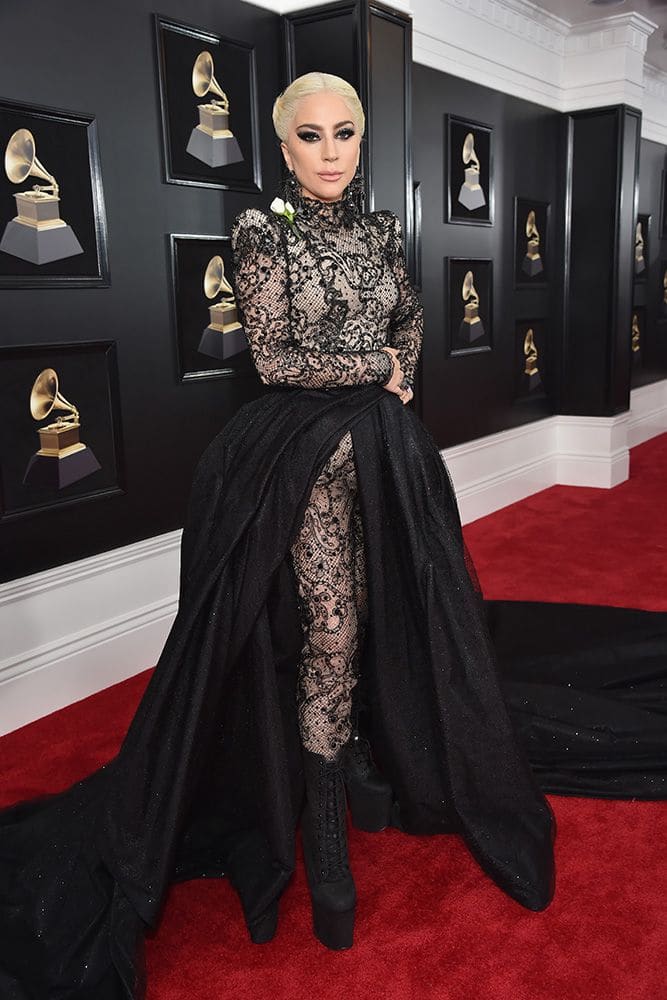 Lady Gaga was dressed in an Armani Prive gown which looked absolutely stunning. However, her performance, Gaga decided to ditch the tail and skirt of her gown and went ahead with a single bodysuit, from head to toe.
2. Janelle Monáe
Janelle was in a Dolce & Gabbana pant-suit. Interestingly, pant-suits were a preferred choice for various celebrities on the red carpet and Janelle's was indeed one of the best ones.
3. Hailee Steinfeld
Steinfeld sported an Alexandre Vaulthier and while her actual dress was pretty simple and nothing special, it was the electric-purple boots that changed the entire course of her style. The shoes gave an oomph-factor to her look and almost ignited her inner rock star on the carpet.
4. Chrissy Teigen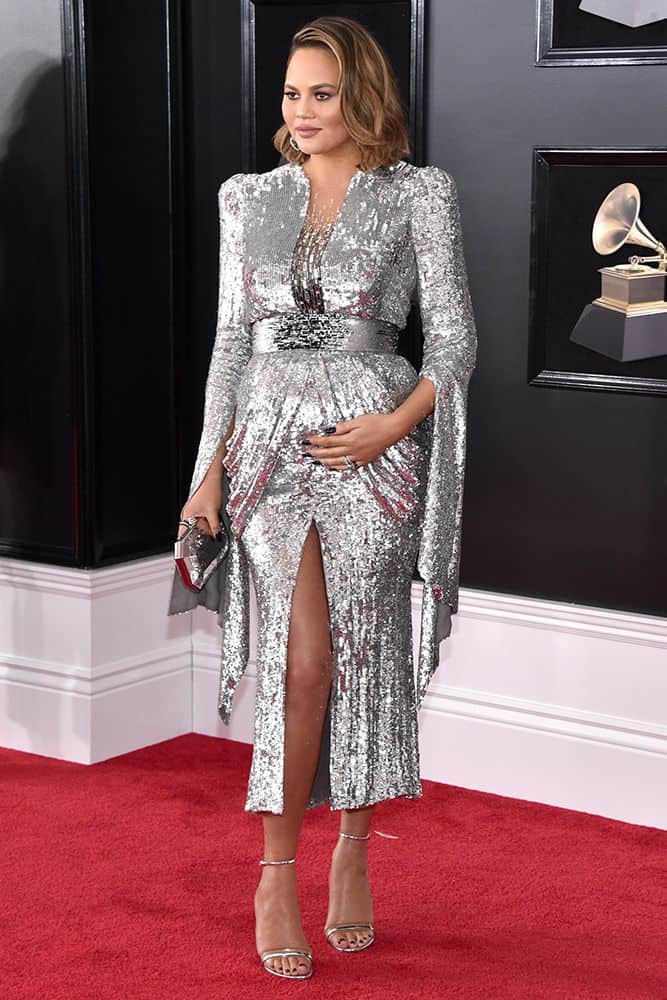 Chrissy and John Legend are expecting their second baby together, but that doesn't stop the Queen of Twitter from making quite an entrance on the red carpet in a Yanina Couture. While it was indeed a bold fashion choice, Teigen easily pulled it off.
5. Rihanna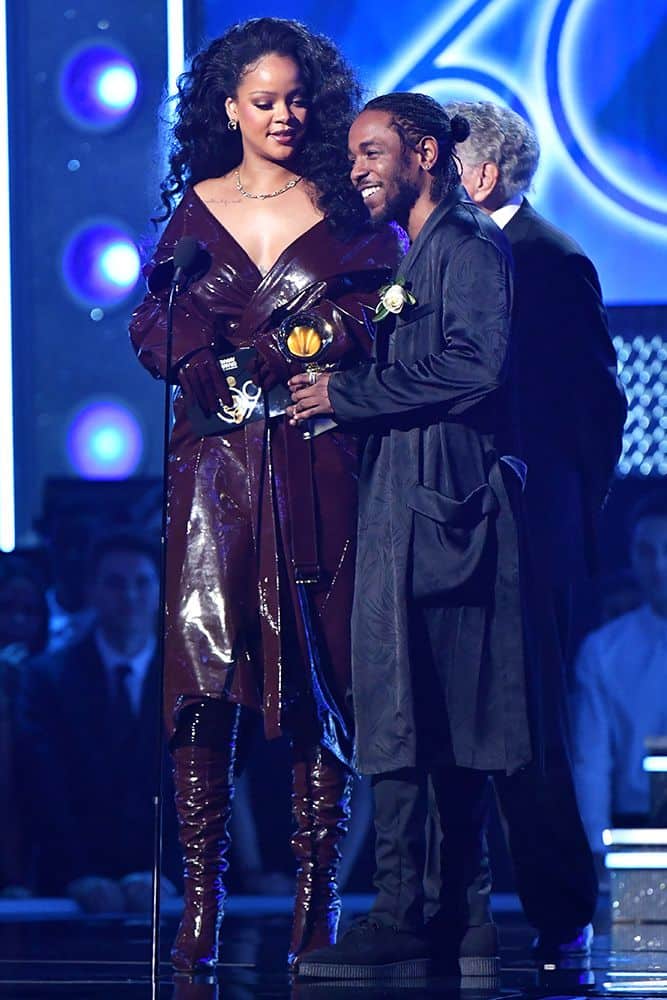 No one and we're pretty sure, no one would be able to rock a chocolate patent leather- trench dress as efficiently as Rihanna did at the ceremony. She wore an Alexandre Vaulthier Haute Couture and looked stunning.
6. Eve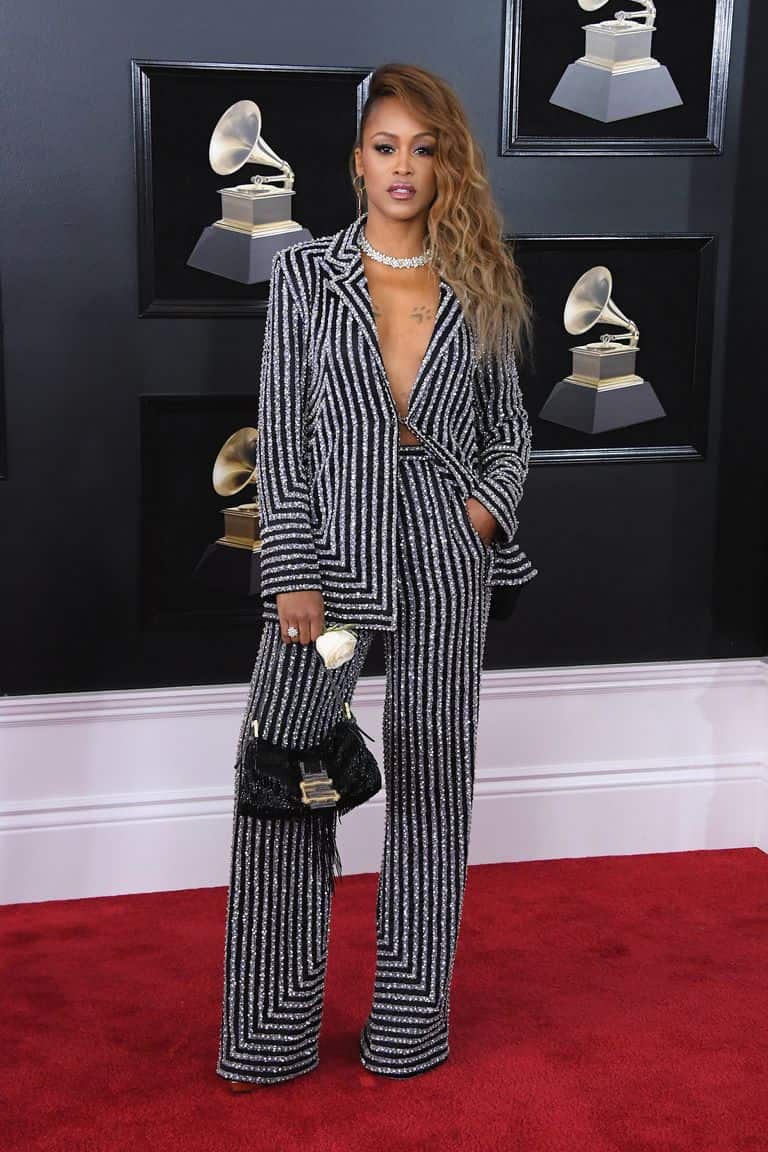 Eve decided to sport a sexy-as-hell pantsuit from Naeem Khan and rocked the hell out of everyone on the Grammys red carpet.
7. Camila Cabello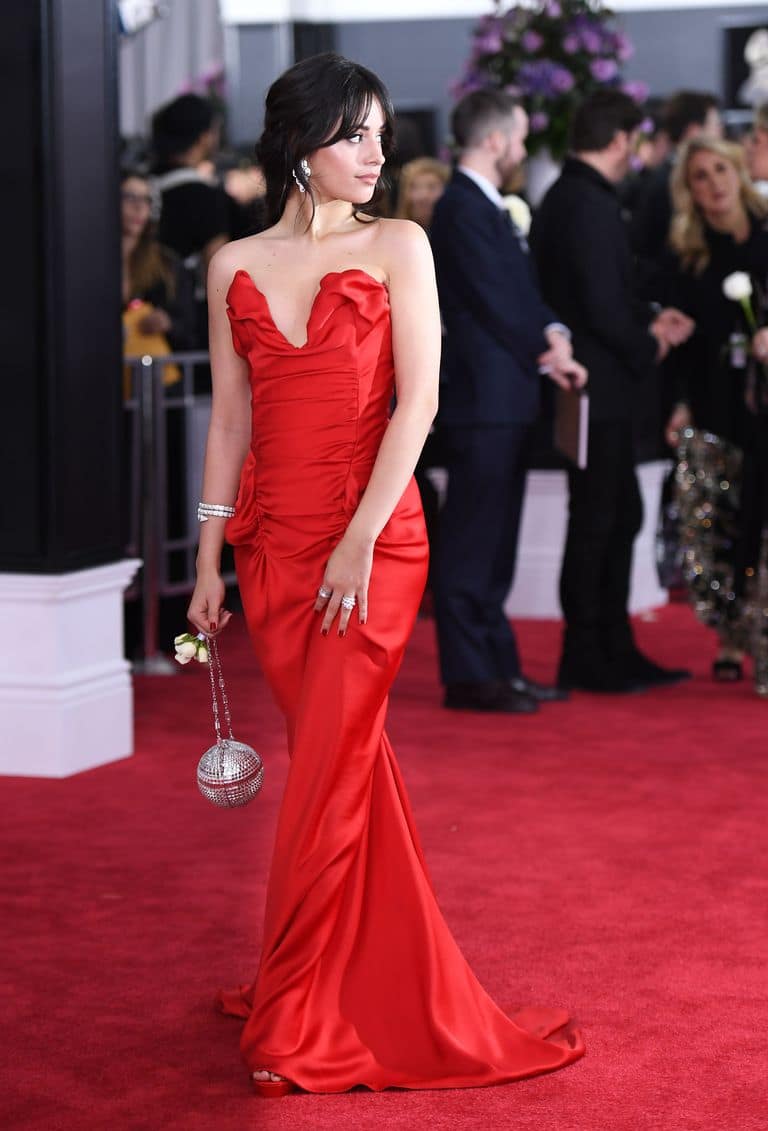 The Havana singer channeled her inner flamenco emoji on the Grammys red carpet and looked absolutely mesmerising in it. She wore a Vivienne Westwood and brought the best red carpet red on the carpet.
8. Andra Day
Andra Day decided to wear a long lilac blazer with a slit that should come with a cautionary warning and too much tape. But no matter how stressful her attire might be, it indeed looked amazing and utterly beautiful.
9. Lana Del Rey
Lana Del Rey is known for being a soul belonging to the older times and once again, she dressed appropriately for her beloved time. Her Gucci gown gave the Grecian goddess vibes and made her looked stunning on the carpet.
10. Reba McEntire
Old is Gold and this country-legend rightly proved it with her red carpet appearance. The veteran singer looked phenomenal in a simple black gown.
11. India.Arie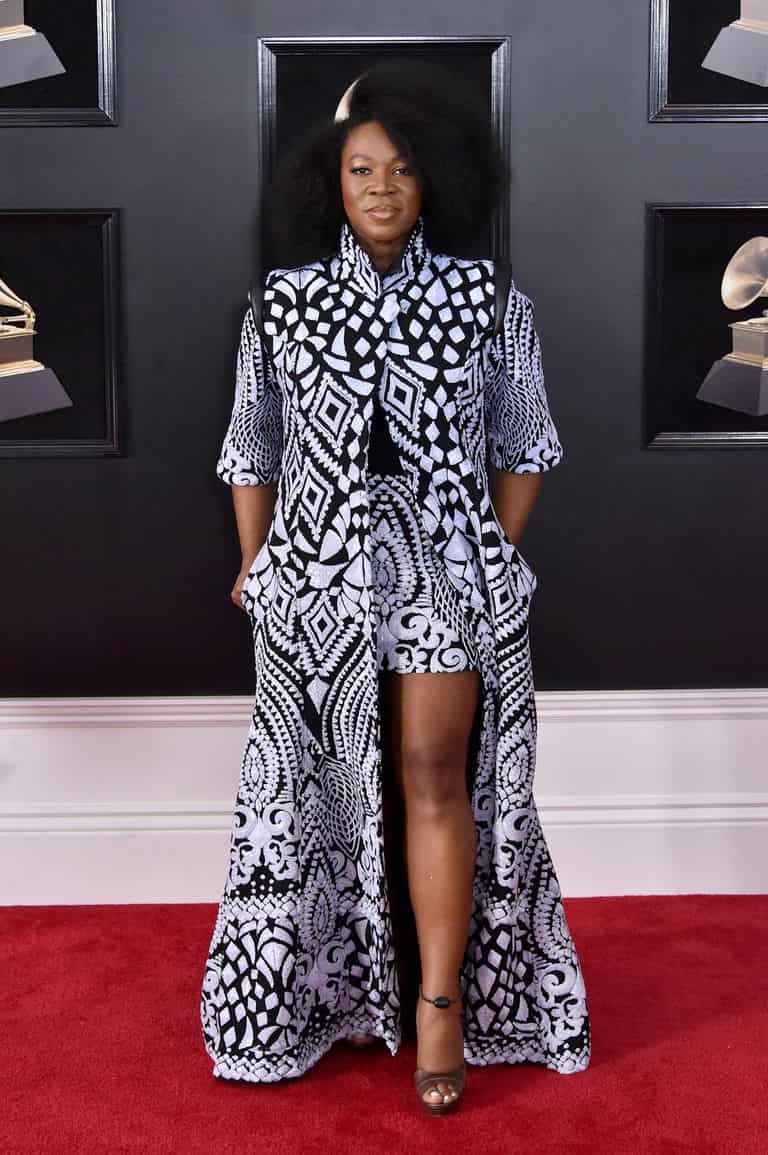 We loved it and you'll too. While the shirt and skirt would itself amount to an amazing outfit, but the matching duster just elevated the entire look and made Arie looked phenomenal.
12. Cardi B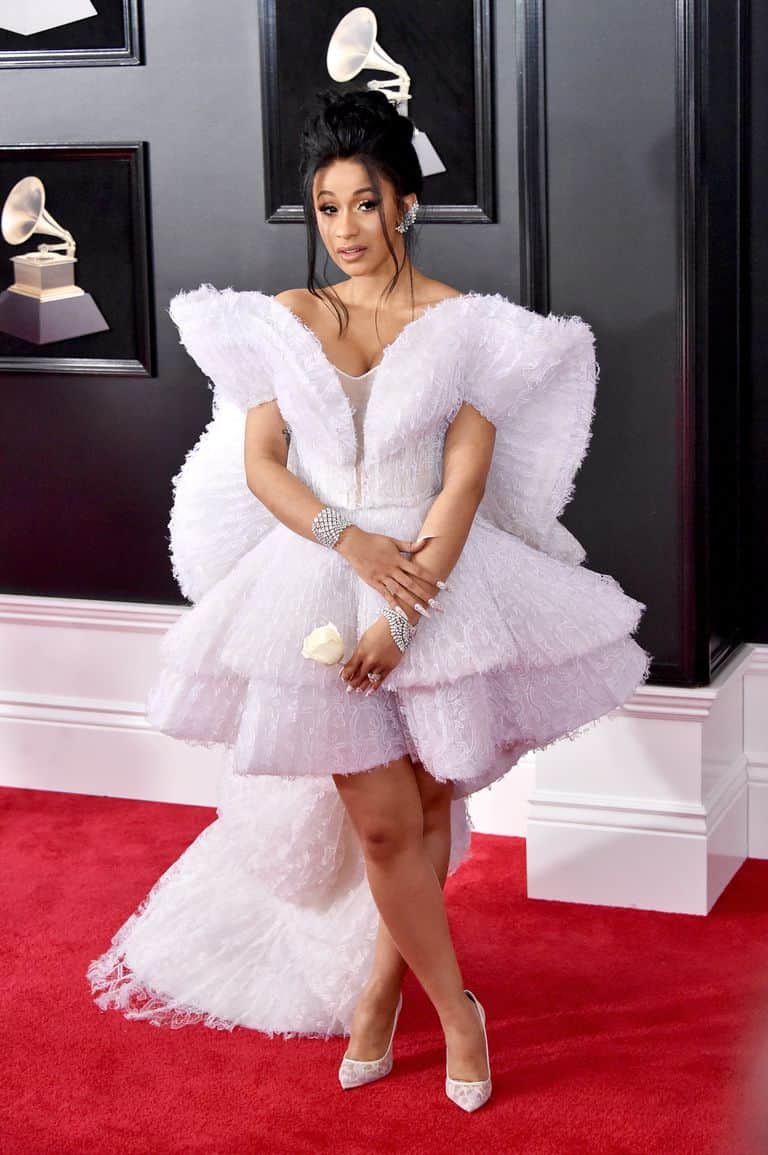 It was Cardi B's debut on the Grammys red carpet and she indeed made it to be. The hottest-rapper in the music scene right now decided to go with something big and bold, and why shouldn't she?
13. Priyanka Chopra
Even though Priyanka was nowhere to be seen on the Grammys night, she indeed made a statement on the pre-Grammy gala red carpet with her sultry look. The actress sported a silk ensemble with an out-of-bed look and she was stunning in it.
Which one was your favourite at the 2018 Grammy Awards red carpet?
Jyotsna Amla