India is one country but one with multiple emotions. You may be a stranger to India. But it's aura is such you often become one with it. India is not just an enigma. It's a constantly growing enigma that's hard to do away with. The old saying about India continues unbent and unmoved in the passage of time: you don't just come to India to merely discover India but you come to discover yourself here in the process of discovering India.
Many have come to India to discover their second-wind in life. People say that when they visit India, they try to seek solace in their existence. Most people come to fill the spiritual vacuum that seeps into their lives.
Others find love, holiness, a feeling of being one with themselves and experience a bond with the vibrant colours, charm, love, tears, festivities, brotherhood and spirituality that only a country like India can provide. There's this stickiness, this indescribable bond with India that one cannot do away with.
There are some feelings that cannot be put into words. There are some words that can never describe some feelings. And in this indescribable, rests the spirit and soul of India. But it must be asked, even when the bags are packed, the tickets are checked, the passport kept safely, can your visit to India be rendered complete, if you haven't collected that elements that evoke India for you or describe this one of a kind country?
To put it succinctly, can any visit to one of the world's most captivating yet complex mazes be complete without putting into your luggage some necessary souvenirs? That leads us to an independent enquiry of sorts.
Can you leave the shores of this country without the best Indian souvenirs? That said, where can you find some of the best Indian souvenirs before you take your flight back and occupy your place under the sun?
While there's hardly a dearth of shopping and purchasing lifestyle items, India's thrust of urban power always accommodating a great shopping experience, a question still remains at large.
The average traveller from any part of the world can actually be left dazed an confused at seeing the sheer variety of India's awe-inspiring colours. So that often leaves one questioning: what are the best Indian souvenirs that can be taken back for friends and family?
Now, you need not ponder helplessly. We got that covered for you. Follow the below-tabled list:
Pashmina Shawl
In a lighter vein of thought, albeit one that underlines the enigma of India, it could be said that one can find both – shawls as well as chawls- in aplenty here. While the Pashmina Shawl, a staple favourite of the ladies, especially those who hail from more settled, progressive economic sections indicates a highly-coveted item of purchase, the chawl, on the other hand, mirrors life's challenges.
But when it comes to the former, you can definitely be sure that buying a couple of pieces of the treasured woollen clothing would keep you in good stead. After all, the Pashmina is the most treasured item among the myriad shawl fabrics that one can possibly get a hand onto.
It is one of the most remarkable purchases from India that you can ever carry back, a novelty of sorts.
Handicrafts items such as puppets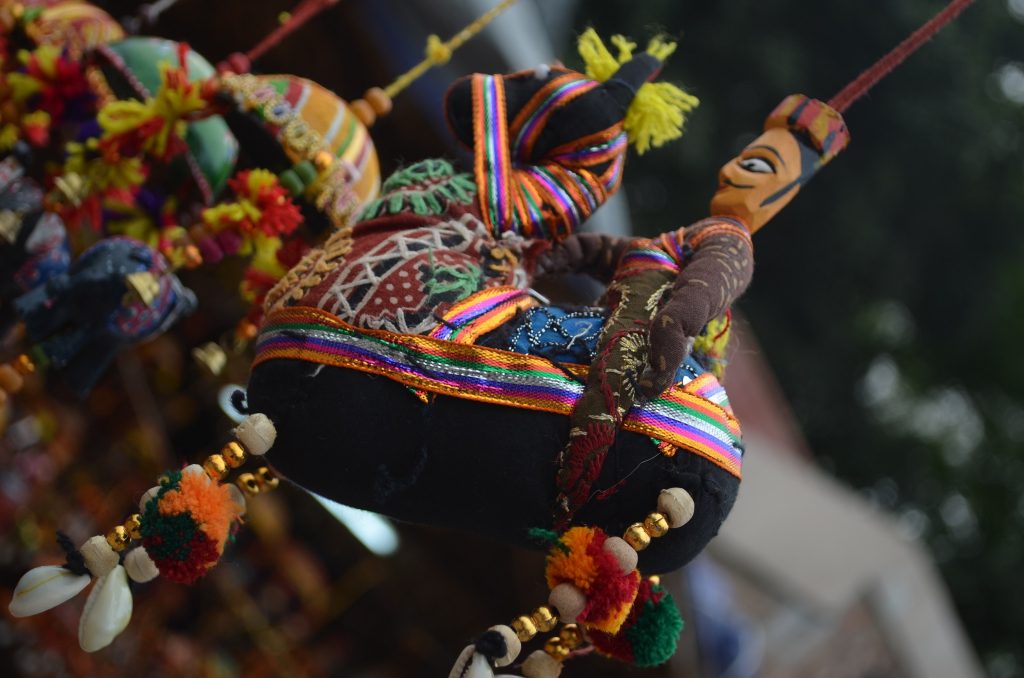 The same way Switzerland is renowned for the Jersey cow and the petite but cute bells and France plays out its essence through lovely miniature replicas of the Eiffel Tower, some of the best Indian souvenirs pay a homage to the vivacious skills of the artisans, skilled workers, artists that produce magic with sheer dexterity of their fingers.
The Indian handicrafts aren't merely a staple signature of the world's largest democracy within India but are an affirmative symbol of the country's far-reaching cultural vein in the greater world.
You cannot be left bereft of the puppets, as you may have seen in the western state of Rajasthan.
Silk Sarees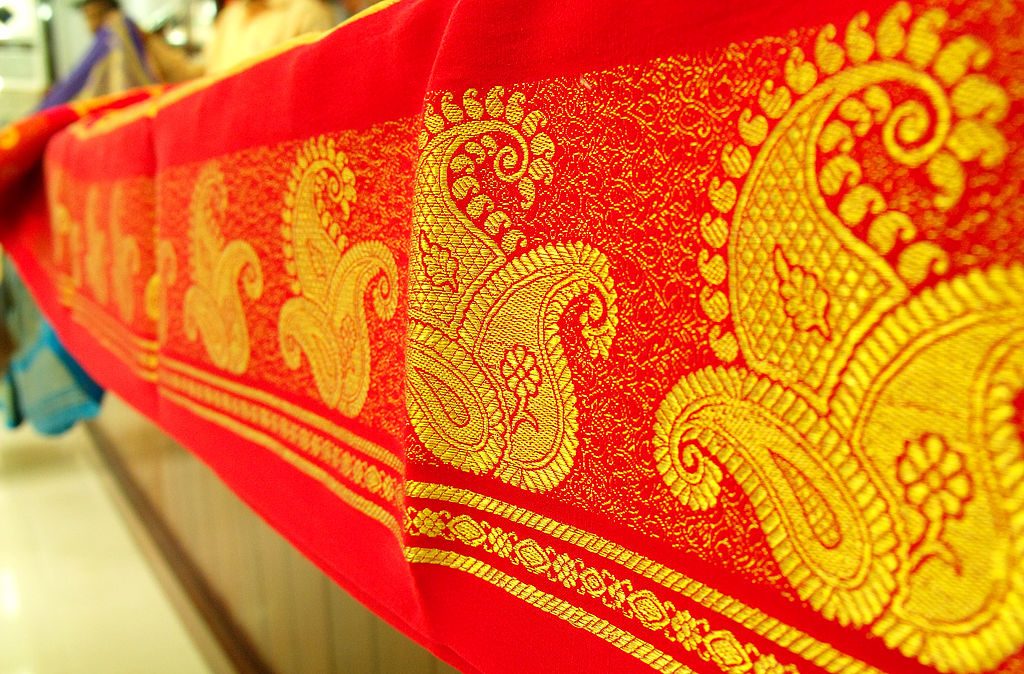 Someone somewhere was quite intent on leaving the story rather incomplete when it was told that diamonds are a girl's best friends. Or when someone said that flowers are the best way to appeal to a woman, quite possibly they say the way to a man's heart is through his stomach.
Well, if you have been in India remotely enough to understand the love for traditional attires, then you would've easily found out that silk sarees are also a woman's best friend here, on top of flowers, chocolates and any of those items.
You cannot imagine an Indian woman to not be in possession of a silk saree, made from the rare extracts of a coveted natural produce, the silkworm that is used further for mass produce.
Among the many items that you can carry back with you once your Indian sojourn is complete, be sure to pick out a silk saree or two.
Madhubani Paintings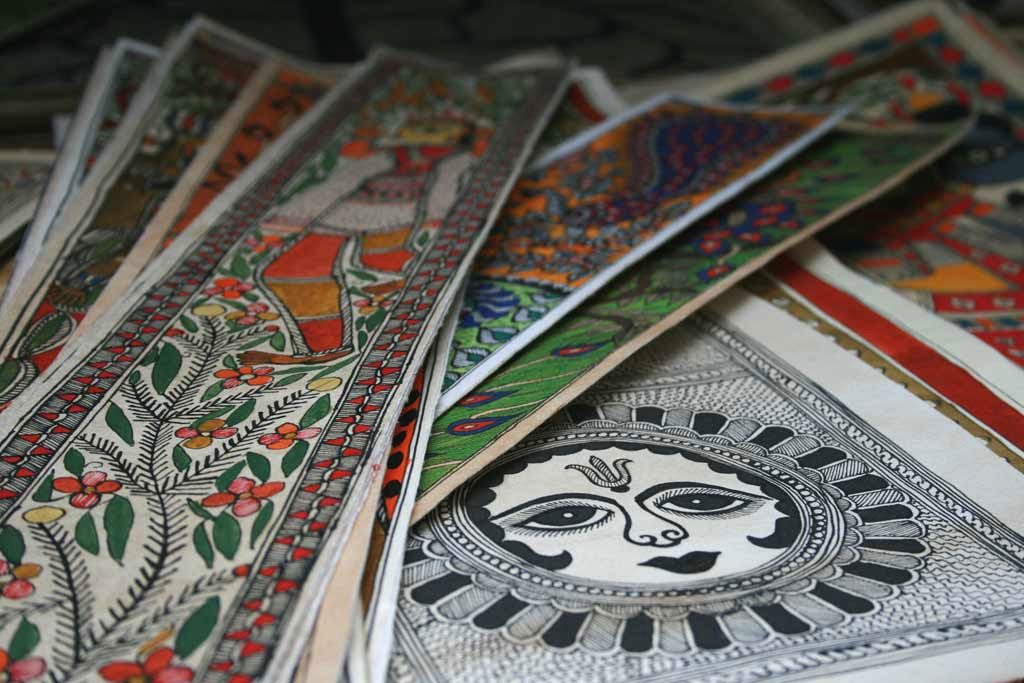 Art and craft. This is one intricate, inseparable bond of India, marked by a great value, perhaps of the same way as that of song and dance. Together they make-up a vital cultural embodiment of the country from where icons such as Aryabhatta, Rabindranath Tagore, Mahatma Gandhi and, Raja Ravi Verma have emerged.
Specifically when it comes to paintings then probably nothing can challenge or deter the cultural extravaganza, that only a fine-art like Madhubani Paintings can evoke.
This splendorous creation hung on the walls is above anything else, a vital source of livelihood for hundreds and thousands in India's struggling economic backgrounds, especially those nestled in states such as Bihar or Uttar Pradesh.
If you carry back the earthen charm that only a delightful Madhubani Painting can provide, then, probably, you'll be able to share the wonder that India truly is. Popular culture and travel website "The Culture Trip" finely describes the treasure trove that a Madhubani Painting really is:
The pictorial representations of various Hindu themes – from Lord Krishna dance scenes to village landscapes – make for unique and manageable souvenirs. 
Special Indian Tea
Well, this isn't that hard to understand really. Quite like the way in which an Israel and Lebanon loves its Humus and Pita Bread, China takes to the Green tea, America doesn't start the day without the cappuccino or the espresso, India cannot ever be complete in neither a novel, Bollywood movie, personal home-space and even advertisements without the presence of the most emphatic warm beverage of them all- the Indian tea.
Spread across the country, at a literal Pan-India level are extensive tea-gardens that not only yield myriad qualities and refined styles of inarguably a drink an entire country consumes (at least, every household does) but also help in generating a useful means of employment for those who are employed by the tea gardens. These, however, in many cases in the southern belt of the country are privately-owned.
So when you leave India, you simply cannot leave without an item that counts itself among the finest or best Indian souvenirs. After all, here's a beverage that an entire country sips without constant bickering or regardless of one's vocation, age-group, ethnicity, religious belief, mode of operation or nature. It's as simple as that.