What's the best thing on a hot summer day? A fresh, cool and all-natural juice that makes you feel refreshed and instantly cools your body down. Juices are generally an amazing thing to have at almost any time of the day, but they're something that your body craves in this scorching heat. But why would you want to literally shed money on buying juices from stores that are artificial or not safe, when you can get yourself a full glass of juice at home. For this, you need one of the best juicers for home use, so that you'll be able to get a tall fresh glass of fresh juice, within minutes.
It was a regular phenomenon for a long time, until the past few years when people realised that extracting juice at home with a juicer was a lot of work in comparison to getting one from a supermarket, or getting them delivered to your home. However, in 2019, we're ditching the packed fruit juice life and finally moving to a more healthy and sustainable lifestyle. You'll need one of the best juicers for home use for this and we've compiled a list of them, to help your selection process a bit. But, before that, there are few things about the best juicer mixer grinders that you need to know.
There are two major kinds of juicers, centrifugal juicers and masticating juicers.
Centrifugal Juices
These are some of the most common, affordable and popular juicers in the market. They work at a high speed to pulverise the juice from fruits and vegetable and then separate the pulp from the juice. They are very fast and super easy to use which is why so many people have them in their houses. However, they can also be very noisy and the heat, created by the high-speed spinning, can actually break down the nutrients from your juice. Also, extracting juice from leafy vegetables, herbs, sprouts or greens can get a bit tricky since they're not best suited for it.
Masticating Juicers
Masticating juicers are known as cold-pressed juicers or slow juicers. They operate via a masticating (chewing) or cold press method which produces a higher quality juice in comparison to centrifugal juicers. They are also quieter and preserves more nutrients and enzymes while extracting juice from fruits and vegetables. More importantly, they are perfect for extracting juices from leafy vegetables, herbs, sprouts or greens. The only con that these types of best juicers for home use have is that they can be a bit costlier than the other one.
Now that you know about the two different kinds of juicers and their pros and cons, let's move on to the best juicers for home use.
1. PANASONIC MJ-68M 220-WATT CENTRIFUGAL JUICER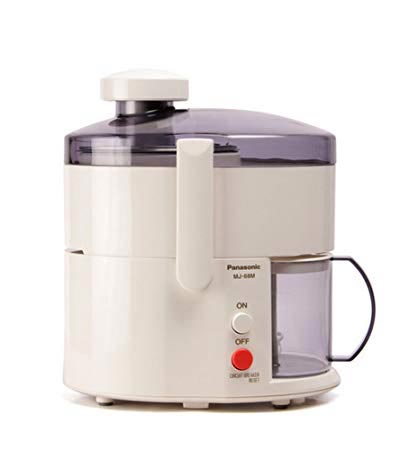 This is one of the best juicers for home use in the market. It's affordable and looks like a classic juicer we all have grown up seeing in the kitchen. It has a rust-proof body and comes with a 600 mL glass container to collect your juice and give one an idea about how much juice they're consuming. Also, the product comes with a 1-year warranty.


2. PHILIPS VIVA COLLECTION HR1855 JUICER
This is another great centrifugal juicer and just look how beautifully chic the body looks, definitely a star piece in the kitchen to show off to your friends and to almost everyone who will have juice at your place. The capacity of the pulp container in this one is 1.2 L which is great for an everyday family breakfast juice. Since the diameter of the feeding tube in this one is larger than usual juicers, you can easily extract the juice from even larger fruits and vegetables like beetroots, apples and carrots without cutting them into small pieces. Another great thing about this one is that it can be cleaned within 2 minutes due to the quick clean technology in it.


3. PANASONIC MJ-L500 150-WATT COLD PRESS SLOW JUICER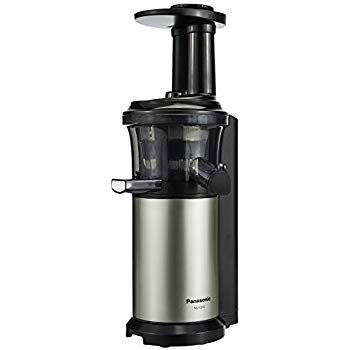 If you're looking for a masticating juicer after reading all the amazing things about it, then this Panasonic model, known to be one of the best juicers for home, should be your first choice. It is a cold press slow juicer which means it's quiet and highly efficient in its working. This juicer is also known for producing more juice while the slow compression system in it generates less foam and resists juice discolouration from oxidation for longer-lasting flavour. A healthy-choice is written all over this juicer, also, it is extremely easy to clean afterward.
4. MORPHY RICHARDS JUICE XPRESS 700-WATT JUICER
Morphy Richards is known for making some of the best juicers for home and most of us have grown up with their juicers in our homes. Much like your childhood juicer, even this one is absolutely amazing in its working. It's a centrifugal juicer and has a 2L tub to collect the pulp while juicing. The components used in the making of this juicer are just top-notch which ensures longevity and makes it strong and durable for long time use.
5. USHA NUTRIPRESS CPJ362F 240-WATT COLD PRESS JUICER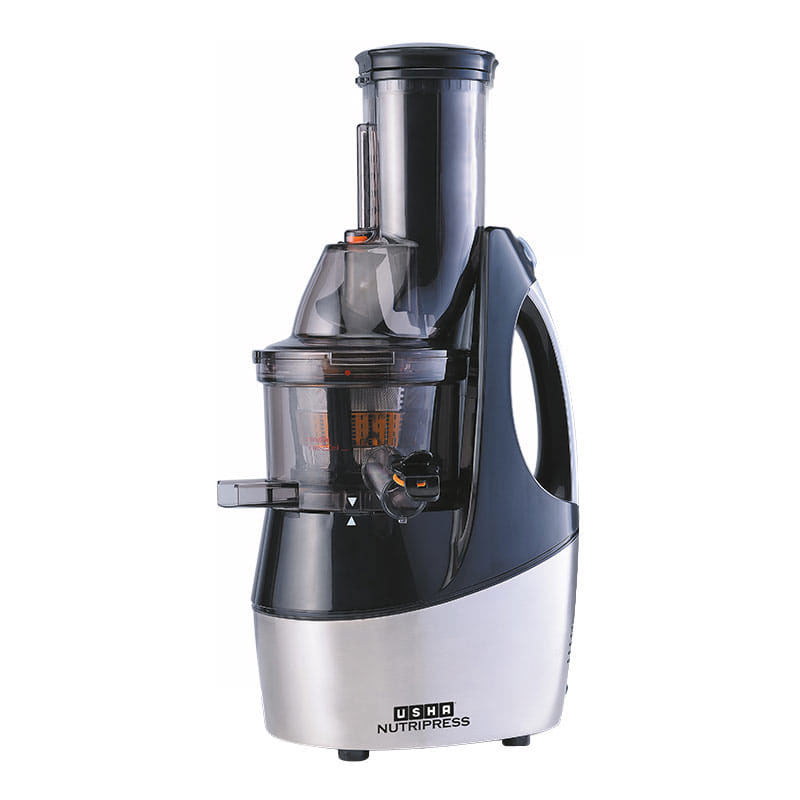 This is another great juicer from one of the most trusted and best juicer mixer grinder brands in the country that has been backed by years of trust and knowledge about the product and their consumers. This particular juicer is a cold pressed juicer and it preserves the natural taste of fruits and vegetables after extracting juice from them, for a long time afterward. It also has a longer shelf life and it comes with a warranty of 5 years on motor and 2 years on the product which is great for every Indian family.


These were some of the best juicers for home use in the market by great and most trusted brands that have been making excellent juicers for decades now. Get one for yourself soon and enjoy the life of natural and healthy fruit & vegetable juices.