It's 2017 and right when we were hoping this year to have a good start, a heartbreaking news reminded us that we are living under a mirage that this year is going to be any better instead we are progressing towards inhumanity more than ever. 'Father' is equivalent to God for every girl. He is the 'Hero' and he is the inspiration and he is all a girl needs to define an ideal man but a shameful incident has raised questions about the integrity of Father-Daughter relation.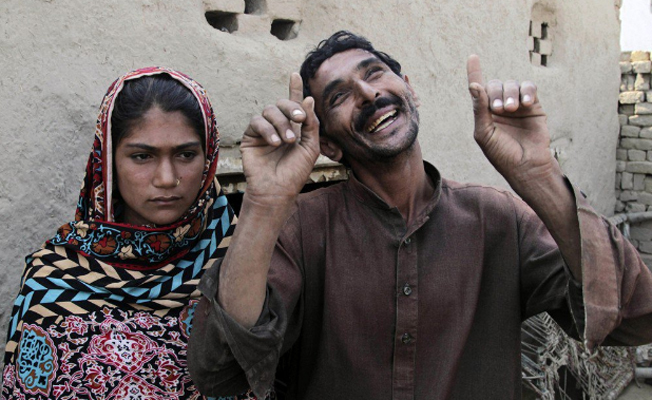 Wazir Ahmed, a resident of Pakistan gave his 13-year-old daughter Saima's hand in marriage to a disabled man Mohammad Ramzan because Ahmed wanted to marry Ramzan's sister. Mohammad Ramzan is deaf, mute and has a childlike mind and his sister refused to marry Ahmed before his brother was hooked as she was worried that who will take care of her disabled brother after her marriage.
Wazir Ahmed, who wanted to make Ramzan's sister his second wife so that she can bear him a son, exchanged his minor daughter for Ramzan's  sister. Saima was asked about her age during an interrogation, she lied to authorities and told them she is 16 in order to save her father. Wazir's first wife was not able to bear him a son and now he hopes that his second wife Sabeel would give him a son. The mother of Saima has no problem with the exchange as she thinks that girls are a headache and they should get married soon after they reach puberty. Why ? The answer is shocking because they can't be left alone home as they may indulge in unwanted sexual activity.
The practice of exchanging girls between families is common in Pakistani rural areas. It is called 'Watta Satta' in Urdu under which a girl can be given away to pay a debt or settle a dispute between feuding families. Many Muslims still follow the religious belief which instructs them to marry off their daughters at puberty.
Saima's mother Janaat says that she agreed to marry her daughters early and she also allowed her husband to get a second wife because she is ashamed that she couldn't give a son to her husband.
Such conservative beliefs and thinking are things that stop the world from becoming a better place. It's not Pakistan or any other place but people like Wazir and Janaat in all over the world, who are spreading the crooked understanding of religion that is still leading us towards retrogression.
Follow us on Facebook, Twitter and Instagram for more updates. Don't forget to like and share. Do tell us your views in the comment box below.
2 Jan 2017
Avni S. Singh