Chances are, if you happen to barely type the words plastic or plastic bottles on the search engine, at the first instance, the Internet will guide you to practically all possible links and knowledge-houses that will rightfully diffuse your interest in the material.
It's plastic after all. A travesty of mankind, a creation that is biting its creator back- how else would one define plastic? Plastic today, is, without doubt, a bane of all humankind and life forms in this era where conservation and sustainable measures to elongate living and living healthily are the buzzwords if not more. So how on earth could plastic ever lead to a fairytale ending?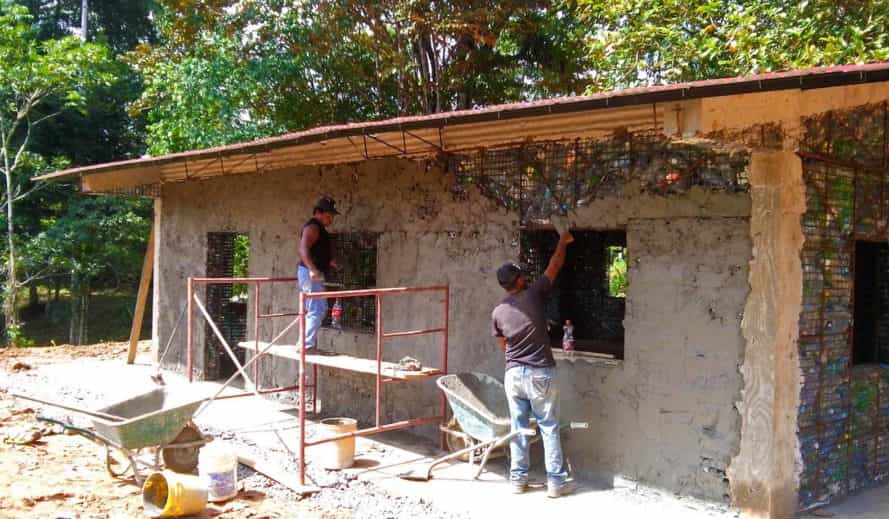 But proving this notion false and making sense out of not the most ingenious of man's creations, a gentleman known as Robert Bezau, based in Canada, has rightly demonstrated what can be done in order to make peace with this dubious element of our lives. We've heard of sand castles in the firmament and dreamy worlds of literature. We've heard of some sprawling 16th century and 17th century castles of Europe that are an eye opening experience of sorts. But have you ever heard of a "Plastic Castle"? In showing the correct means to treat abandoned plastic, one Canadian businessman- Robert Bezau- has created a mansion centralised by the use of plastic, which given it's unique design, is being called world's "First Plastic Castle".
This enigmatic, four-storey fortress stands on Panama's Bocas Del Toro Island and is a sprawling answer to the golden query of our age: how could plastic waste be actually treated in an age perturbed by the very existence of the material? The first ever foreigner in Panama to be credited for his eye-opening creation, Robert became the first foreign national to win the Environmental Excellence Award for his project. Encouraging children to follow simple every-day habits such as to not dump plastic just about anywhere and to pick it up, Robert has been busy incentivising youngsters for not dumping plastic freely.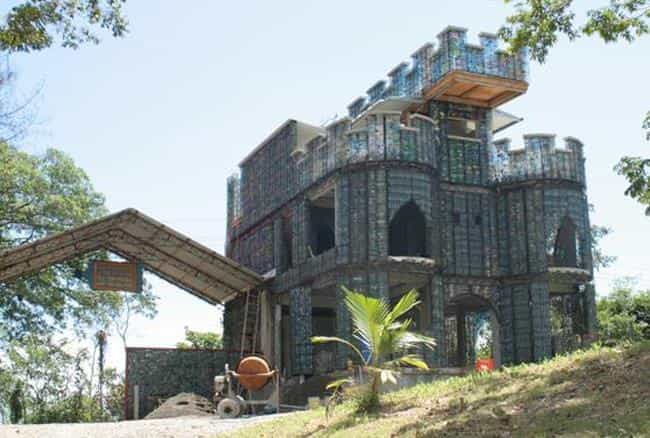 In lighter vein, whenever quizzed about his strangely beautiful creation, an architecture that few would've conceived in the first place, the mild-mannered Robert, adorning a crown (akin to a ruler presiding over a kingdom) welcomes onlookers and visitors by murmuring with a pleasant smile, "I am Plastic-king Robert and welcome to my castle." The 68-year-old, in an interaction with the revered BBC shared that ever since he was a kid, he always wanted to have his own castle. While away from the strands of opulence or grandeur, Robert's castle is nonetheless standing on wisdom and great prudence and has used around 40,000 trashed plastic bottles.
But if one thought about it, it actually makes sense to have a castle built on the principle of sustainability standing on the Bocas Del Toro Island in Panama. The island is, in fact, one of the most biodiverse places on earth, home to both myriad forms of flora and fauna. But in the past few years, the islanders began experiencing an anomaly to usual peace: that of aggregation of plastic waste. None were able to treat it. None were able to eschew the mounting problem. That is when the idea of building a monument that would be an antidote to the very problem itself struck the Canadian. He found locals who agreed to help him to collect the poorly disposed plastic trash. Each household would on an average consume 4000 bottles of water over a period of time.
Using this large chunk to eliminate the process of dumping and thus began the process of building the castle's prototype. The collected bottles were first stacked into a cage structure and then welded together using cement. Layer after layer, bottle after bottle, over a period of time, the castle that would beat any soapy saga on any day was built.