At the height of their powers, the Nazis were a dreaded lot, among the most brutish forces that the modern world has come to witness in a period of history marked with unmatched vehemence, mass murder, and a campaign of rage hitherto unseen or unwitnessed in any part of the world. But the Nazis didn't only build massive weapons, in addition to a political kingdom built on fear and unprecedented hatred of the Jews; they also built bunkers. Well, truth be told, lots of them!
Toward the closing stages of the Second World War, as the Axis powers were coming increasingly under the clutches of the fast-approaching Allies, with defeat more certain than ever, Germany witnessed a grand use of the bunkers; many in which Nazi officers perished and some using which a few were able to evade capture.
One of the many bunkers that the Nazis built at the peak of their powers did obviously survive Hamburg, the prominent German port-city. And guess what? It appears that the Nazi bunker is all set to be turned into a hotel.
Yeah, you read this right and may well be utterly surprised by what you are going to read further. So what are the exact details of the Nazi bunker (all set to be) turned into a hotel? And who's behind the Nazi bunker turned into a hotel?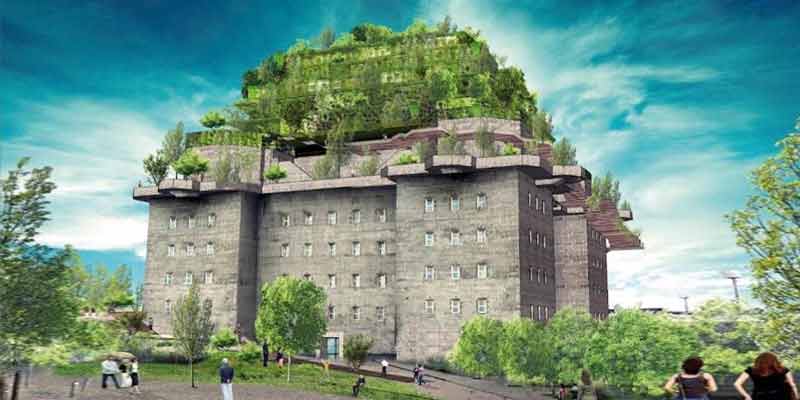 In a piece of news that may surely attract the attention of travelers and writers, historians and academics, here's what all ought to know:
The St. Pauli bunker on Feldstraße in Hamburg, Germany was one of two towers created by the Nazis for air defense during WWII. During the War, tens of thousands of Hamburg residents found protection against air raids.
Constructed in only 300 days by over 1,000 forced laborers from concentration camps, the bunker was used during the War to launch anti-aircraft fire at allied planes. Reports show that during the bombardments on the city of Hamburg at times up to 30,000 people were sheltered in the bunker.
The Nazi bunker turned into a hotel has, without a trace of doubt, made central highlights in all German publications and it's been revealed that it is nestled right in the heart of the city. The bunker- St. Pauli- it is being reported, will have five stories in the shape of a pyramid and shall also include a spectacular rooftop garden.
But then there's going to be more to this top-notch luxury hotel that once was a Nazi-era bunker. Apart from being a top of the line luxury hotel, the place will also house an area for exhibitions and cultural events, apart from having a separate section designated for sporting events. In addition to this, it's also expected to host entertainment events.
The new project is going to require an onerous amount of development and it won't be ready before a year and a half, it is believed. A leading online media platform highlighted the key essence of the eye-popping German project that's all set for a 2021 launch:
Suggested Read: Switzerland's Main Export Destination Is No Longer Germany But Another Country.
The NH Hotel Group won the contract for the operation of a nhow hotel in the bunker with EHP Erste Hanseatische Projektmanagement GmbH and client Matzen Immobilien GmbH & Co. KG. The new nhow Hamburg will offer 136 rooms, including a bar, a coffee shop, and a restaurant. The opening is planned for mid-2021.
So from now on, if you happen to visit Hamburg sometime in the course of the future, be sure to hit it up at a fancy new place: a Nazi bunker turned into a hotel! Well, who would've imagined that such a thing would even come to exist?