India-Kenya ties go back hundreds of years since the British took Indian labourers to South Africa for the construction of the Uganda Railway. Sarojini Naidu chaired the Mombasa session of the East African Indian Congress in 1924 to bring attention towards welfare of Indians in Southeast Africa. After Kenya's Independence in 1963 both countries established High Commissions in each other's respective capital cities and have been cooperating with each other on multiple international fora United Nations, Non-Aligned Movement, Commonwealth of Nations, G-77 and G-15 and the Indian Ocean Rim Association for Regional Cooperation.
Prime Minister Modi on the last leg of his visit of the four nation tour of South Africa was in Nairobi. The Indian PM held delegation level talks with Kenyan President Uhuru Kenyatta.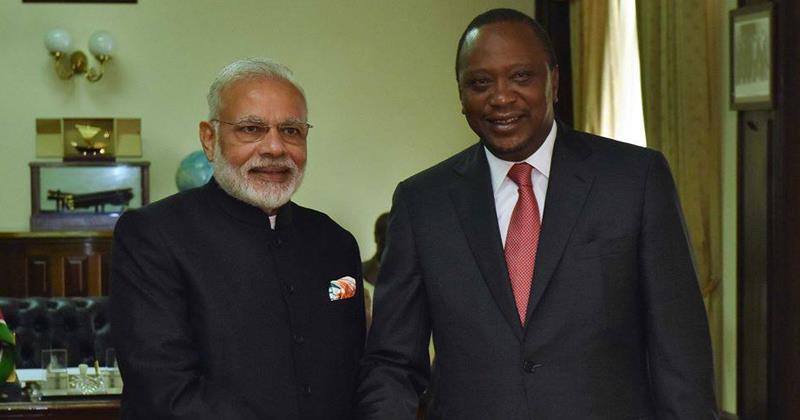 It was later announced that the two countries recognise terrorism and radicalisation as a common challenge not only for their selves but also the region and the whole world. It was also agreed upon by the leaders to strengthen security partnerships in combating drugs & narcotic, human trafficking and cybercrime.
The PM also laid stress on maritime security owing to maritime space shared by the two countries in the Indian Ocean. He also offered to extend India's development experiences and expertise to assist in Kenya's development objectives. A fully financed cancer care hospital has also been offered to Kenya to make quality and affordable healthcare available to their citizens and also to make India a regional medical hub. It is notable that substantial percentage of pharmaceuticals in the country are sourced from India even as numerous Kenyan patients visit India to receive specialised treatment at comparatively lower costs than in other countries and swear by the unmatched medical expertise.
Here is a simplified list of the seven pacts signed between India and Kenya by PM Modi and President Kenyatta –
• MoUs in defence and security
• Revised pact on avoidance of double taxation
•  Two agreements to extend Line of Credit (LOC)
• Three agreements in the fields of visa, housing and measuring standards.
President Kenyatta thanked the Indian government for the LOC — USD 29.95 million for upgrading of a textile factory and USD 15 million for SMEs — and building the cancer hospital. He also promised to personally monitor the implementation of agreed directives and said they would go a long way in deepening the bilateral partnership and boosting prosperity.
Follow us on Facebook, Twitter and Instagram for more updates. Don't forget to like and share. Do tell us your views in the comment box below.
11 July 2016
Team Rapid