Perhaps it makes absolute sense to note that the way in which the world around us commutes (travels, trips, journeys) could well be changing faster than we may have thought. Not merely since it was only in 2008 where a Tesla debuted its first-ever electric car (Roadster), and now, a little over a decade later, it's the brand to beat where it comes to electric cars. But also since, at this very point in time, no fewer than 15 to 20 prototypes of flying taxis- you read that right- are already either in full-scale development or ready to market themselves.
As a matter of fact, Boeing and Porsche, two of the most distinguished brands of our times, are already working on a product that's expected to dominate the urban air mobility market.
But are they the only ones to be working on the technology of the future?
Could France– home to some of the most widely-respected automotive brands- have lagged behind in the race to open discussion about the futuristic industry?
For where breaking news, not rumors, stand then the strong Western Europe figurehead has already taken a bold step toward what may one day be the norm: flying taxis.
And how is that?
A few hours back, an interesting piece of news highlighted that the country is all set to experiment with a massive trial featuring a flying taxi, in a bid to cater to the vast tourist influx expected for the 2024 Olympics.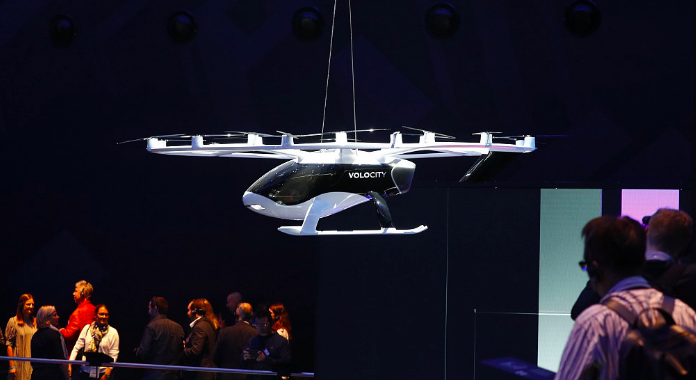 If you travel 90 km northwest of Paris to Pontoise-Cormeilles-en-Vexin via car, you reach exactly the spot that is going to host the much-anticipated flying taxi trial.
The above information was furnished by a joint announcement from the Ile-de-France region, airports operator Groupe ADP and the RATP public transport agency, as reported by CGTN news network.
At the heart of the visionary air taxi product is a melange of sophisticated design backed by green mobility. And perhaps what makes the future so interesting in this regard is that France could soon become synonymous with a purely-electric vertical take-off and landing vehicle, that is dubbed VoloCity, albeit made in Germany.
The operators, chuffed with the development, offered the following inputs on the matter:
Furthermore, the prospect of the 2024 Olympic and Paralympic Games provides an exceptional opportunity to involve an entire industry in order to make Paris Region a leader in the global market of urban air mobility.
But there are a number of factors are key toward the ambitious project becoming a reality for France in the imminent future:
Approval of residents
Security Protocols
Air Traffic Regulations
The above told, the news platform CGTN also highlighted some salient features of the futuristic project and it's worthwhile to know the following:
VoloCity is equipped with 18 rotors and nine battery packs. Each can carry two passengers with hand luggage, for a maximum payload of 200 kilograms (440 pounds).
2030 rollout
It flies at 110 kilometers per hour, at an altitude of 400 to 500 meters, with a range of 35 kilometers.
Also Read: Are Norway And Sweden Moving Toward Cash-Free Systems?
Volocopter executive Fabien Nestmann said the craft's makers hoped for full certification from the European Union Aviation Safety Agency within two to three years.