Where it stands at the moment then India's rank on the Global Hunger Index is 94. Wow! Amazing. Brilliant. Fantastic. Right? Well- wrong. How about some reality check?
In fact, on the contrary, India's rank being 94 is out of 107 countries, according to the Global Hunger Index of 2020. A bit of a reality check for those who might have been caught thinking that all was well and working on its own for India's prosperity.
But then, if it's prosperity that we are talking about then one's not quite sure as to how that point gets across where India stands on the Global Hunger Index.
Certainly not, when you are missing out from being 'the' or amid bottom dwellers.
But that being said, what must upset India or give one of the world's largest democracies good food for thought is that the rather low rank exposes a few realities that many might not have known.
First that, among its neighbours in the heart of the sub-continent, such a low rank only exacerbates India's current woes, some of which include the following:
Dearth of new jobs
Sluggish economic growth
A shrinking GDP
While the aforementioned weren't enough, then the very fact that the country's rank is even inferior to that of Nepal (73), Pakistan (88), and Bangladesh (75) tears open the myth that many have been holding on and rather tightly to that all's well and that there's hardly any reason to worry.
How can that be the case? Well, not when you measure an abysmal 94 of 107 countries. It's almost like someone should now ask the leaders or powers that be that what worse could happen?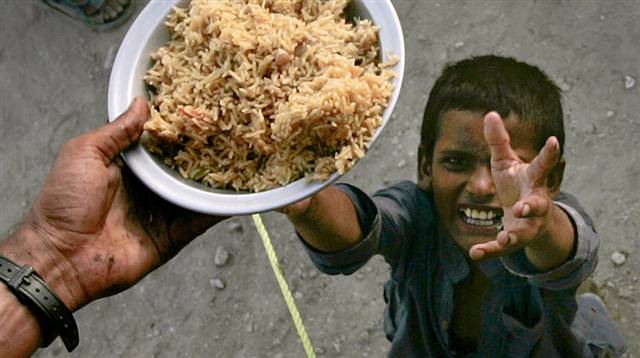 Can we now be amid the 100 worst countries on the world's Global Hunger Index? Is that where we are heading to?
The only light- provided, one can put it that way or if that's a fair version to present the current state of affairs- is that in 2019, India's rank was 102.
So it's only when one looks at the nation from the comparison to the previous year that one sees some relief. Maybe the next year or the period thereafter can bring even better days.
But should a country whose economic growth usually precedes its reputation feel satisfied with a rank of 94- we do not know. At least, the purists who understand the level of disparity between the rich and the poor- might not really hold a positive opinion.
Meanwhile, the following is what India's National Herald newspaper had to say, quoting from the Global Hunger Index:
In many countries the situation is improving too slowly, while in others it is worsening. For 46 countries in the moderate, serious, or alarming categories, GHI scores have improved since 2012, but for 14 countries in those categories, GHI scores show that hunger and undernutrition have worsened.
Data from 1991 through 2014 for Bangladesh, India, Nepal, and Pakistan showed that stunting is concentrated among children from households facing multiple forms of deprivation, including poor dietary diversity, low levels of maternal education, and household poverty.
Also Read: Delhi's Air Quality Still In Poor Category! What Are We Doing About It?
Yet, moving on, it must be asked- whether this is a great development, a marginal improvement from the last year. For there are always weird things the nation is fed for no rhyme or reason and then things that the nation truly wishes to know. What do you reckon?