There are various rituals that people on Valentine's Day follow around the country. While some hunt down committed couple on this day to get them married, because well they don't have anything else in life to do, others in a certain college in the country, worship some really hot celebrities in the hope to lose their virginity by next year.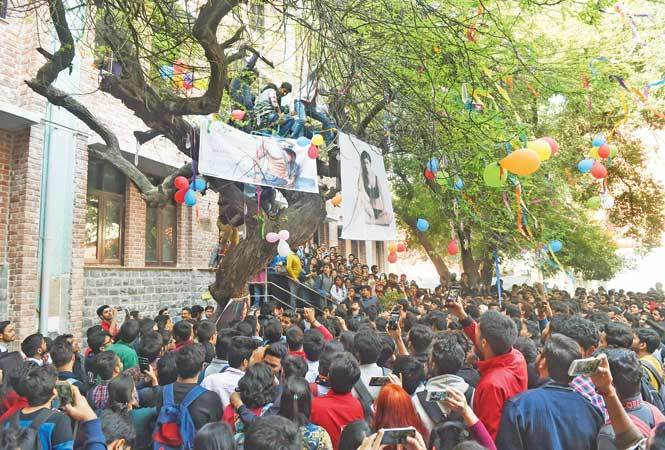 Yes, this, in fact, is a true story belonging to Delhi University's Hindu College, and for this year, the students choose Jacqueline Fernandez and Ranveer Singh for this honorary ritual.
As for some backstory, every year on V-Day hostellers at Hindu College pick an actress to perform a pooja as Damdami Mai. The boys hold a common belief that those who take part in the ritual will find a partner in the following 6 months. While Jacqueline Fernandez is chosen as the Damdami Mai for 2018, there's a little twist added to the annual ritual.
The students have decided to bring in a male counterpart of Damdami Mai, called Love Guru for the girl's hostel, yayyy!! And, no points for guessing, Ranveer Singh is the Love Guru for 2018.
A report on the Hindustan Times quoted the president of the Hindu College, Lalit Kumar as saying, "We mostly only choose a Damdami Mata every year, but this year we will also have a new introduction, a Love Guru – the male counterpart of the Damdami Mai. While the Damdami Mai is decided by the boys' hostel, the Love Guru was chosen this year by the girls' hostel. Jacqueline Fernandez and Ranveer Singh were chosen because they are the hottest and the most in-demand stars right now. Something that makes them worthy of the status of Damdami Mai and Love Guru."
Like every year, the students gathered near the Virgin tree at the hostel in the morning and performed a pooja. The virgin tree is decorated with condoms and bright balloons. What possibly started as a joke, is now a yearly ritual in the college, bizarre, no?
However, this year various students have come forward opposing the ritual. While some called the event derogatory towards women, others have called it be a contributor to the rape culture in our society. Pinjra Tod, which is fighting discriminatory rules at women's hostels, is opposing the 'tradition', calling it a "just another trope which objectifies women". One third-year student from Ramjas College is also opposing the event by organising an event, "Pyar Ek Dhokha Hai", made popular by AIB, as reported by Indian Express.
Jyotsna Amla