PM Narendra Modi took another step towards the betterment of Aam Nagrik today as he flagged off the first regional flights under the Ude Desh ka Aam Nagrik (UDAN) scheme. The flights are being provided at a subsidized fare of Rs 2500 per hour under UDAN scheme.
UDAN makes air travel accessible to a wider range of citizens & enhances connectivity with many more airports across India. pic.twitter.com/X2wVIq6130

— Narendra Modi (@narendramodi) April 27, 2017
Happening now – PM Modi flags off first UDAN flight under Regional Connectivity Scheme, on Shimla-Delhi sector. https://t.co/vbG9VFN31Q

— PMO India (@PMOIndia) April 27, 2017
The lives of the middle class are being transformed and their aspirations are increasing. Given the right chance they can do wonders: PM

— PMO India (@PMOIndia) April 27, 2017
We had the opportunity to frame a civil aviation policy, which caters to aspirations of the people of India: PM @narendramodi

— PMO India (@PMOIndia) April 27, 2017
This means if you planning your weekend getaways travel in trains or buses, you can have a look at the flights under this scheme and enjoy its benefits.
This New Scheme Will Help People Fly On Cheap Fares To Small Towns And Here Are Few Things That You Should Know About UDAN:
1. Three Inaugural Flights Were Launched Today, Shimla-Delhi, Kadapa-Hyderabad and Nanded-Hyderabad. PM Modi Launched The Flight From Shimla To The Capital.
2. UDAN is the first-of-its-kind scheme in the world which has been launched to stimulate regional connectivity through a market-based mechanism.
3. On June 15, 2016, Ministry of Civil Aviation released the National Civil Aviation Policy (NCAP) and this unique scheme is the key component of the (NCAP).
4. PMO has stated that the fare for a 1-hour journey of approximately 500 km on a fixed wing aircraft or for a 30-minute journey on a helicopter will be Rs 2,500.
5. 27 proposals have been approved by the Airports Authority of India under which 27 currently served airports, 12 currently underserved airports and 31 currently unserved airports, in total 70 airports will connect.
6. 24 airports of the western region, 12 airports of east region, 17 airports of the north region and six airports of the northeast region fall under this 70 Airport connectivity.
7. These 27 proposals will connect 22 states and two Union Territories
8. Airline Allied Services (Alliance Air), SpiceJet, Turbo Megha Airways, Air Deccan and Air Odisha are the airline companies that have been chosen under this scheme.
9. The seating capacity of a flight under UDAN scheme will range from 19 to 78. The PMO has revealed that 50 percent of the seats in every flight will have a fare cap of Rs 2,500 per seat per hour.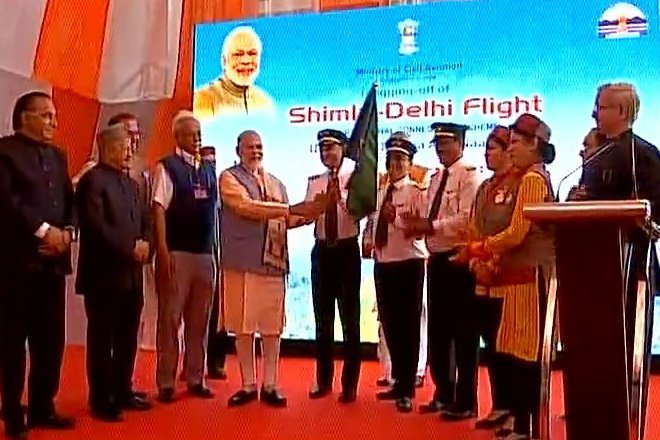 So if you are not a fan of traveling through trains and buses and desperately need a holiday you can book your flight for a two days getaway and thank PM Modi for it.