Demonetisation has divided the country on their decision of whether they are pro-demonetisation or no-demonetisation? And the same could be said for various media houses in the country. While some are constantly bashing the policy, some have decided to wait and watch.
However, Times of India has gone too far out with their hate for demonetisation today.
A groom decided to cancel the wedding and called off his engagement because the bride's family was unable to meet groom's and his family's dowry demand. However, in today's paper, they criticised demonetisation instead of the groom.
It is said that the groom's family was demanding a high-end car, diamond jewellery and cash, but because of the whole demonetisation fiasco the bride's family was not able to arrange the cash required. Through this, the engagement got called off by the groom's side.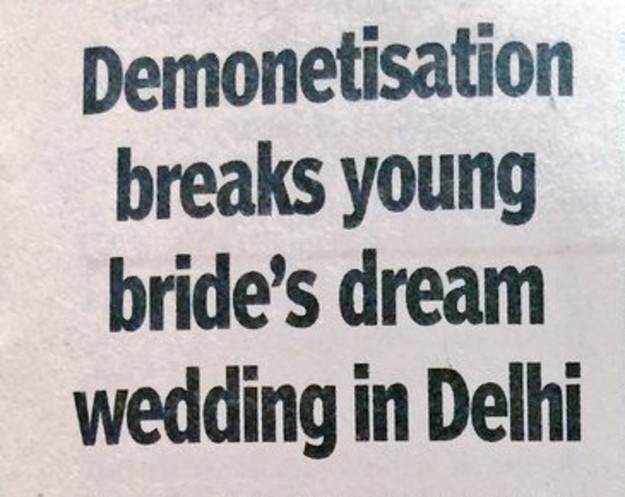 They published the story with a headline which is totally not acceptable, and people started calling out TOI's one-sided news story. As per many, Times of India decided to divert the attention from illegal practice of dowry to demonetisation.
Here are some of the tweets and Reddit threads.
Opportunist TOI blames #Demonetisation when it should be urging dowry ban. Hate for NaMo is more imp than beating social evils. pic.twitter.com/jGGx4fGjFX

— Yogini (@yoginisd) November 24, 2016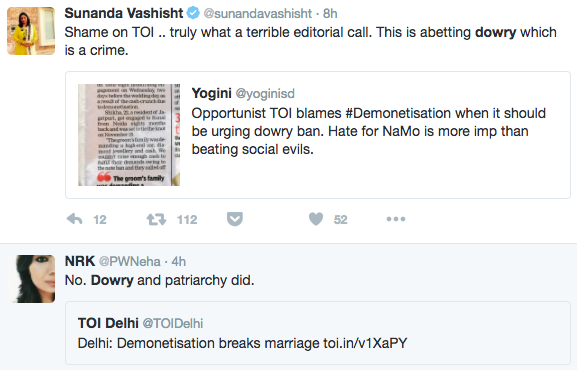 https://twitter.com/BucketheadCase/status/801683054498455553
https://twitter.com/bwoyblunder/status/801644089448009728
Follow us on Facebook, Twitter and Instagram for more updates. Don't forget to like and share. Do tell us your views in the comment box below.
24 November 2016
jyotsna Amla