Death is inevitable and it will get the best of us at some point in our lives, however, what matters is how amazingly and happily one actually spent it while they're alive.
Along with this, coping up with someone's death is another thing most of us are different at. While some cry for weeks and loom in sadness, others have no particular emotions to emote and show to the world, but through this all, anything one expects is bid a safe and happy goodbye to their loved one.
One Nigerian man said his final goodbye to his father and buried him in a brand new BMW car worth $88,000.
Identified as Azubuike from Ihiala, he always wanted to buy his father a luxurious car, however, wasn't able to do so while his growing years. And then the father got too old to actually drive a car by himself, which is why Azubuike decided to do this in order to fulfill his own and his father's last wish.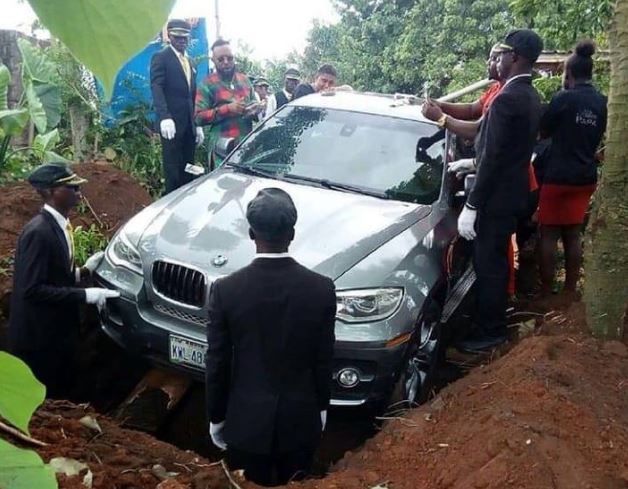 One particular picture from the funeral where people are laying the father down in the car is going viral on social media. In the picture, the pallbearers were seen lowering the car into the dugout grave, which was six feet deep. Because of the virality of the image, it has caught a lot of negative reactions too. Many people called out the act as a means to show off, while others asked why he did not buy the car while the man was still alive. Someone also said, 'Buy the car for your parent while he is still alive if you are moneyed and bury them with a decent coffin but this is just being foolish and showing off,' as reported by the Daily Mail.
According to the locals, as reported by Daily Mail, the car was equipped with a satellite navigation system to guide his way to Heaven. His act of burying his father in an expensive car did not go down well with many internet users.
As crazy and unique this news might sound, it's not. In 2015 a similar burial made headlines after an Enugu billionaire buried his mother in a brand new Hummer and in the same year a man was buried in his favourite car in China.
All of these instances makes us think if it really matters? All these fancy cars, carriages and even the fancy coffins, do any of these make any sense? What are your thoughts about this entire thing? Is this the right thing to do, to fulfill your loved one's last wishes?
Jyotsna Amla