The Sabarimala Temple Complex is situated at a hilltop inside the Periyar Tiger Reserve in Pathanamthitta district of Kerala. The temple has been known to be in existence for over 4000 years but some construction was most probably done in the 12th century by Manikandan, a prince of the Panthalam Dynasty. The present idol is presumed to have been installed in 1910.
The Ancient Hindu Theory – Sabarimala Temple
Deity Ayyappa is believed to be the offspring of Lord Shiva and apsara Mohini, who was an impersonation of Lord Vishnu. At a time when he was still very young, there was a female demon who had wreaked havoc in that part of the country. She had a boon from the Gods to die only at the hands of a son of the Gods Shiva and Vishnu only, which was otherwise impossible, but little did she know of Lord Ayyappa's birth which had already taken place.
A fight ensued, the defeated lady demon turned out to be a cursed princess who was very beautiful. She asked her savior in disguise to marry her but was refused. Lord Ayyapa said he was in the dense forest only so that tees could get their prayers answered and that he would marry her the day Kanni-Swamis (new devotees) stop visiting him with their prayers at Sabarimala.
So there she is… waiting and being worshipped in a nearby temple by the name of Malikapurathamma. To honour this long-standing arrangement and in order not to insult Malikapurathamma, it is said that the womenfolk do not visit this hill shrine.
Every year for a period of 41 days, in months of December and January, male devotees innumerable perform the arduous trek to reach the shrine. There are rules to be followed, such as a vegetarian diet, celibacy, no consumption of alcohol and also no personal grooming in the form of no haircuts or cutting nails even. They bathe twice daily and wear only black or blue and apply sandal paste on their foreheads. They also visit many other temples which fall on the way.
Suggested Read: 5 Famous Lord Shiva Names And Their Meanings!
The Medieval Indian Story
In the 12th century, a prince by the name of Manikandan from the Pandalam Dynasty fought for his people against an invading Arab commander named Babar or Vavar. The prince renounced all worldly comforts including the company of women, to focus on his singular aim of protecting his people.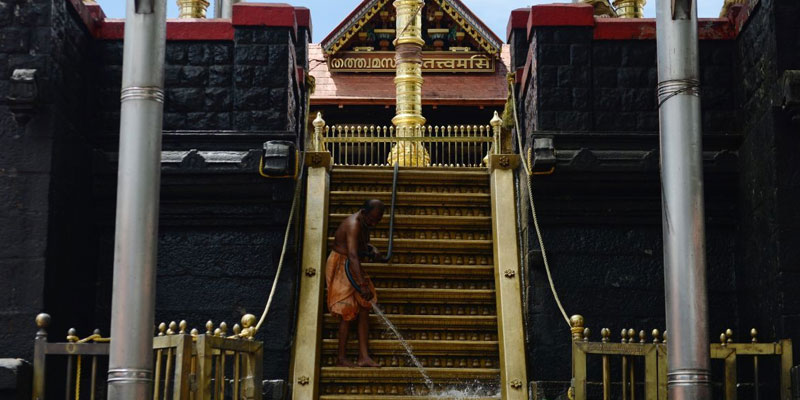 A defeated Vavar became a devout follower. The prince with superpowers was already a deity among the locals so his shrine is at Sabarimala and Vavar is believed to be present in spirit to protect the pilgrims and his shrine is in Erumeli, which lies on the same trek. Women do not visit the shrine to honor the ancient princes' renouncement of a wife or consort.
The Ancient Indian Story
There are some records which claim that when the Brahmins migrated to Kerala around the 8th century, they invaded the Buddhist temples and established Hindu deities there. Sabarimala is one of those temples where Buddhist influence can be seen in the architecture and also Hastha Mudra of the deity's idol. According to historian A.
Sreedhara Menon, Sabarimala history has more to do with Buddhism than with Brahmanism. "Ayyappa devotees strictly follow non-violence, vegetarianism and abstention from sex during the two months before the pilgrimage. It resembles the Ahimsa principles practiced by Buddhists", Menon says.
Folklore
The Mala Arayan tribals fleeing westward from the Chola Kingdom settled in the area where the 18 hills of Sabarimala are. There, Manikandan was born to Kandan and Karuthamma after a strict penance of 41 days. Therein he and his wife established the Sabarimala temple and many more shrines in that area.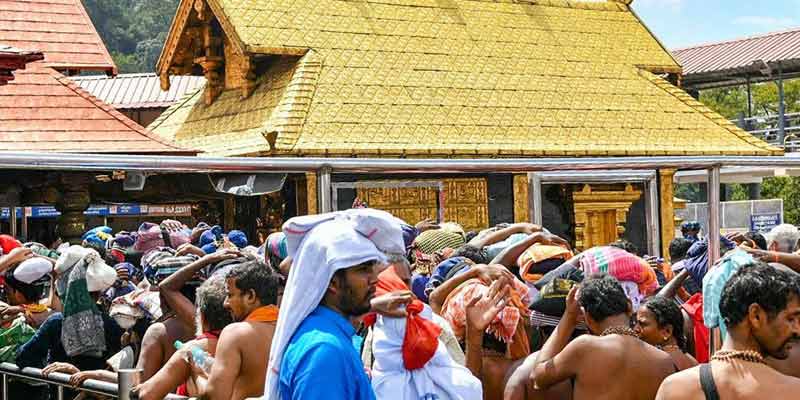 Not a Hindu Shrine – Facts About Sabarimala Temple
Since time immemorial there have been instances of Muslim and Christian devotees following the Mandala Kaalam(41-days pilgrimage). The state declares it a secular temple where entry is never restricted on the basis of religion or caste. It is a debatable fact that Sabarimala Temple was originally a worship place belonging to the Mala Arayan tribe.
The secret of the Makara Jyothi
Makaravilakku is the final day of the annual Sabarimala pilgrimage and is traditionally held on Makar Sankranti each year. On the same night, devotees claim to spot a mysterious divine light called the Makara Jyothi at Ponnambalamedu, a hilltop about 8km east of Sabarimala. In previous centuries they believed it was the glow of Lord Ayyappa himself.
Only in 2011 did the Kerala Devaswom Board as well as the Pandalam Palace accepted in front of the state High Court that the light was indeed man-made and has always been so as the tribal people in that area had been commemorating the rise of Makara or Capricorn star in this manner since ancient times.
With so many versions of history and mystery combines, Sabarimala Temple is the quintessential Indian phenomena for bringing the masses together. Why women have to be left out of this amazing tradition is a matter for a whole different article on our page. Keep following to know more. Please feel free to add to the legend.
Suggested Read: 8 Teachings Of Lord Krishna That Will Help You Build A Good Life
p.s. – All information is sourced from various articles freely available on the net. All views are personal and not affiliated to Rapidleaks.