In a shocking incident, Uttar Pradesh's Special Task Force arrested a massive online racket that duped around Rs 3700 crore of 6.5 lakh people, sending shock waves down the spine of all Indians indulged in online transactions and business.
On one hand, PM Narendra Modi is stressing on the need to go cashless and achieve full digitalisation while on the other hand scams like these are forcing us to think that whether Indian economy and web security setup are ready to this big move.
News about a couple of thousands getting disappeared from Paytm accounts already discouraged many to go cashless and now this Rs 3700 Crore online scam will definitely daunt many to stay away from an online business model. While people from around the world are constantly joining the new revolution of working from home with renowned analyst promoting it everywhere, it's high time for Indian Government to buckle up and update online security measures.
However, the subjected scam itself is so huge that we need to know everything about it and here are the details and tempting strategies adopted by the racket.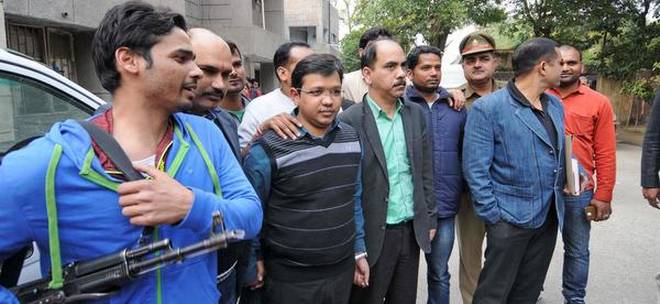 The three accused arrested were indentified as Mittal, the mastermind, who hails from Ghaziabad and holds a B.Tech degree, Shridhar Prasad (an MBA) from Visakhapatnam and Mahesh Dayal from Mathura.
The accused organisation registered under the name of Ablaze Info Solutions Pvt. Ltd. in Noida used to run a portal 'socialtrade.biz' offering investors to earn Rs 5 per click after paying anything between Rs 5,750 to Rs 57,500 and becoming a member. After paying the money, the investors were asked to like pages and click on the provided links. Members were also told that if they brought in more subscribers, their income would increase (the pyramid booster).
The investors were given 25, 50, 75 and 125 URLs every day, based on their 'subscription plan'. (The more you give, the more you earn)
They constantly changed the portal's name as socialtrade.biz was transferred to freehub.com in December 2016. Ten days later, it was named at intmart.com and on 27 January, the business was shifted to frenzzup.com. So far, the trio has defrauded over 6.5 lakh people with the amount totalling around Rs 3,700 crore.
According to the company guidelines, they earned Rs 6 for every click out of which, Rs 5 were given to the investors. However, STF reported that the links sent by the company were fake and in some cases would be the links to Facebook or Twitter profiles of other members.
During the probe it was found that there was no agreement with any third party for getting online hits and the accused had set up a fake server in Ghaziabad with the URL links terminated on the same server.
A total balance of Rs 520 crore has been seized by the Special Task Force of Uttar Pradesh Police from 12 bank accounts of the company.
The STF team found 250 passports of suspected high performers and employees, who were awarded with a trip to Australia.
The STF has informed the Reserve Bank of India, the IT department and market regulator SEBI about the scam.
UP Police states its investigations after some of the members complained against 'socialtrade.biz' at Noida Phase 3 and Surajpur police station.
The Ponzi Scheme and Pyramid Booster
The Ponzi Scheme is a fraudulent investment model where the operator (an individual or organization) pays returns to its investors from the money paid to the company by new investors, rather than earning profits earned legitimate sources.
They usually lure more investors by giving higher returns than the market rates and that too within mouthwatering intervals.
A Pyramid Booster is a bonus model in which the existing members are told to bring more business through new investors and get commision on every click of the new member.
Noida has been subject to a series of call centre frauds over the last couple of years but this was the first racket use 'like-trading' for a Ponzi scheme and execute a fraud of this scale. Since social media has seen a huge boom in the last five years with on page ads being present everywhere, people are lured into such scans as Buying likes has become a common practice among companies to promote themselves on social media.
Follow us on Facebook, Twitter and Instagram for more updates. Don't forget to like and share. Do tell us your views in the comment box below.