Today, the battle of Punjab elections has begun, as the three major Political parties started their campaign for Punjab Polls which are due on 4 February. Prime Minister Narendra Modi, Congress Vice President Rahul Gandhi, and Delhi Chief Minister Arvind Kejriwal addressed rallies today in the poll-bound state and from the beginning we can anticipate that it is going to be a full-blown fight between the three of them. Addressing the populace of the Punjab, all three of them will pull out their big guns and focus on their individual manifesto.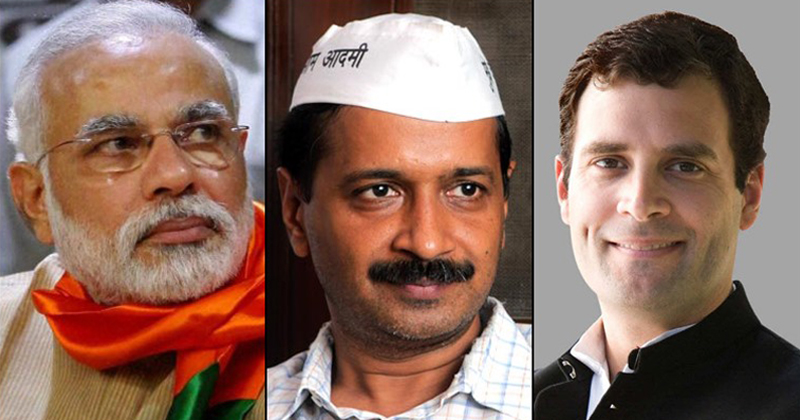 Congress
From today Rahul Gandhi along with party's state unit chief Amarinder Singh and Navjot Singh Sidhu kicked off a three-day campaign. He will be addressing public joint rallies in Majitha, Jalalabad and Lambi.
On Friday, Rahul Gandhi's tour began with a rally in Amritsar and Majitha where he has taken a dig on his opponents, Narendra Modi and Arvind Kejriwal stating that they have never fulfilled their promises. He has also attacked the Akalis and stated that Badals have not only dominated the politics but they have also taken over the business and industries of Punjab.
Amrinder Singh attacked Badals in Majitha rally and said that Congress will emerge as a strong party. Rahul Gandhi announced Amarinder Singh's name as the chief ministerial candidate of the Congress for Punjab.
While BJP and AAP are trying to turn the tables on their side, Congress is emphasizing on the issue of Drugs and bewildered youth to gain brownie points.
BJP
Prime Minister Narendra Modi has already heated up the upcoming polls, starting with today's rally in Jalandhar. Modi is campaigning for candidates from BJP and its alliance partner Shiromani Akali Dal across the state with a manifesto that focuses on Poverty elimination, Education, Physical infrastructure of Punjab and Health Care. He was accompanied by party president Amit Shah, finance minister Arun Jaitley and other BJP leaders like Nitin Gadkari and Rajnath Singh. With some alluring schemes such as new Rural Housing Scheme that offer interest subsidy of 3% on loans up to 2 lakh for rural households, BJP is trying to toss out the anti-Badal sentiments that have been rising in Punjab. Standing beside Badal, BJP is going to face a tough competition.
Badal, while addressing the rally at Jalandhar said that with the state's own resources and help of Central Government Punjab will only flourish.
Though the new conspicuous strategy may seem winsome to BJP but having INC and AAP as their opponents, the party will have to come up with better strategies to eliminate the competing parties and get a hold on Punjab.
AAP
Arvind Kejriwal-led AAP is anticipated as the dark horse in this power battle. Arvind Kejriwal addressed a rally in Patiala to campaign for Dr. Balbir Singh. AAP's manifesto promises to make Punjab India's first "corruption-free" state and also vows to detach its youth from the grip of drugs. The party has violated the Supreme Court's ruling on the Hindutva case by stating that a Dalit will be the deputy chief minister of Punjab if the party wins. Arvind Kejriwal clearly wants to woo and unify the Dalit votes in his party's favor which can be a good measure. He has adopted other unique strategies as well as, including the use of NRI supporters which can garner support for AAP among the masses.
Other than thrashing Badals for Drug abuse in the state, AAP said that it will provide ₹5 lakh health insurance for all Punjabis, will fill all the vacant posts of doctors, nurses, paramedical staff & technicians and will also bring the Jan Lokpal Bill in Punjab.
The stratagem of gaining power in Punjab between INC, BJP(SAD) and AAP is turning out as an interesting battle than ever. All three parties are bidding on the soul agenda of removing corruption and drug addiction to make Punjab a flourishing state. The power game is taking a theatrical turn with every public event. Punjab polls will be held on 4th February and the counting of seats will take place on 11th March.
Follow us on Facebook, Twitter and Instagram for more updates. Don't forget to like and share. Do tell us your views in the comment box below.
27 January 2017
Avni S. Singh