Age is just a number and if your passion drives you to achieve something, nothing else matters. India has always produced great talents and another name is added to the list. A 15-year-old boy, Prayatn Sharma from Gwalior in Madhya Pradesh smashed all the records and became the fastest in the world at backwards skating.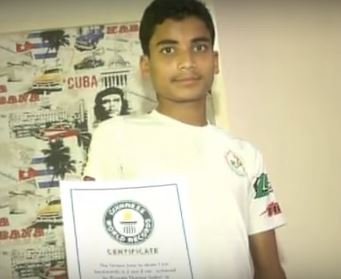 His name is included the Guinness Book of World Records after he has set the record for skating backwards for 1 kilometer in just 2.08 minutes. He attempted backwards skating and his speed broke all the previous world record. Prayatn is an ultra-flexible teenager and his chest thumping entry in Guinness Book of World Records proves that age doesn't matter when you work hard to achieve your goals.
 Check Out A Video Of The Skating Champion Here:
(Video Courtesy: Pradesh18 English)
Prayatn speed was more than some two wheeler vehicles, and after breaking the previous world records in this category, Prayatn will be unstoppable. He is trained by his father since he was five and he finds ice-skating fascinating than skating.
This teen dream of winning an Olympic medal for the country in ice-skating and kids like him always make India proud. When you give your dreams all you have got, success runs after you and Prayatn is the live example as he became the world champion of backward skating.
29 Mar 2016
Avni S. Singh