Few things can be as charming as the feeling of driving a sports car. You are transported to a different level when the torque hits, creates the adrenaline, and when you step on the gas in a sports-car. Driving any other car for that matter is a routine, everyday or very normal exercise. But darting around a sportscar is a one of a kind feeling, whether or not you are a worshipper of speed. But one's not too sure whether the same feeling could be ascribed to one Porsche driver in Ahmedabad.
So what exactly is the issue that this one Porsche driver in Ahmedabad is in the news and has created a stir that all national and private news platforms are covering what can only be described as a strange incident?
Believe it or not, but recently, a Porsche driver in Ahmedabad was fined a whopping sum of Rs 9.8 lakhs.
At a time where we often feel that being even challaned Rs 500 is being hit below the belt, and instances where being asked to pay a fine of Rs 2000 gives a good heartache, what exactly did the Porsche driver in Ahmedabad do?
News from various corners of the country reported a shocker from the capital city of Gujarat. Here, one Porsche driver in Ahmedabad was found and caught by the traffic police minus any documents whatsoever.
In fact, that is not all.
This Porsche driver in Ahmedabad was found without any legal documents and minus any legal number plates. As a result, the Ahmedabad Regional Transport Office fined the Porsche car with a massive penalty.
But there was more ignominy to follow, in addition to the above. The Porsche 911 sports car was also nabbed and confiscated by the cops.
It is reported that the expensive sports vehicle will only be released once the driver pays the fine.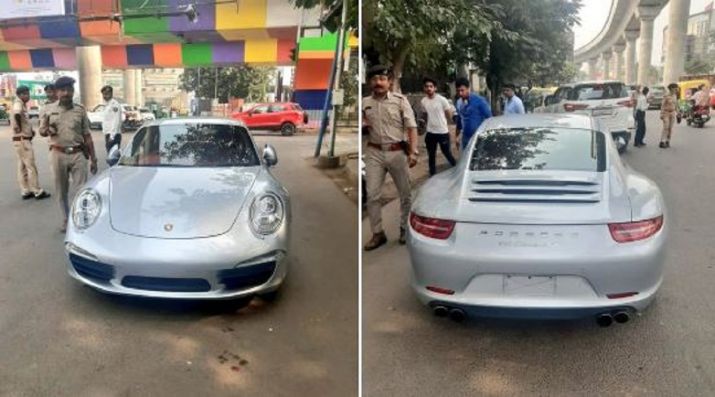 NDTV, among the first to break the news shared:
"The vehicle had no number plate and valid documents. Vehicle detained and slapped a fine of Rs 9 lakh 80 thousand (9,80,000 INR)," tweeted Ahmedabad Police on Friday.
The silver colour car was stopped by the traffic police at Helmet cross road in Ahmedabad on Wednesday as it did not have number plates, Deputy Commissioner of Police, Tejas Patel, said.
"On being questioned, the driver failed to produce valid documents of the vehicle. Therefore, we detained the car and issued an RTO memo under the Motor Vehicles Act. This means that he has to deposit the penalty with the RTO and come to us with a receipt to get back the vehicle," said Mr. Patel.
But that told, the above incident should come as a learning lesson to others who may have wanted to flirt with the existing rules and norms. Who would ever want to pay such a heartbreakingly hefty fine?