Disclaimer: Take this article seriously at your own peril! Oh wait, speaking of peril, there's Delhi's air quality.
Delhi has done nothing to reduce its air pollution. Even Sri Lankan cricketers came and wore horribly scary face-masks in 2017 but to little avail. So while all of us- you and me – have gotten the city to such a poor extent, why not laugh about the tragedy that poses a direct threat to our families, especially, young children?
Delhi has a problem. Rather, those among us who are religiously inclined will argue, the Almighty is giving a problem to Delhi for whatever reason. Well, they can have a drink to that, with all due regards.
And they must have tea because the idea of God raising a toast to something doesn't appear right.
But here's what is peculiar about the city. Over the past few decades, Delhi's weather has been a bit extreme. The summers are hot and humid, beyond normal. So that's nothing new, right?
Gone are the days where watching Al Gore's 'An Inconventional Truth' told us about nature's fury. We've seen Leonardo di Caprio's oscar-accepting speech and heard his wiseness on the climate and still not really accepted that things are changing for the worse around us.
And the worse isn't really finding aunties of Delhi holding kitty parties in yet another joint which you thought was off limits their social horror. The worse here does concern itself with
The winters, as surprisingly seen, this year, are colder than usual.
They've been freezing on Delhi here in the North as much as that unwanted real-estate ad on the radio.
And if you are a local, someone's who's habitual of guiding a confused passenger on the road using what are often food-related landmarks- "Aage, Papdi Chaat Ki Dukan Se Right (take right from the street-food vendor), U-turn from Chai Ki Stall (take a U-turn from the chai stall)- then you may have noticed the clamor surrounding Delhi's weather.
What Delhi is currently straddling with is deteriorating air quality.
This, it appears, is not going to change anytime soon.
Having said that, the winter time- a season where the meaning of having a warm cup of tea suddenly becomes poignant to the cool wine sipper, and where one wears charming backless dresses, designer sarees in plum functions or marriage ceremonies yet complaining of freezing temperatures- how lovely- isn't fun anymore.
On a serious note, how can things ever be fun in Delhi's finest weather when the air quality is constantly deteriorating?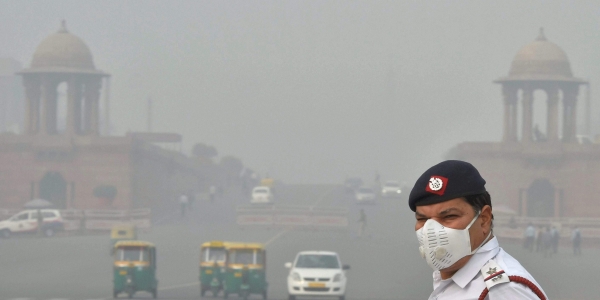 To quote weather.com directly on the above issue, it pains way more than seeing a Vivek Oberoi flick that:
The level of air pollution in New Delhi is about 11 times higher than the U.S. recommended level.
– this has got nothing to do with the number of hours an average Delhi couple or to make things better, an entire family spends in a food court, contributing to causing pollution from their 'Kim Kardashian'
Part of the problem stems from residents who burn small fires when temperatures drop.
– the above is -truth be told- has the power of being a new social evil, one that isn't being recognized yet.
Other culprits include vehicle and industrial emissions, crop and trash burning, and dust from building sites.
– the above is more serious a threat than Himesh releasing another music album or the threat 
That said, the most worrying thing about this, of a kind that troubles one when a perfectly clicked selfie fails to attract over 5 likes, is that Air Pollution has already reached emergency levels in New Delhi.
This is the truth.
You read it right.
We are currently embracing emergency levels in Delhi.
Delhi is a city where the Ambulance has to fight its way among the lorries, cars, buses, and cycles, and who knows, someday, the Dinosaur even since there's always an opportunity in Make in India.
Delhi, it must be reminded, is a city, that (one and all should know) houses plush shopping malls, poor urchins, pavement dwellers, hot women in Khan market, men with overgrown anti-social beards perhaps as a lasting tribute to Virat Kohli, fancy residential apartments happily accept immigrants unlike Trump's America, a Formula 1 circuit that no longer hosts any international Grand Prix event, and many other glorious facets.
Yet, for a city that has done exceedingly well- in scaring to death commoners like girls and women about their safety and integrity- there's nothing that the country's national capital has achieved in significantly reducing the population.
Here are some national figures, that have nothing to do with Deepika or Katrina's svelte ones:
"According to the CPCB, an Air Quality Index (AQI) level from 201 to 300 is considered poor, 301 to 400 is very poor, and 401 to 500 is severe."
To add to the above, popular news outlet Zee business, that's got little to do with weather reports- but well, we must applaud its congeniality- reported the following:
In order to help curb the pollution, the country's Environment Pollution Control Authority enacted a ban on trucks in the city beginning on Friday.
With all these told, one wonders what does the future hold? Are children- god's nicest creations; one for whom Mr. Bachchan makes time to appear in TV ads (remember, Firstcry.com 's fantastic commercial) selling nappies that he once used decades back- going to wear Bane-like masks, as seen in The Dark Knight Rises?
Or is India suddenly going to see a rise in the concept of urban mobility and electric vehicles in Delhi and also, no sarcasm here, in nebulizing children since it doesn't appear that we are doing anything to curb air pollution?
Disclaimer: Yes there was some sarcasm here. But what is one to do? We're all fed up. Let all of us live freely and breathe freely so. And if we can't do our bit to curb pollution, we deserve to have our Aadhaar Cards canceled. Oh wait, how will Modi ji react then?