Ram Nath Kovind, the former Bihar Governor, and NDA's candidate registered an emphatic win over opposition's Meira Kumar to become India's 14th President succeeding Pranab Mukherjee. He is the seventh youngest person and only second Dalit, after RK Narayanan, to have ever occupy India's highest ceremonial post since Independence.
2017 Presidential Elections witnessed the highest ever voting (99%) and Ram Nath Kovind 702,044 electoral college votes while UPA's Meira Kumar managed just 367,314 votes. Current Indian President Pranab Mukherjee's term ends on July 24 and Ram Nath Kovind will take the Presidential oath the next day as India's 14th President.
Congratulations to Shri Ram Nath Kovind Ji on being elected the President of India! Best wishes for a fruitful & inspiring tenure.

— Narendra Modi (@narendramodi) July 20, 2017
For the youth of today, all they remember is how great APJ Abdul Kalam was as India's President and after his tenure ended, Pranab Mukherjee, his successor, remained in the backdrop while the nation got busy between the emergence of Arvind Kejriwal and AAP, Modi's journey from Gujarat to Delhi and a complete ousting of Indian National Congress.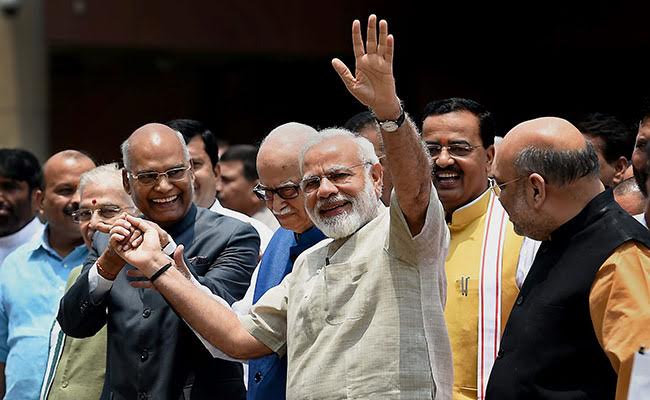 In between all this, when NDA surprisingly announced Ram Nath Kovind as its Presidential candidate, the next thing we wanted to know was the opposition's answer to it, keeping aside knowing about the possible President for the future.
And now as Ram Nath Kovind wins the 14th Presidential elections by a huge margin, people have started evaluating the future consequences on Indian politics rather than cherish the moment and congratulating the next leader of the nation.
It doesn't matter how a Prime Minister in India takes all the spotlight, a President is still a leader and one should know his next International representative.
On that note, Here are 10 facts that every Indian Needs To Know About Ram Nath Kovind.
1. Ram Nath Kovind was born on October 1, 1945, in Uttar Pradesh's Kanpur Dehat and is the youngest of three brothers. After graduating in law and commerce from a Kanpur college, Ram Nath had gone to Delhi to prepare for Indian Administrative Services. He made it through in the third attempt, however, didn't join as he got selected for the allied services and started practicing law.
2. Ram Nath Kovind entered politics in the year 1994 when he became a member of Parliament in Rajya Sabha from UP and served as an MP for two consecutive terms till 2006.
3. Ram Nath Kovind, an advocate by profession, besides serving as a Central government advocate of Delhi high court from 1977 to 1979, was also a member of Central Government Standing Counsel in the Supreme Court from 1980 to 1993.
4. Ram Nath Kovind became the Advocate-on-Record of the Supreme Court in 1978 after enrolling with the Bar Council of Delhi as an Advocate in 1971. He practiced in the Delhi high court as well as the Supreme Court for 16 years until 1993.
5. He represented India in the United Nations and in October 2002 addressed United Nations General Assembly
6. In 1977, Kovind worked as the private secretary (PA) of then Prime Minister Morarji Desai, later having the opportunity to serve as national spokesperson of BJP.
7. He was the President of the BJP Dalit Morcha from 1998 to 2002 and President of the All-India Koli Samaj, along with the SC/ST representative, at IIM-Calcutta.
8. On August 8, 2015, Kovind was appointed the governor of Bihar.
9. Ram Nath Kovind served as a member of Dr. BR Ambedkar University, Lucknow's Board of Management. He also served as a member of Board of Governors of Indian Institute of Management (IIM), Kolkata.
10. Kovind served as Member on following important Parliamentary Committees:
Parliamentary Committee on Welfare of Scheduled Castes/Tribes.
Parliamentary Committee on Home Affairs.
Parliamentary Committee on Petroleum and Natural Gas.
Parliamentary Committee on Social Justice and Empowerment.
Parliamentary Committee on Law and Justice.
Chairman of Rajya Sabha House Committee.
As for his personal life, Ram Nath Kovind is married to Savita Kovind and has a son Prashant Kumar, and a daughter named Swati. His ancestral house in his native village in Kanpur was donated and is used as a Baraat Ghar or community house by the villagers.