In the recent past, we have witnessed several cases where women have been subjected to sexual harassment on the internet. Now, a fresh case of such harassment related to a political figure has surfaced.
Sharmishta Mukherjee, Congress leader and daughter of President Pranab Mukherjee, has opened up about being sexually harassed by a man on social platform – Facebook.
Exposing the harasser, she said that a man named Partha Mandala has been sending her obscene messages on the Facebook chat. And she doesn't want to end the matter by just blocking and reporting him instead expose Mandal so that others don't become his soft target.
Her Facebook post reads:
"This pervert Partha Mandal is sending me dirty sexual messages. My 1st reaction was to ignore & block him. But then I thought the silence wud encourage him to find other victims. Just blocking & reporting is not enough. I strongly feel such ppl shd be publicly exposed & humiliated. I'm posting screenshots of his profile & messages he sent me. I'm also tagging him. Pls share this post & tag this rat as a msg that these pervert acts will not be taken lightly".
She also posted some screenshots of the messages.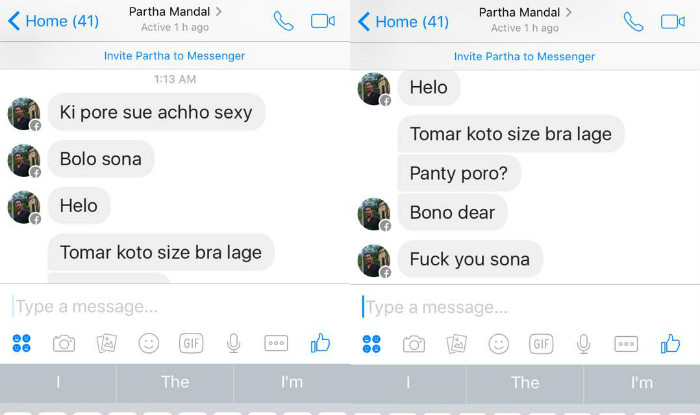 Her post has gone viral on the Facebook and people have appreciated her for taking the strong stand and giving a befitting reply to the harasser.
Notably, a few days back, 13 students of Jadavpur University had opened up on being sexually harassed by a student of the same university named – Eklavya Chaudhary.People shaming has proved to be an effective tool for women who have been subjected to such harassment.
13 Aug 2016
Rumani