Prime Minister Narendra Modi Returned from Africa and was briefed on Tuesday morning about the Kashmir crisis by Home Minister Rajnath Singh.
In Kashmir 30 people are dead and 800 are injured in the crisis that began after shooting of 22-year-old terrorist Burhan Wani. After his death, the clashes are still going on between civilians and security forces.
The Home Minister Rajnath Singh cancelled his trip to US which was scheduled next week. Narendra Modi returned from Africa this morning and reviewed the Kashmir crisis in a meeting attended by Arun Jaitley and Sushma Swaraj along with National Security Advisor Ajit Doval.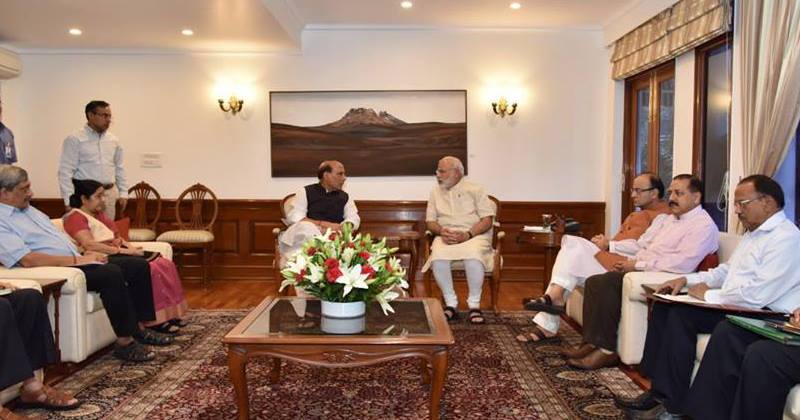 A junior minister in Modi's office who is also a Lok Sabha MP from Jammu and Kashmir, Jitender Singh has said that Prime Minister has appealed to the people of Jammu and Kashmir to maintain the peace in the state.
The Modi government has already advised senior opposition leaders such as Sonia Gandhi, Omar Abdullah and Sitaram Yechury  to avoid and bypass the public criticism  from political opponents as Pakistan seeks to aggravate the unrest in the Kashmir Valley.

Pakistani Prime Minister Nawaz Sharif issued a statement yesterday, praising Wani and provoking a warning from Delhi for Islamabad to "refrain from interfering" in India's internal affairs.
The government is trying to resume the Holy Yatra of Amarnath and to ensure the safety of thousands of worshippers.
Meanwhile, the community elders will be enlisted to talk to neighbourhoods in Kashmir after the situation quietens so that they can reverse the  perception of a heavy-handed administration and people-unfriendly security forces.
Follow us on Facebook, Twitter and Instagram for more updates. Don't forget to like and share. Do tell us your views in the comment box below.
12 July 2016
Avni S. Singh