Prime Minister Narendra Modi is likely to launch the project on 'Clean Ganga' action plan in the middle of this month. The Namami Gange program is already underway and entry-level activities related to this project have already started. The execution of this project aims at freeing the Ganga of waste and ensuring the unfettered flow of the river. The program is expected to be launched around 15 May 2016.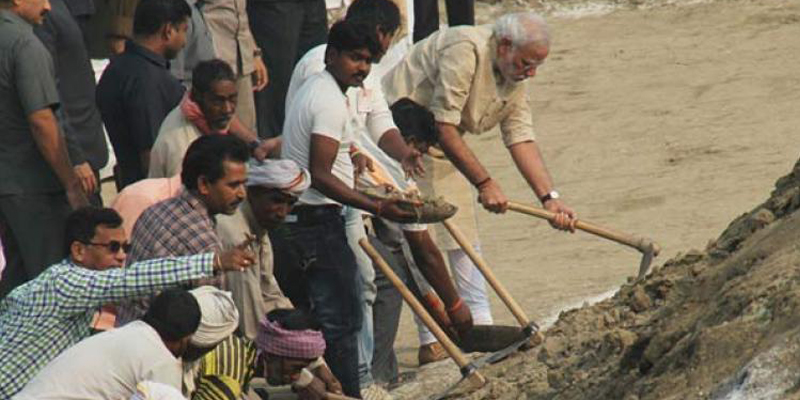 The ambitious program is executed by the Water Resources Ministry. An invitation to Modi is expected for an event to be held in October after they mark the completion of the first leg of this cleaning project. The government intends to clean Ganga by July 2018 and its first phase has already been started.
For "condition assessment" of the infrastructure, that includes ghats along the river and their capacity utilization, Central Public Sector Undertakings (CPSUs) is roped in and they have already completed their studies and inspection.
The  various CPSUs that  Government has engaged for the project are Engineers India Ltd (EIL), National Buildings Construction Corporation ( NBCCBSE 0.74 %), WAPCOS Ltd, National Projects Construction Corporation Ltd ( NPCC) and Engineering Projects India Ltd.
The surface cleaning of Ganga's mainstream will begin post-monsoon and the effect of the first phase will become visible in the October 2016. The officials stated that they will clean the surface post monsoon because if they started cleaning it now, the monsoon will make the river dirtier and they will have to repeat the task.
A Source said, "The tendering process to set up sewage treatment plants (STPs), a medium-term activity under the project, in 118 towns along the Ganga will take "some time" to be completed."
After the tendering process has been completed, the actual construction of this project will take about a year to complete.
The sources also revealed that it is a huge work so they want bidders with a quality job, who are worried about their image.
The government is seeking participation from international cooperation as well as the villagers staying along the river. Officials stated the they entered into an agreement with a German Government agency to integrate various approaches in the implementation of the project by providing support at national and state-level, especially for Uttarakhand.
Under this agreement with a German Government agency, the two parties will exchange information management, technical knowledge, public outreach, and communication.
The entire 2525 km length of Ganga is divided into five stretches for this project, Uttarakhand, Uttar Pradesh, Bihar, Jharkhand and West Bengal. The portions have been allocated to the CPSUs for execution of entry-level activities of the project.
Follow us on Facebook, Twitter and Instagram for more updates. Don't forget to like and share. Do tell us your views in the comment box below.
9 May, 2016
Avni S. Singh