Narendra Modi is in his Gujarat and this is his second visit to the region in 15 days. Today he will inaugurate the first phase of SAUNI (Saurashtra Narmada Avataran for Irrigation) Project at Sanosara village. SAUNI will allow nearly 10 dams and reservoirs of Rajkot, Jamnagar and Morbi to fill up with the water of Narmada River.
This project is one of the ambitious ones for Prime Minister Modi and is worth of 12,000 crore rupees. It will fill up nearly 115 dams of the Saurashtra region facing shortage of water for irrigation and drinking.
After the inauguration, the Prime Minister will address the Public rally at Sanosara. The chief minister of Gujarat, Vijay Rupani stated that SAUNI will irrigate over four lakh hectares of land and solve the water problem of the region to a large extent.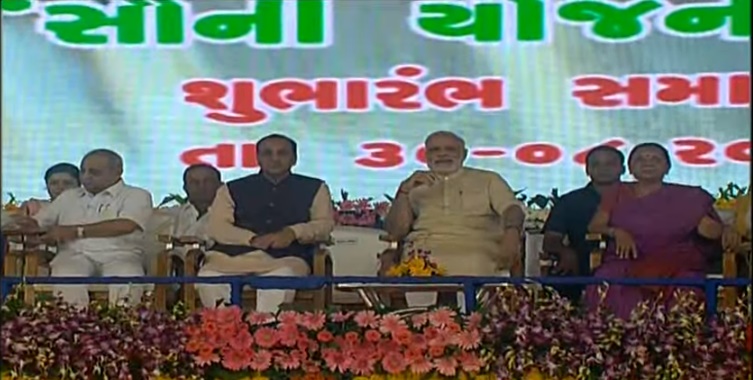 Saurashtra comprises 11 districts and faces drought like situation often, the region has been reeling under severe water scarcity due to insufficient rainfall in the last two years.
But there will be more than just the inauguration, Modi may throw his first direct intervention in the continuing Patel unrest in Gujarat, he may not throw a direct attack through announcement but he will, through subtle messaging.
Modi last visited the state on 15 August to condole the death of spiritual guru Pramukh Swami, of the Swaminarayan sect, the Swami is very popular among the Patel.
Patel community is back in its fold and BJP realised that it has allowed the Hardik Patel-led agitation to linger for long. The assembly elections are not too far off, so the party will have to act fast.

Since, 1996 BJP is staring at the prospect of an electoral defeat in Gujarat, all thanks to Hardik Patel-led agitation. If Modi loses this, it will not be a simple loss for Narendra Modi as well as party president Amit Shah. It will be a huge blow as both of them have made Gujarat the party's show piece state. They have used Gujarat flaunting its achievements without reservation. In the general elections of 2014, Modi sold the Gujarat model to the country and claimed it had no  parallel elsewhere.
A defeat in Gujarat elections will be the first one in a decade with no Modi helming the state and may leave Modi government exposed to many questions. Not only from the opposition parties but also from within.
Follow us on Facebook, Twitter and Instagram for more updates. Don't forget to like and share. Do tell us your views in the comment box below.
30 August 2016
Avni S. Singh