Narendra Modi, a person who was not permitted to enter the U.S. three years ago, censured for failing to stop 2002 massacre of Muslims in Hindu-state Gujarat is now the face of India. The tide of suspicion has definitely changed after the 2014 election. Modi's determined efforts and growing strategic alignments with his cool and focused spirit is taking India to the road of rapid progress
On his whirlwind  tour of 5 Nations, yesterday Indian Prime Minister Narendra Modi delivered a speech to the U.S. Congress. In his extended speech, he drew as many parallels as possible between India and the U.S. As the representative of India he strengthens his country's  relations with the U.S.
See Full Speech Here:
(Video Courtesy: Narendra Modi)
Modi referred that the U.S. and India share same ideologies despite differing histories, cultures, and faiths. Modi said that both the countries have the same set of beliefs and their close ties reflect deeply shared values.
During his speech, he recalled Mahatma Gandhi and Swami Vivekananda as the great actionists who impacted and influenced the course of both the societies. He also said,"The pages of our friendship since then tell a remarkable story.
Today, our relationship has overcome the hesitations of history. Comfort, candour and convergence define our conversations," he further said that he remembers how the U.S. stood by India in its sorrow, during the terror attack in Mumbai on November 26, 2008.
During his speech he mentioned that some of America's best doctors, CEOs, scientists and economics are from the three million people who are Indian-American and he is proud of these Indians as they are pushing  India-US economic ties closer. He also mentioned that the ancient art of Yoga is practiced by 30 million Americans and India does not even claim an IP right over this ancient ritual.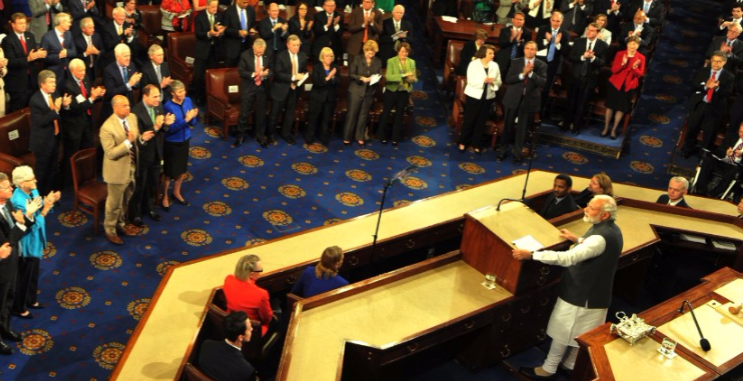 He told the U.S. that he is awestruck by the passion and creativity among their people and he dreams of achieving the same inspiring spirit for Indian youth. He praised the U.S. for sending a clear message to those who use terrorism as a political tool.
From the beginning to the end Indian Prime Minister made an effective use of this opportunity. His speech will not only enhance Indian political relations with the U.S. but also build a strong partnership between both the nations which will ensure the prosperity, peace and stability between the two countries.
Modi delivered a good political speech and ended it quoting Walt Whitman, extending the metaphor was the masterstroke as he said, "a new symphony is in play".
At the end of his speech he received applauds by the House, Senate Foreign Relations Committees and lawmakers. 
Follow us on Facebook, Twitter and Instagram for more updates. Don't forget to like and share. Do tell us your views in the comment box below.
9 June 2016
Avni S. Singh