The MCD by-polls results are out. The result has been declared for all the 13 seats. AAP is leading with 5 seats where Congress won 4 seats. BJP was able to grab only 3 seats and Independent secured 1 seat.
– Ballimaran Ward: AAP won
– Quamruddin Nagar ward: Ashok Bhardwaj the candidate of Congress won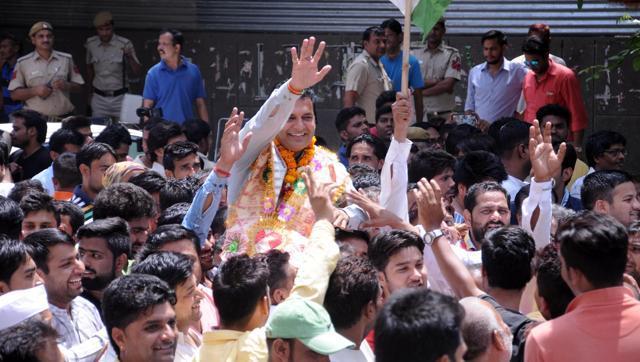 – Khichripur Ward: Anand Kumar the candidate of Congress won
– Nanakpura ward:  Anil Malik the candidate of AAP won
– Vikas Nagar ward: The candidate of AAP won
– Matiala ward: The candidate of AAP won
– Munirka ward: Congress won

– Tehkhand ward: Abhishek Bidhuri the candidate of AAP won
– Bhati ward: Independent candidate won

– Wazirpur ward: Mahendra Nagpal the candidate of BJP won
– Jhilmil ward: Pankaj the candidate of Congress won
– Shalimar Bagh North ward: Bhupinder Mohan Bhandari the candidate of BJP won

– Nawada ward: Krishan Gehlot the candidate of BJP won
The counting of the votes began at 8 am at all the counting centers. All the necessary arrangements were made by Delhi State Election Commission for the counting.
Quamruddin Nagar, Shalimar Bagh (North), Ballimaran, Nawada, Vikas Nagar, Matiala, Nanakpura, Munirka, Bhati, Tehkhand, Khichripur, Jhilmil and Wazirpur are the  13 wards which went to the bypolls
The MCD has been ruled by BJP for the last 10 years and was trifurcated in 2012.
AAP made its debut in MCD and the party hopes to replace its Assembly polls magic that will establish its territory for the 2017 MCD elections.
BJP and Congress, Both the parties have exuded the confidence of effective performance at the civic hustings.
The highest voting percentage of 64.36, is recorded at the Bhati ward while the lowest of 33 per cent, is recorded at Matiala
Satish Upadhyay, the Delhi BJP President claimed that BJP is likely to be the top performer in today's civic by-polls according to grass-roots feedback.
Ajay Maken, the Delhi Congress president stated that the enthusiasm of the people of Delhi shows that they are unhappy with the AAP government and the BJP-ruled MCD.
Follow us on Facebook, Twitter and Instagram for more updates. Don't forget to like and share. Do tell us your views in the comment box below.
17 May 2016
Avni S. Singh